Charles Schulz Autographed Sketch of Snoopy for Collectors: She exudes the happiness of a woman whose collections and friendships give her plenty of reasons to smile. When you first meet and exchange Facebook and E-mail information with Linda, you immediately recognize that she is not only vibrant and engaging but a huge Peanuts and Snoopy fan. "Snoopy," the name of the extroverted beagle cartoonist Charles Schulz created, is Linda's e-mail user name.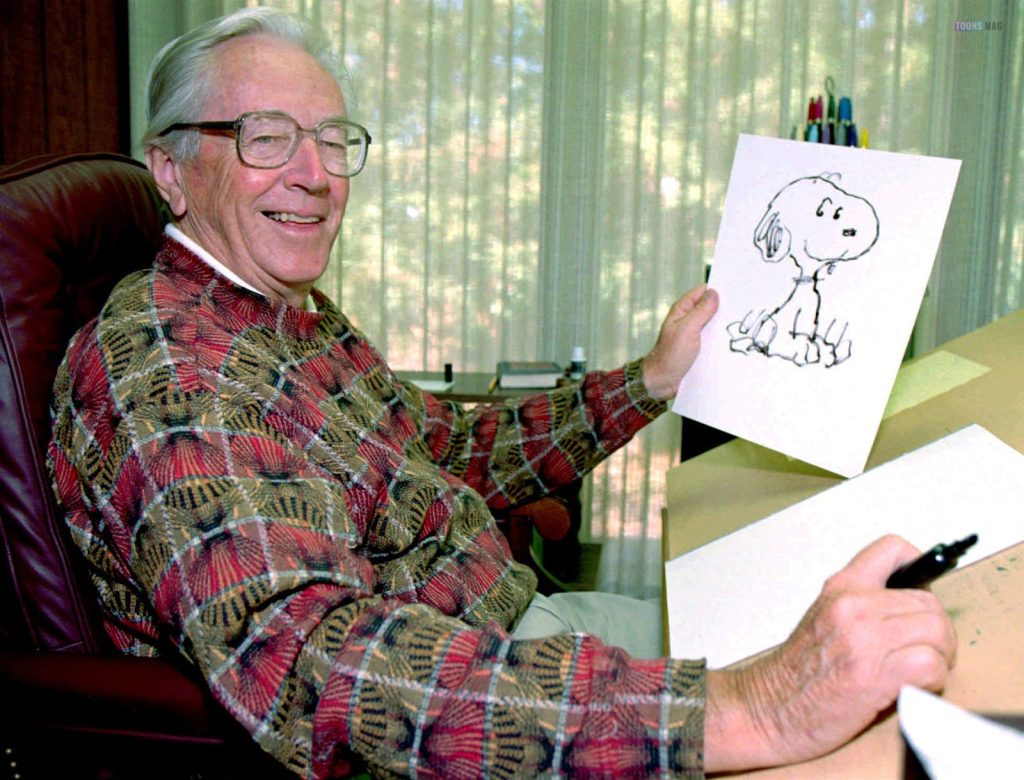 Linda's love of Snoopy doesn't end with her e-mail user name. Get to know her and Linda will invite you to see her extensive Snoopy collection, a collection that she has been assembling for more than 40-years. It fills to overflowing an entire bedroom in her sprawling home. There are Snoopy's on the walls, Snoopy and the gang on the floor, there are even Snoopy's coming out of the ceiling – attached to a ceiling hung spiral display holder.
Visitors to Linda's Snoopy room are drawn upward and downward and usually react with oh's and ah's and "Oh, my goodness." Most aren't in any hurry to leave, as there is always one more Snoopy to catch the eye. Linda's laugh and smiles encourage you to appreciate her collection, just don't trip over it!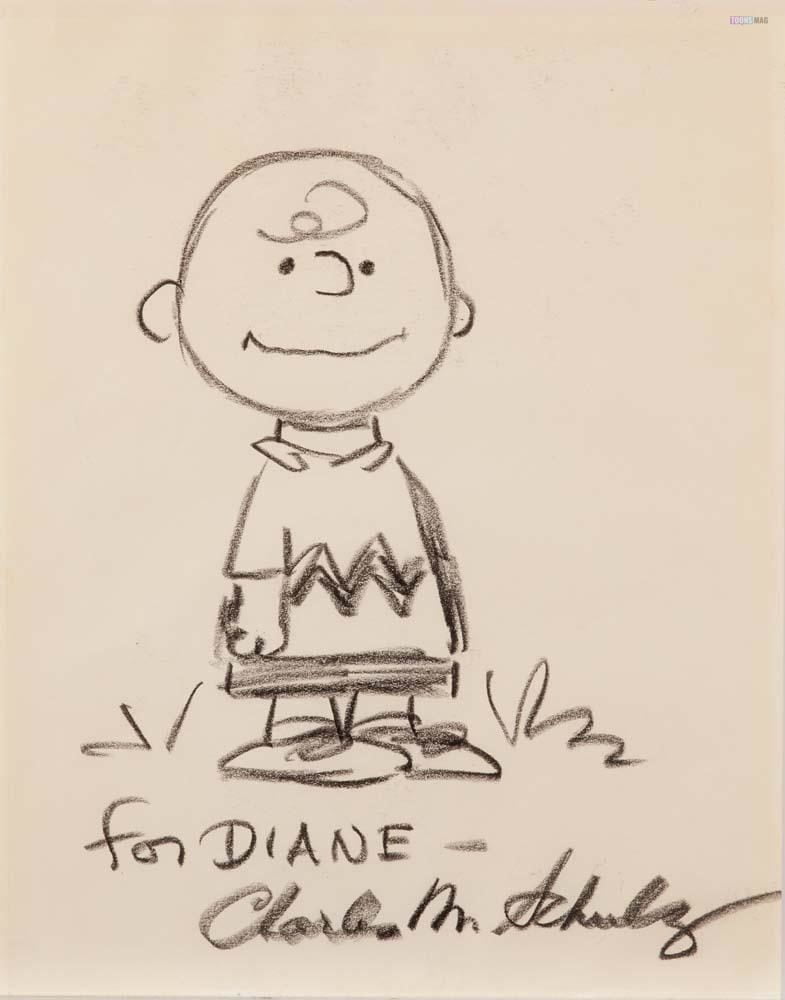 Linda has traveled to the Western United States searching for Snoopy's to add to her collection. Perhaps what attracts collectors, like Linda, to Snoopy is how he manages to communicate wisdom and all that is necessary to know with his facial expressions and thought balloons.
Besides her display cabinet packed room, Snoopy also holds court in an upstairs dormer alcove. Here Snoopy dominates as he "guards" his renowned doghouse surrounded by more Snoopy's holding their supper dish with Woodstock perched alongside the dish. Snoopy towels, washcloths, and soap greet visitors who use the nearby guest bath and a custom-made, by Linda's dad, stain glass brightens and catches the light coming through the dormer window.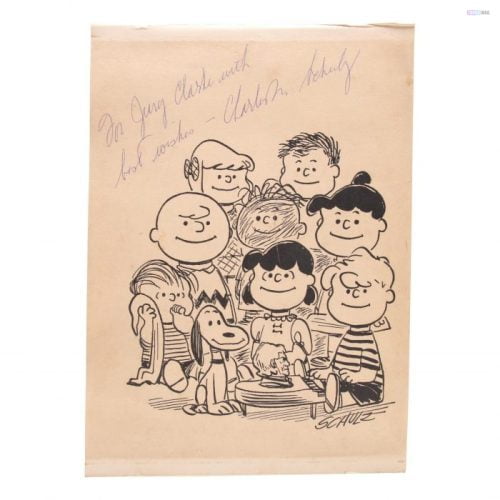 Snoopy made his first cartoon appearance in October 1950, when Linda was still a young girl. She has been a fan for as long as she can remember, beginning with plush and other toys. Today, her Snoopy collection numbers in the thousands, ranging from jewelry to telephones to everything in-between, including not only thousands of vintage items from the 1950s but the newer limited edition plates and annually issued Christmas tree ornaments, which Linda hangs and displays year-round on indoor "Snoopy" trees.
Peanuts comic strip followers know Snoopy as a one-man show, seeing him like a dog with advanced intelligence and vivid imagination. Snoopy has fashioned such multiple personalities as Joe Cool, World War I Flying Ace, Literary Ace, Flashbeagle, and Foreign Legionnaire. Snoopy memorabilia collectors seek collectibles of them all.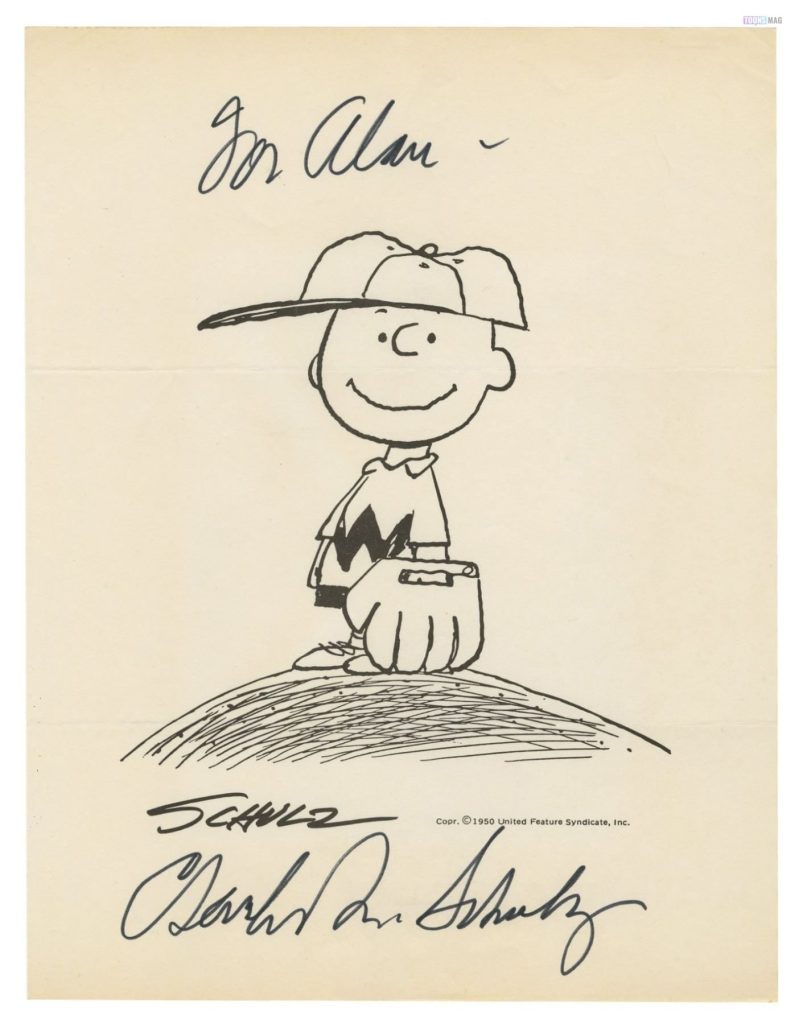 Born and raised in Southern California, Linda worked, before her retirement, as an executive assistant at Southern California's Rockwell International office. During the 1970s, Charles Schulz visited the Rockwell plant where she was employed and Linda was fortunate to not only meet the cartoon artist, but among the lucky few who later received a generous "thank you" autographed drawing of Snoopy riding a Rockwell spacecraft.
This nicely framed and matted 15 x 20″ cartoon drawing is the most prized piece in Linda's Snoopy collection. Being a huge fan, she feels fortunate to have met Snoopy and the Peanuts gang creator, Charles (Sparky) M. Schulz.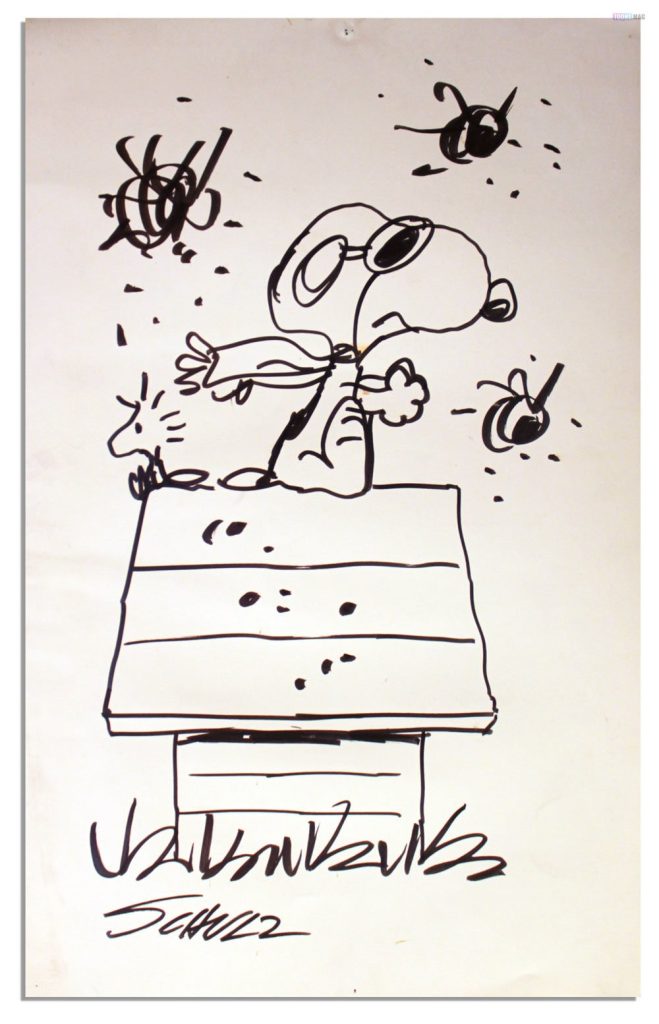 After selling his comics to Saturday Evening Post and other publications Charles Schulz approached the United Feature Syndicate with some of his best strips. Peanuts made its first appearance with United Features on October 2, 1950, becoming one of the most popular comic strips of all time.
The Peanuts cartoon ran for nearly 50 years without interruption, appearing in more than 2,600 newspapers in 75 countries. Sadly in November 1999, Charles Schulz suffered a stroke and then discovered that he had colon cancer. Complications from the chemotherapy made it so the cartoonist could no longer read or see clearly and he announced his retirement on December 14, 1999. By then, three generations of Americans had grown up with the Peanuts gang and "good Ol' Charlie Brown."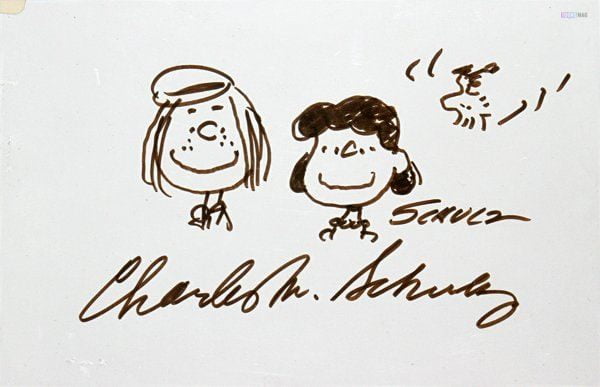 Schulz was quoted as saying on The Today Show, "I never dreamed that this would happen to me. I always had the feeling that I would stay with the strip until I was in my early eighties or something like that. But all of sudden it's gone. I did not take it away. This has been taken away from me."
Charles Schulz died in Santa Rosa, California of complications from colon cancer on February 12, 2000, at age 77. That same year, California's Sonoma County Board of Supervisors rechristened the Charles M. Schulz – Sonoma County Airport in his honor. The airport's emblem features Snoopy in goggles and scarf, taking to the skies on top of his doghouse.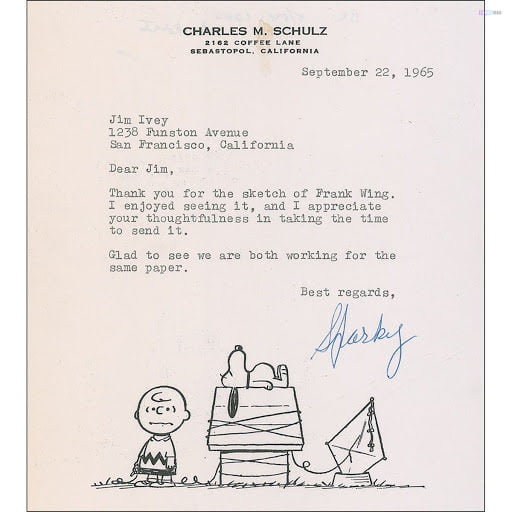 The Schulz family lived briefly in Colorado Springs, Colorado where Charles Schulz painted a wall in their home for his daughter Meredith, featuring Patty, Charlie Brown, and Snoopy. The wall was removed in 2001 and donated to the Charles M. Schulz Museum in Santa Rosa, California, the town where he lived and worked for more than 30 years.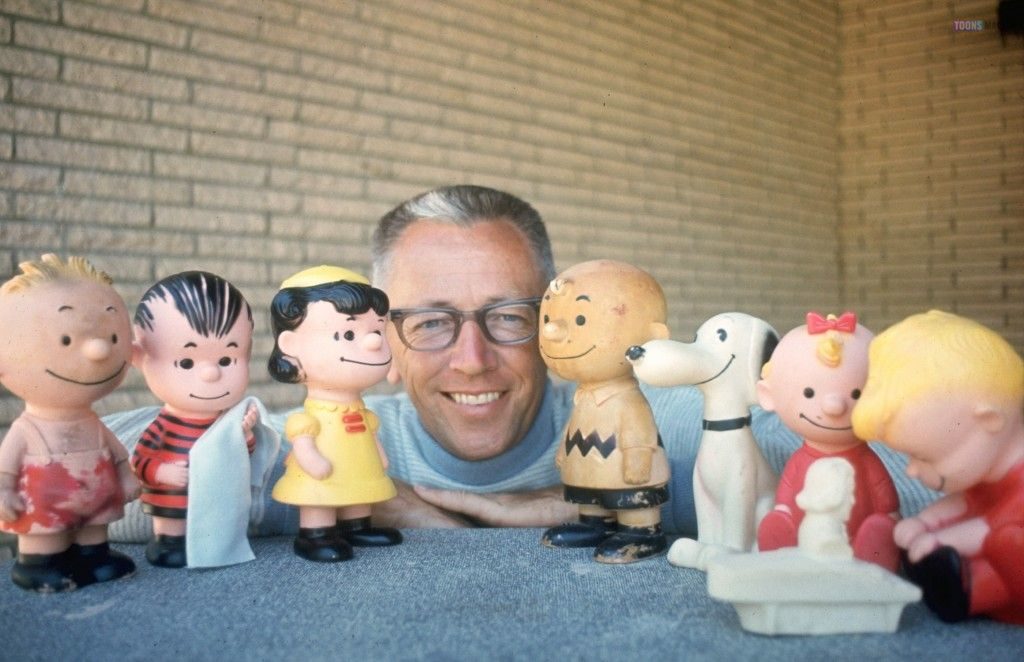 Opened on August 17, 2002, the Charles M. Schulz Museum and Research Center celebrates his life's work and art of cartooning and is located just two blocks from his former studio. A bronze statue of Charlie Brown and Snoopy stands in downtown Santa Rosa's Depot Park.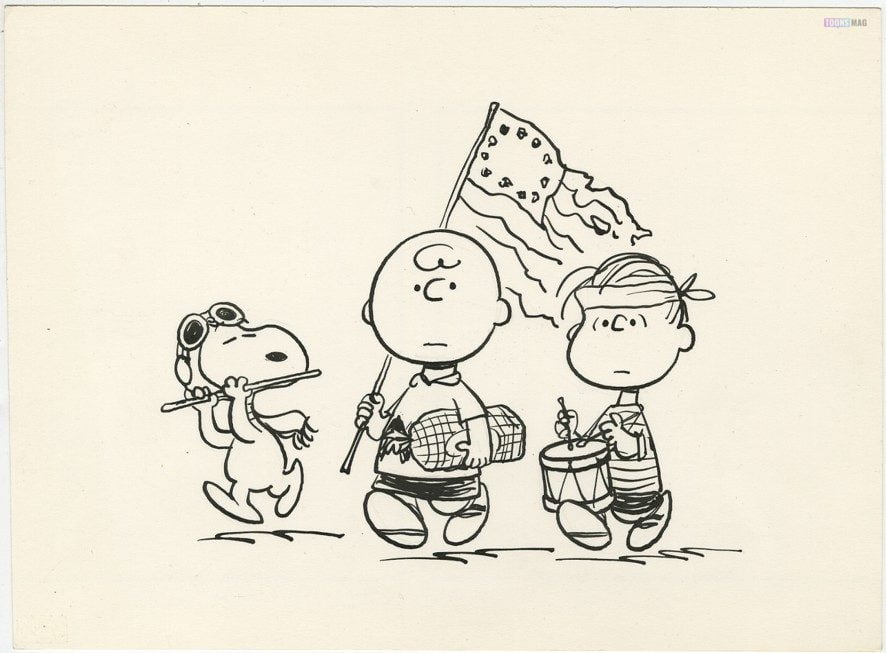 In his will, Charles Schulz requested that the Peanuts characters remain as genuine as possible and that no new comic strips based on them be drawn. United Features has legal rights to the strip, but Schulz wishes have been honored. Reruns of the comic strip are still being syndicated and new television specials have also been produced since his death, but the stories are based on previous strips.
Charles Schulz Autographed Sketch of Snoopy for Collectors