David Horsey
David Horsey was Born on September 13, 1951, in Evansville, Indiana.
CAREER:
Political cartoonist and journalist. Worked as a political reporter at Washington State capitol; Daily Journal-American, Bellevue, WA, political reporter, columnist, and editorial cartoonist, 1976-79; Seattle Post-Intelligencer, Seattle, WA, editorial cartoonist, columnist, and member of the editorial board, beginning 1979; syndicated by Tribune Media Services, 1986-89, King Features, 1988-2000, and Los Angeles Times Syndicate, 2000—.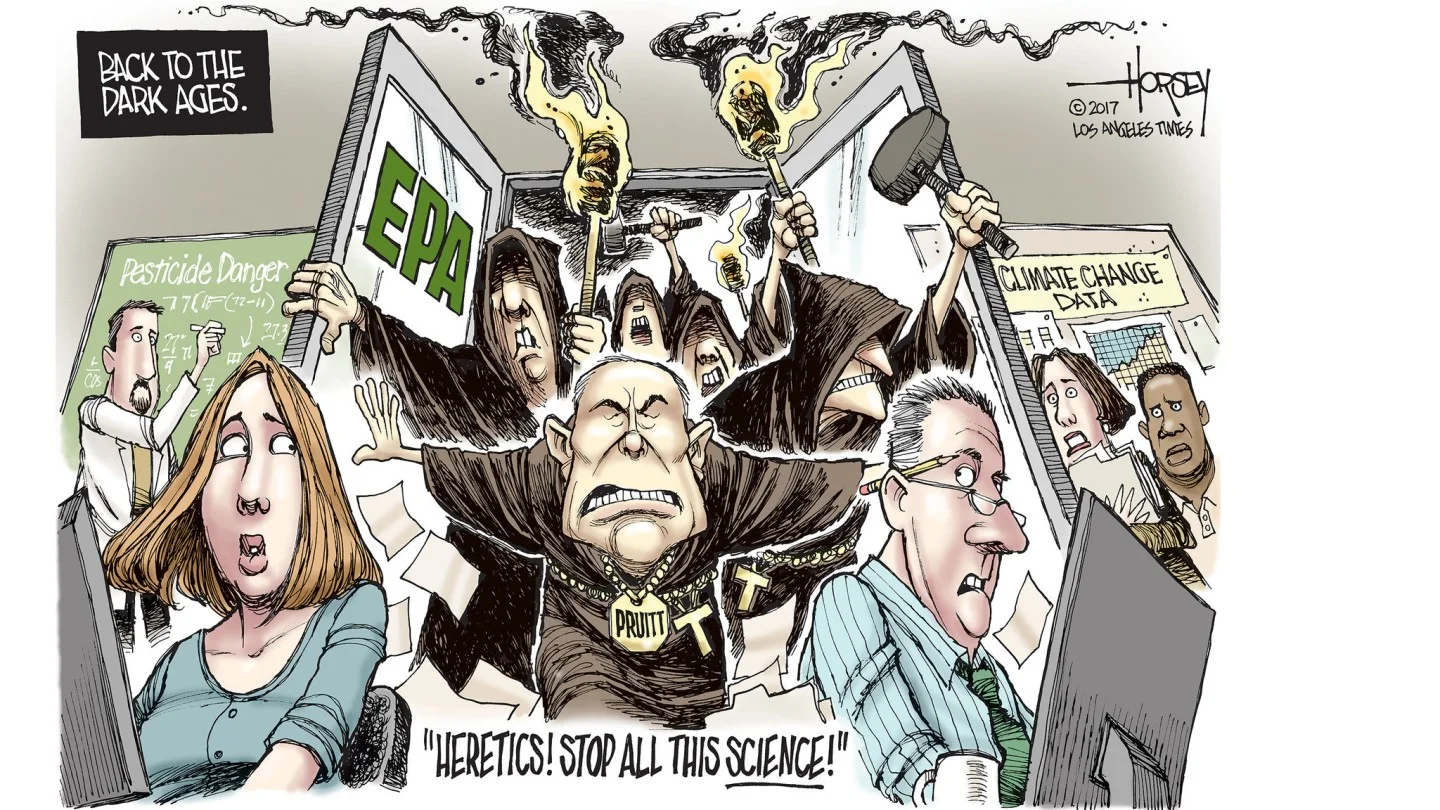 Horsey—Words and Pictures, Seattle, owner, 1993—; Academy of Realist Art, Seattle, instructor, 1998; active in local educational and youth athletic organizations; member of the advisory board, University of Washington College of Arts and Sciences. Exhibitions: Cartoons exhibited at Art Institute of Seattle, 1992, Michael Pierce Gallery, Seattle, 1997, Shoreline Country Club, 1999, and Frye Art Museum, Seattle, 2004.
MEMBER:
Society of Professional Journalists, Association of American Editorial Cartoonists (president-elect, 1999-2000, president, 2000-01).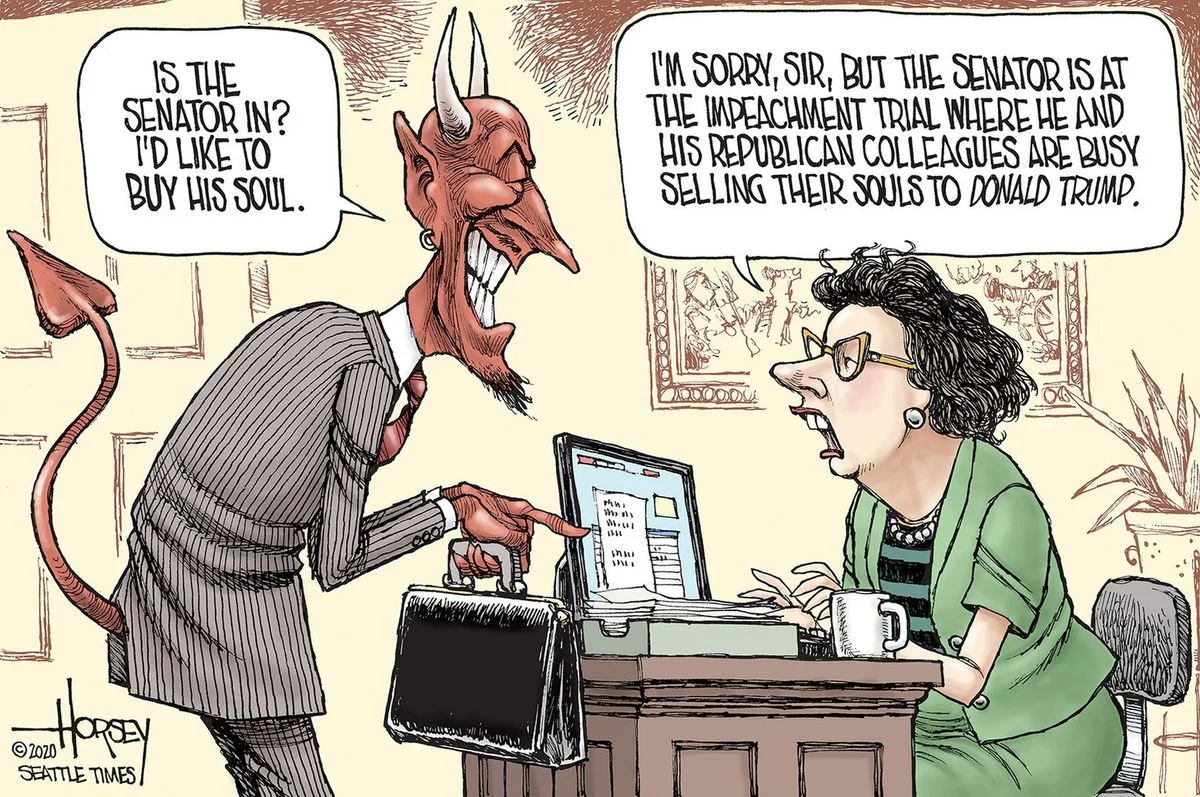 AWARDS, HONORS:
Pulitzer Prize for Editorial Cartooning, finalist, 1987; Global Media Award, Population Institute, 1991; Best of the West Journalism Competition, first place, 1994; Environmental Media Award, 1995; First Place for Editorial Cartooning in the Pacific Northwest, Society of Professional Journalists, 1997; Berryman Award, National Press Foundation, 1998; Pulitzer Prize for Editorial Cartooning, 1999, 2003; Susan Hutchinson Bosch Award, Society of Professional Journalists, 1999; numerous other awards.
WRITINGS:
Politics and Other Perversions, 1974.
Horsey's Rude Awakenings, Madrona Publishers (Seattle, WA), 1981.
Horsey's Greatest Hits of the '80s, 1989.
(Coeditor with Maury Forman) Cartooning AIDS around the World, Kendall/Hunt (Dubuque, IA), 1992.
(Cartoonist) Mary Waterhouse, Farewell Warefare, foreword by Whoopie Goldberg, Peanut Butter Publishing, (Seattle, WA), 1992.
The Fall of Man, 1994.
One-Man Show, 1999.
Some writings appear under the name of Dave Horsey.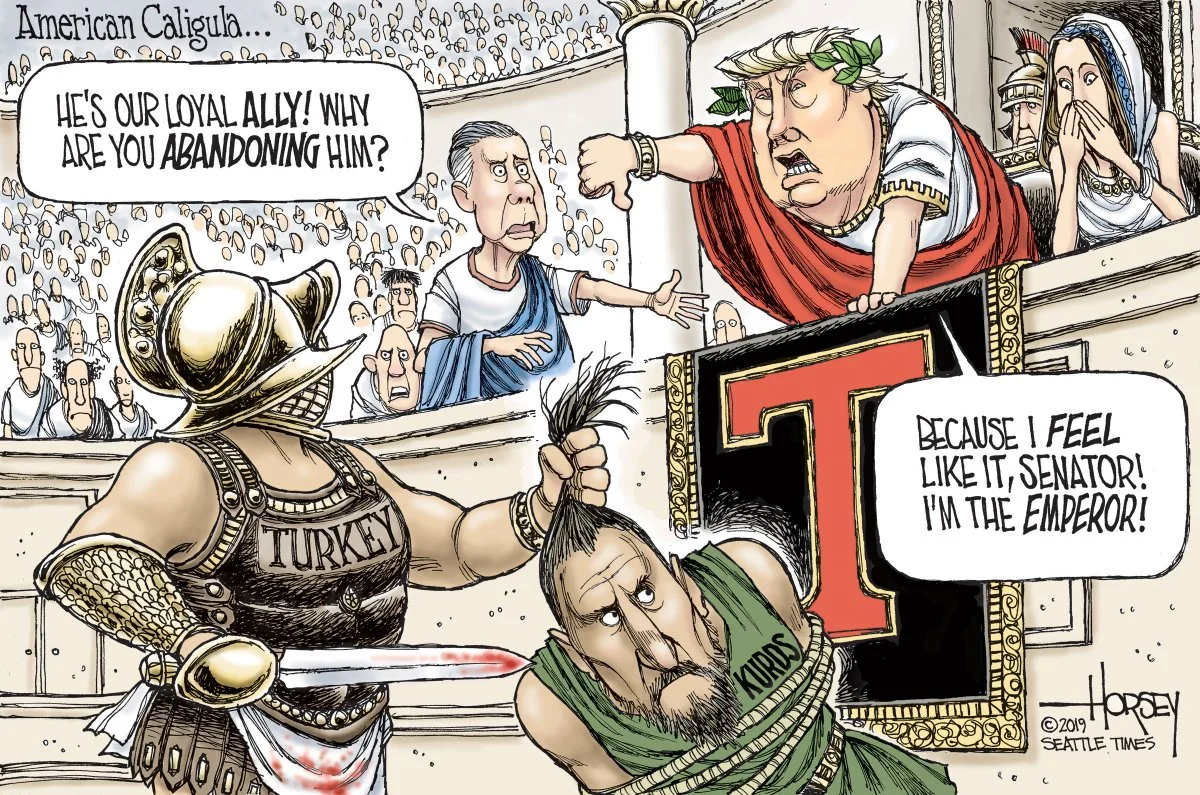 WORK IN PROGRESS:
A novel, Beyond the Border.
SIDELIGHTS:
David Horsey is a Seattle, Washington-based political cartoonist and columnist whose cartoons have earned him the Pulitzer Prize for Editorial Cartooning in both 1999 and 2003. On the staff of the Seattle Post-Intelligencer since 1979, Horsey's popular columns and cartoons helped keep the newspaper afloat during the late 1980s, as competing dailies threatened Intelligencer market share.
Because of a joint operating agreement with a competing citywide daily, the Seattle Post-Intelligencer has continued to provide Horsey with a forum for his barbed wit and humorous take on the fine art of political partisanship. He credits the Monica Lewinsky scandal that rocked the White House in the mid-1990s for providing with him the material that earned him his first Pulitzer.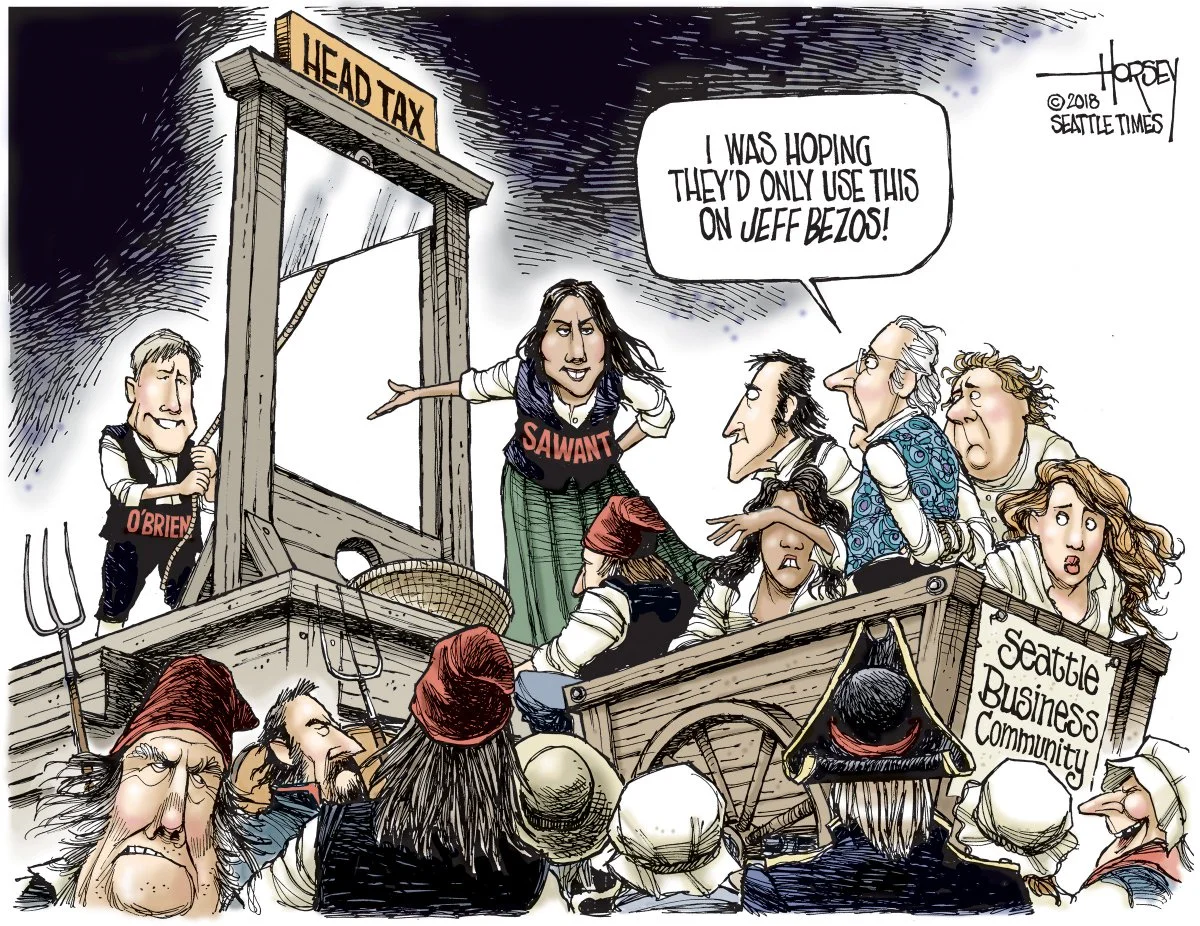 Horsey's cartoons, which are syndicated in hundreds of newspapers throughout the United States, have been collected in several anthologies, beginning with 1994's Politics and Other Perversions. His debt to colleagues such as cartoonist Oliphant is evident in his drawing style, and the influences of Mad magazine have also been noted by critics and fans alike.
Describing himself as a "radical centrist" according to an American Editor contributor, Horsey enjoys the freedom that comes from strong eschewing ideological ties. "I try to avoid being too ideology-driven," he explained. "For one thing, my favorite targets are the ideologues on the left and the right and, for another, I think shunning easy answers for myself makes me less likely to come up with a simplistic, cheap-shot cartoon."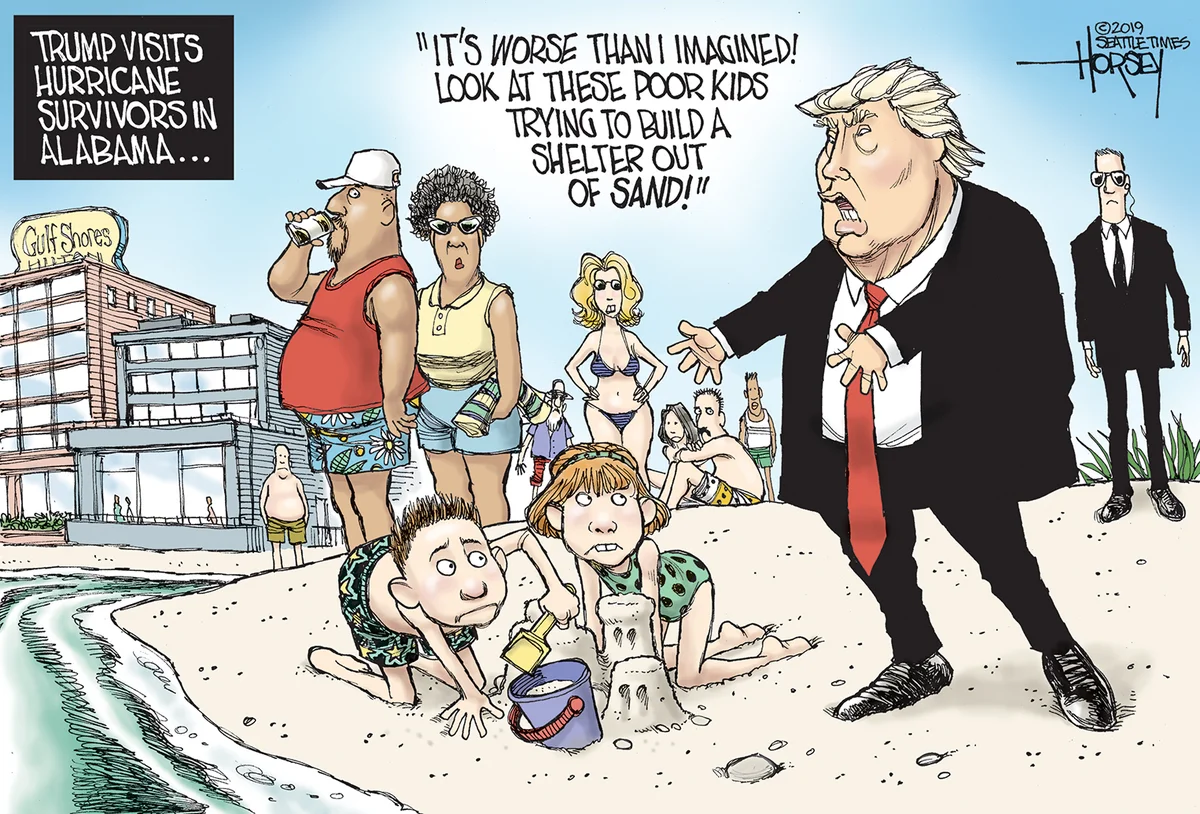 Horsey views his work as a cartoonist seriously. "Cartoons are a point of entry into newspapers," he explained to Editor and Publisher writer Dave Astor, "and they give people something to argue about. They have a very intense readership." As Peter Bagge noted in the Seattle Post-Intelligencer: " Editorial cartooning is one of those gigs that looks a lot easier than it is.
To comment on the latest news in a witty and succinct fashion … EVERY SINGLE DAY is quite a hat trick. Yet Horsey does this in spades, and keeps on doing it even though his 'reward' is usually an e-mail box full of letters telling him what an idiot he is." Since the Pulitzer Prize for editorial cartooning was first awarded in 1922, only ten other cartoonists join Horsey as multiple-Pulitzer winners.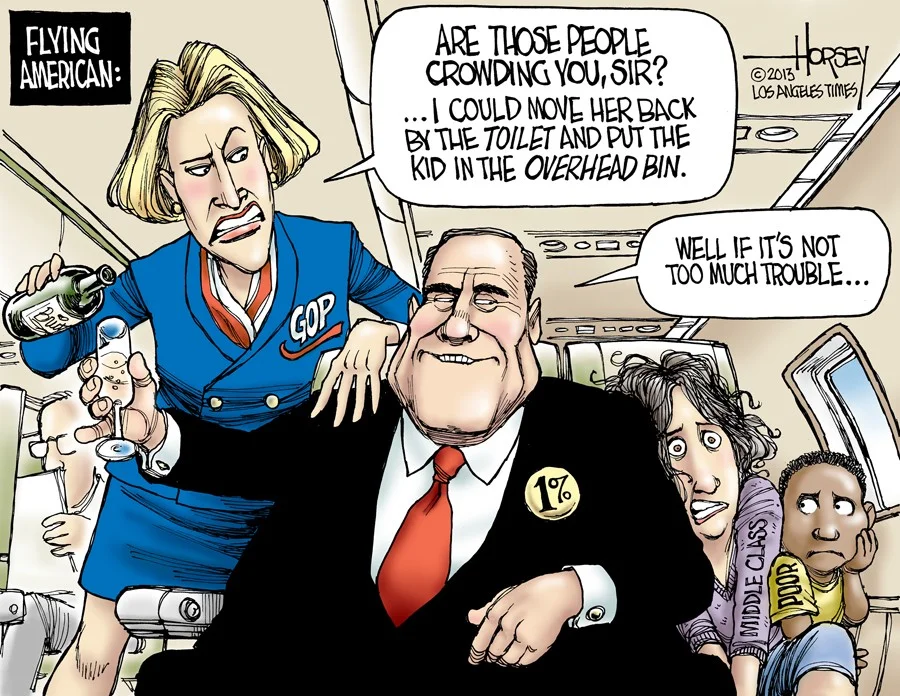 BIOGRAPHICAL AND CRITICAL SOURCES:
PERIODICALS
American Editor, December 1996, "David Horsey," p. 32.
Editor and Publisher, April 14, 2003, David Astor, "Pulitzer 2003," p. 22.
Seattle Post-Intelligencer, February 28, 2004, Peter Bagge, "Horsey Hits Targets with Precision and Style."
Read also: William Ellis Green (1923 – 2008)