Pat Oliphant
Pat Oliphant With a career spanning 35 years of American politics and counting, popular political artist Pat Oliphant serves as a role model for a generation of political and editorial cartoonists. Deemed the "most influential editorial cartoonist now working" by the New York Times, and credited by fellow Pulitzer Prize-winning editorial cartoonist Mike Luckovich with "creating modern-day political cartoons," Oliphant's work appears in approximately 375 newspapers, four days a week.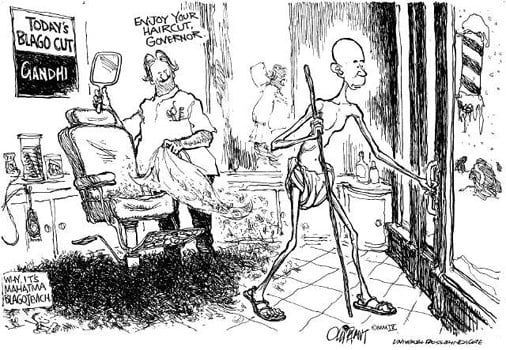 Oliphant grew up in Adelaide, South Australia, the son of a cartographer for Australia's Ministry of Lands. According to Oliphant, art was an early interest. He was drawing constantly by the age of five and spent a couple of years in art school after high school. In 1953, he joined the Adelaide News as a copy boy and "press artist" charged with drawing weather maps. Three years later he became the cartoonist for the Adelaide Advertiser, a job that combined his love for art with an interest in political cartoons fostered by his father.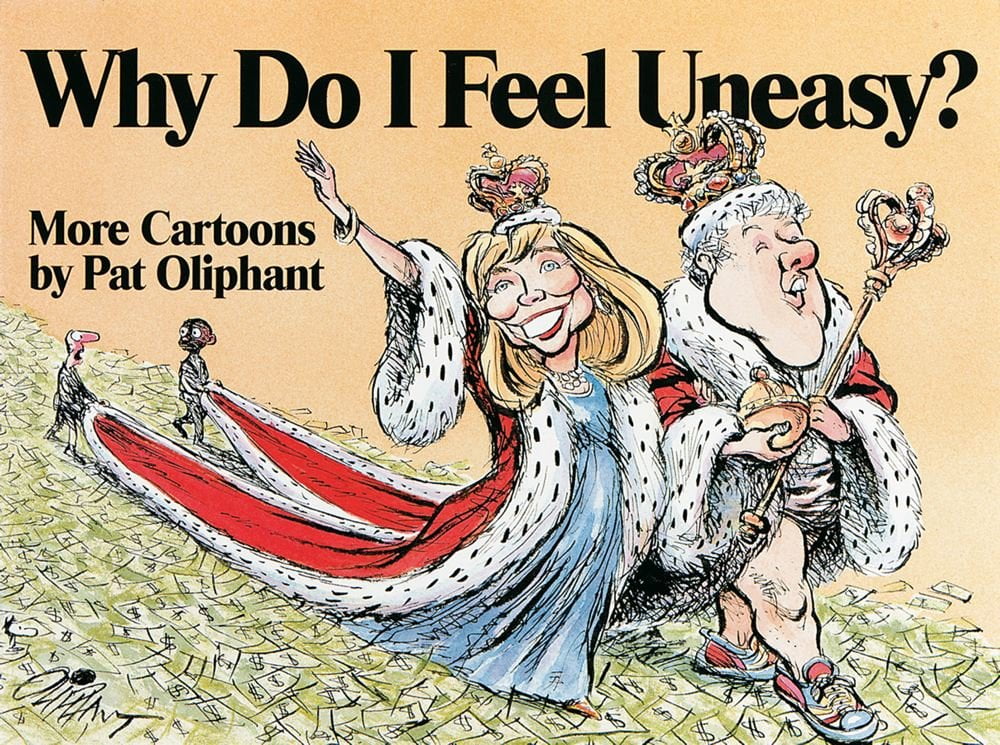 In 1964, he immigrated to the United States to escape what he described as a stifling, oppressive editorial environment. As he put it, "In 10 years cartooning there, I couldn't get anything controversial in the paper. To get anything done I had to leave." An artistic artifact of his days of dealing with conservative, intrusive Australian editors is he alter ego, the miniature penguin Puck, who still expresses his subversiveness by delivering the final word from the corners of his cartoons.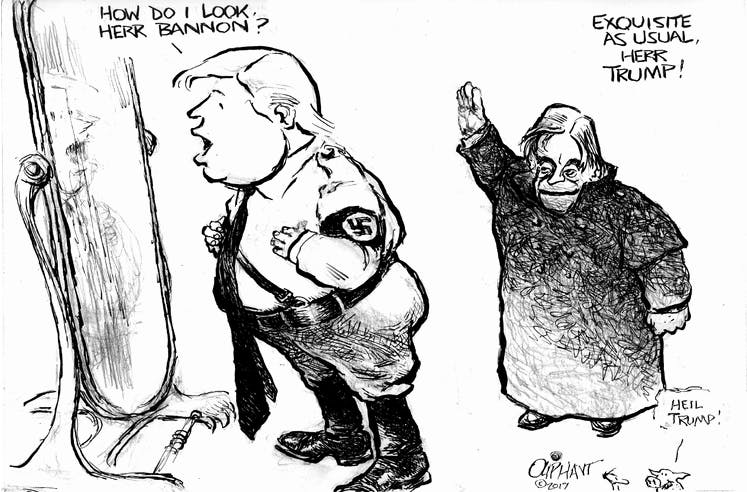 In retrospect, he explained that the editors may not have realized that he was "trying to subvert their system and say something in my own words. But the bird became very popular and became a regular element of my cartoons."
Just one example of the way Puck adds an extra element of humor to Oliphant's cartoons can be illustrated through a 1972 drawing published upon Truman's death.
The drawing pokes fun at Truman's well-known forthrightness by portraying a confrontation between Truman and St. Peter at the gates of heaven: As Truman tosses a harp over his shoulder with grumpy indignation, St. Peter leans back toward his assistant with an expression of weary resignation to ask, "See what you can do about digging up a piano" (a reference to Truman's hobby of playing the piano). In the bottom left-hand corner, Puck warns an angel, "And you just better like his playing!"
Within a year of his arrival in the United States, Oliphant was a nationally syndicated editorial cartoonist working at the Denver Post. He then drew for the Washington Star from 1975 until it folded in 1981. Since then, unlike most syndicated cartoonists, Oliphant has not been affiliated with a newspaper; instead, he works directly for the Universal Press Syndicate.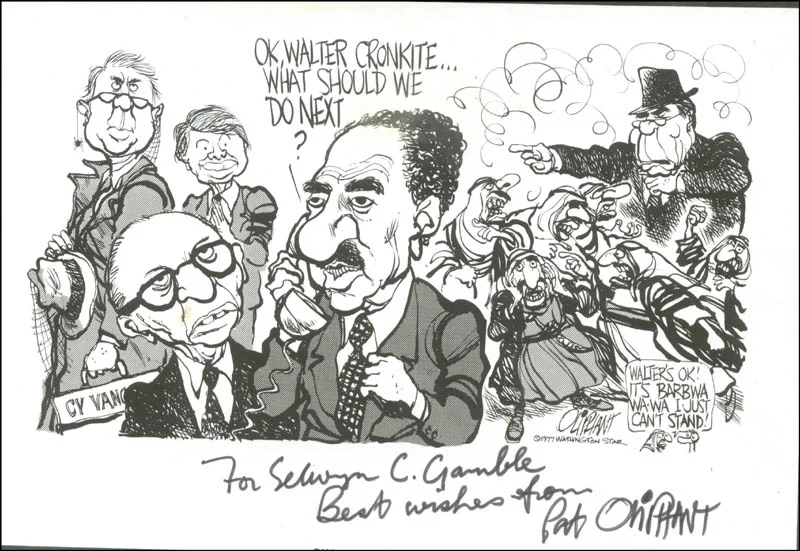 A curator who coordinated a 1998 exhibition of Oliphant's work at the Library of Congress characterized him as a "fine artist who happens to be a cartoonist rather than a cartoonist who happens to be a fine artist." In addition to his syndicated panels, Oliphant produces political sculptures (wax busts and bronze sculptures), abstract oil paintings, lithography, and monotypes.
In 1998, a collection of his sculptures of seven American presidents, each less than a foot tall, was featured in a national traveling exhibition. The tour included a bust of former President Gerald Ford with a quizzical expression on his face and a small plastic bandage on his head and bronze of former President George Bush playing horseshoes that one critic described as "a large almost insect-like figure … all thinned-out arms, torso, and legs."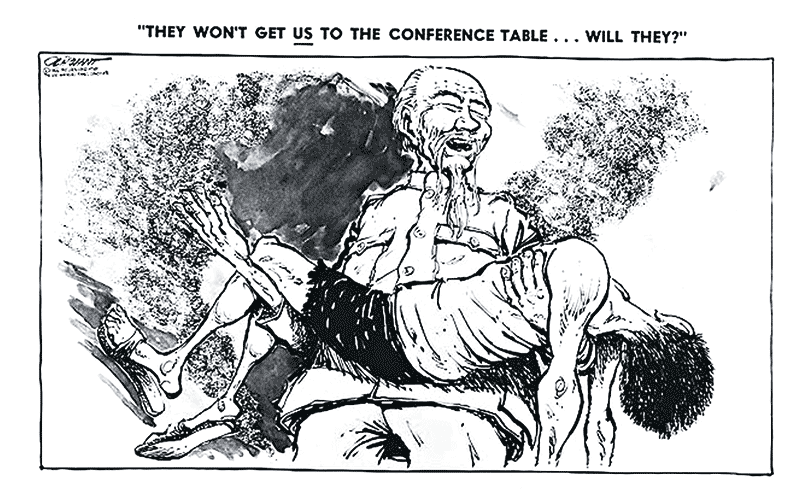 Oliphant's self-described artistic routine involves spending his mornings drawing cartoons and his afternoon's painting, sculpting, and printmaking. Although largely self-taught, Oliphant took three years of drawing classes in the 1980s at the Corcoran School of Art in Washington D.C. He also travels to New York City monthly to participate in a drawing group that works with live models. Among his artistic idols are painter Edgar Degas, English cartoonist Ronald Searle, and French artist and political cartoonist Honore Daumier.
Among his many awards, Oliphant holds a Pulitzer Prize, awarded in 1967. The legendary account of how he won it is a testament to his bluntness and honesty. Oliphant recounted his prizewinning strategy as follows: he sought out a book of past Pulitzer winners and noted that they were all "very jingoistic sorts of cartoons." Using that book as a guide, he found one "very patriotic jingoistic cartoon" that he had done earlier in the year and included it among his 11 entries.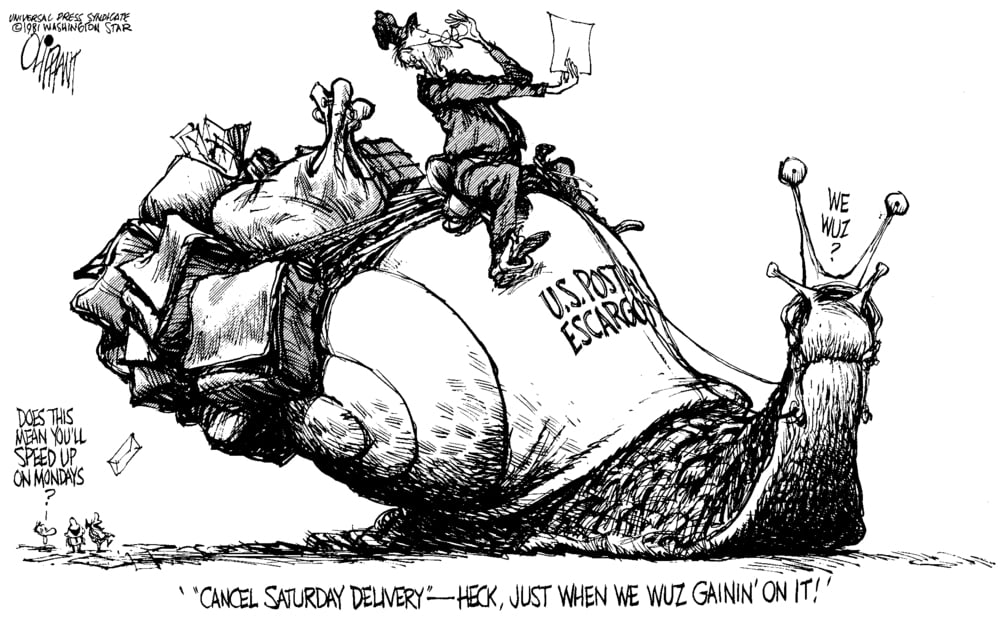 The cartoon portrays North Vietnamese leader Ho Chi Minh carrying the corpse of a Viet Cong soldier, with a caption that reads, "They won't get us to the conference table … will they?" The Committee selected it as their winner.
Another infamous tale reveals a self-proclaimed tendency to vote for politicians he despises because they provide the most material for his cartoons. Confirming this old story in a 1998 interview, Oliphant explained, "Of course I voted for Reagan, who would want to draw Walter Mondale for four years?"
Read also: William Ellis Green (1923 – 2008)