Cartoonist Zunar quizzed by cops over book on Anwar
BY MELATI AMALINA ABD JALIL
Cartoonist Zunar and his lawyer Latheefa Koya during the press conference after the former was investigated at the Dang Wangi police station in Kuala Lumpur, today. – The Malaysian Insider pic by Afif Raiezal, November 20, 2014. Political cartoonist Zulkiflee Anwar Ulhaque, also known as Zunar, was today questioned by police over his book "Komplot Penjarakan Anwar".
Accompanied by his lawyer Latheefa Koya, Zunar entered the Dang Wangi Police Station at about 3.05 pm and was questioned by ASP Wan Aidil from Bukit Aman for about an hour.
He is being investigated for offenses under Section 8 (2) of Printing Presses and Publication Act 1984, Section 4 (1) (c) of the Sedition Act 1948 and Section 500 of the Penal Code.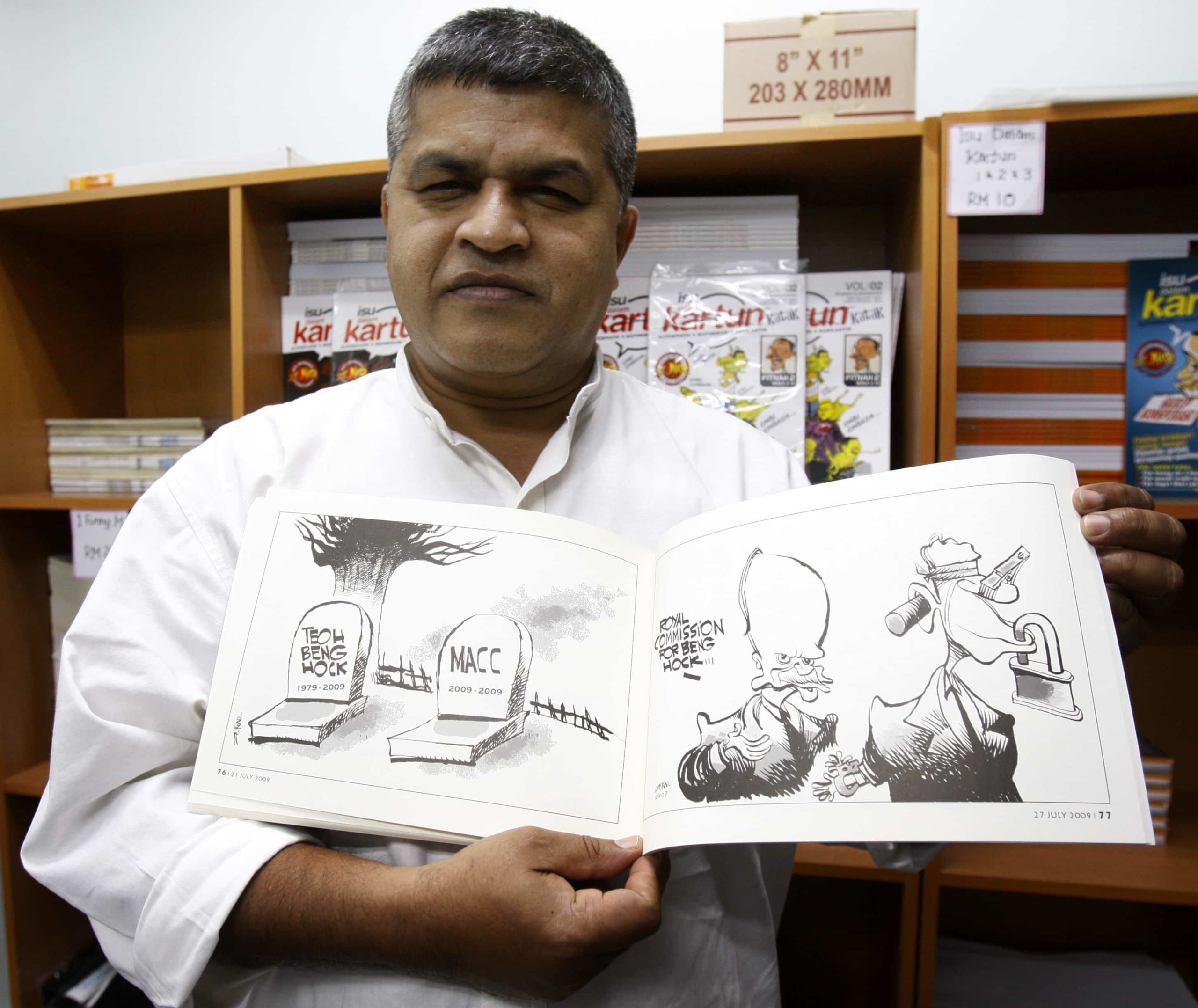 Latheefa later told reporters outside the police station: "Around 26 and 27 questions were put to Zunar, with the questions based on his book "Komplot Penjarakan Anwar" (Conspiracy to Jail Anwar)."
She said police confirmed that the book had not been banned, and added that, "If this book is not banned, what are they investigating for? What is the offense?"
She said the questioning of Zunar was an abuse of police power and a waste of time and resources.
"For them to investigate over one book that is not banned shows that they do not have other work to do."
Zunar told reporters that police had asked MOLPay, the company that manages online sales of his book, for details of buyers who had purchased his book.
"The company had no choice but to follow the order," Zunar said, adding that the action can be seen as a breach of privacy.
"For them to get the details of buyers who had nothing to do with the case, I see it as an action to scare buyers."
Latheefa said the investigation of Zunar had nothing to do with those who bought the book and accused that police of behaving like the oppressive authorities of China and North Korea.
"This is proof that they have overstepped their powers, and are scaring people from purchasing online."
Kedah-born Zunar is well known for criticizing Putrajaya through his cartoons.
On November 6, three of his assistants were detained by police for selling two of his books – "Konspirasi Memenjarakan Anwar" (Conspiracy to jail Anwar) and "Pirates of the Carry-BN". The title of the second being a play of words on the Hollywood movie, "Pirates of the Caribbean" and the acronym for the ruling party, Barisan Nasional.
The webmaster of his website was also called to state the police.
At least 50% of his cartoon works produced in 2009 have been deemed illegal by the Malaysian authorities.
Outside the country, he has received wide recognition, with speaking engagements in the United States and Spain, among others.
His book "Pirates of the Carry-BN" is in the library of Congress in Washington DC, and is cataloged under "Asia" along with 120,000 other cartoon books.
Zunar is also a recipient of the Award for Courage in Editorial Cartooning by US-based Cartoonists Rights Network International. – November 20, 2014.
News source