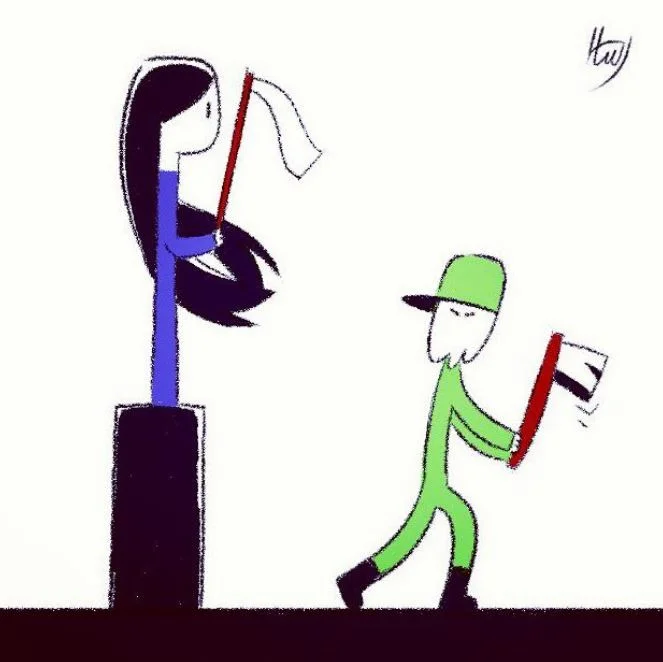 The woman who took her hijab off in public and waved it like a white flag in central Tehran was protesting the Islamic dress code enforced on women in Iran.
The woman, reportedly a 31-year-old mother, broke the law by exposing her hair in public, risking arrest and fines.
The Girl of Enghelab Street, nicknamed so because of the name of the road where she took her head-scarf off in protest, has spurred many other women in Iran to do the same.
Since her protest on December 27, she has become a symbol for Iranian women's fight against compulsory hijab, with many sharing the video of her protest on social media and illustrations of her brave stand.
She has become the 'poster child' for the White Wednesday movement, which encourages Iranian women and those who support their plight to take off their hijab, and was started by journalist and campaigner Masih Alinejad.
White is one of the most common colors of headscarves in Iran, which only allows 'modest' shades such as white, brown or black.
Another campaign fighting against the enforced hijab in Iran set up by Ms. Alinejad is My Stealthy Freedom.
It is 'dedicated to Iranian women inside the country who want to share their "stealthily" taken photos without the veil', and aim to be a 'living archive' of their fight.
It sees women post 'stealth' photos or videos of themselves where they have dared to take off their hijab, to spread the message and protest.
Some women film themselves walking down public streets without their headscarves to show to the world the amount of abuse they face if they dare show their hair.
Since the 1979 revolution, Iran has required women to wear the Islamic headscarf in public.
The Islamic code also forbids women touching, dancing or singing with men outside their families.
Women are only allowed to show their faces, hands, and feet in public and are supposed to wear only modest colors.