Aaron Vincent McGruder
Creative and bold cartoonist Aaron Vincent McGruder stirred the pot of race controversy in the United States with the explosive national syndication of his "The Boondocks" comic strip in 1999. At age 24, McGruder suddenly found himself on the defensive for his frankness in expressing through his strip how he perceived American race relations.
The young cartoonist did not cower from the spotlight, however; nor did he capitulate to the authority of political correctness by working within the margins it implies. His strip attracted a large audience immediately to become rapidly one of the most popular comic strips in American newspaper history.
Whether the strip's popularity was due more to an appeal for what Aaron Vincent McGruder opined or to disapproval was not clear from a prevailing mood present in the letters-to-the-editor responses it generated—some heralded it as a breath of fresh air in describing America's racial climate, while others condemned it as having the power to incite even more racial tension.
Regardless, the strip was devoured by the public, perhaps simply because readers were craving material that was not motivated by polls or a prescribed behavior of how we should all get along but was a satirical description of the complexity of interaction among American blacks and whites and the various subcultures prevalent within America's races.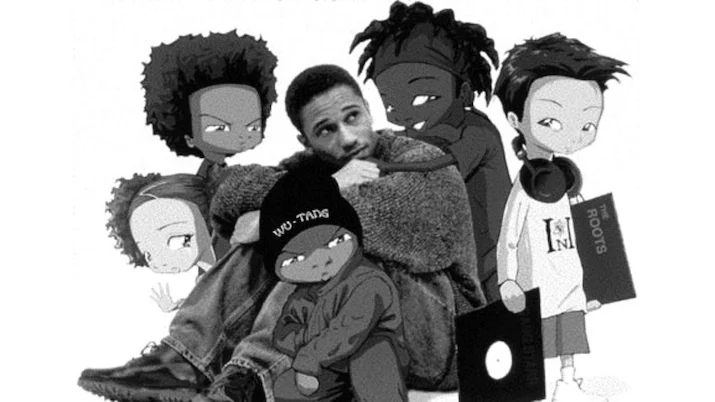 Born in Chicago in 1974, Aaron Vincent McGruder and his family moved to the suburb of Columbia, Maryland, which is not far from both Washington, D.C., and Baltimore. Aaron Vincent McGruder, like his comic strip characters Huey and Riley Freeman, was an urban black kid who found himself having to adjust to living in the suburbs among a white majority.
At a young age, he became keenly aware of the complexity of American race relations and the feelings of alienation that one may experience due to the string of misunderstanding that is tied so tightly to perceptions of race. While growing up in the "Boondocks," hip-hop slang for the suburbs, Aaron Vincent McGruder was creatively influenced by the "Peanuts" and "Bloom County." In a 1999 Editor and Publisher article, McGruder attributed his fondness for those cartoons to their characters' "depth of emotion." He was also a great fan of Star Wars movies and hip-hop music.
Introduced America to Live in the Boondocks
Aaron Vincent McGruder attended the University of Maryland, where he majored in Afro-American studies, with a concentration.
At a Glance…
Born Aaron Vincent McGruder in 1974, in Chicago, Illinois; son of Bill (a communications specialist) and Elaine (a homemaker) McGruder. Education: University of Maryland, 1997.
Career: Cartoonist. Launched "The Boondocks" strip on The Hotlist Online website, 1996; featured on University of Maryland's independent newspaper, The Diamondback, 1996; strip picked up by The Source, 1997; strip runs on Universal Press, 1998-.
in social and cultural analysis, and graduated in 1997. Known to his friends as the "A-double" or "Brother A-dub," he launched a comic strip during his college years that he called "The Boondocks" on a website called The Hotlist Online in February of 1996. Expecting criticism of his ideas and artistic ability, the artist was astounded by a rapid response of over 100 positive e-mail messages applauding his comic strip.
On December 3, 1996, McGruder joined the staff of the university's independent newspaper, The Diamondback, contributing "The Boondocks," which quickly became famous across campus and even drew acclaim off-campus nationally. After only two months McGruder pulled his strip from the paper. He explained in the FAQ page of his Boondocks website, "…that newspaper jerked me and forced me to take my strip elsewhere."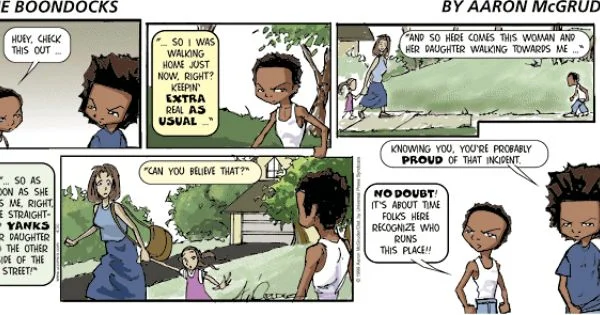 When McGruder graduated, national hip-hop magazine The Source published "The Boondocks." Aaron Vincent McGruder enjoyed a short stint in the leading urban magazine during 1997. He confessed on his website in late 1999 that his strip could reappear in The Source. He recalled, "There were some legal and contractual disagreements that caused us to pull the strip. It's coming back though."
In 1997, Aaron Vincent McGruder met Harriet Choice of Universal Press at a National Association of Black Journalists convention in Chicago. When Choice approached McGruder with a syndication offer, Universal Press had been considering the inclusion of "The Boondocks" for a while among several others.
Looking to attract a young readership, Universal Press launched "The Boondocks" in about 160 papers in December of 1998. By February the strip appeared in papers in 195 American cities. Newspaper editors and McGruder himself received an overwhelmingly positive and negative response to the racial and political themes, ideas, and statements "The Boondocks" illustrated.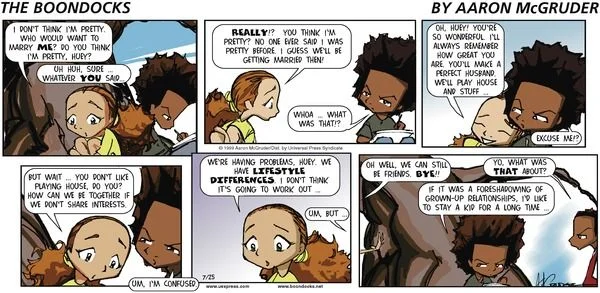 The strip's central characters are brothers Huey and Riley Foreman, who moved to a predominantly white suburb from Chicago and are attempting to make sense of the complex interracial dynamics they are experiencing with their new neighbors, including Cindy, a white girl who only knows life as it is in "the boondocks;" Caesar, a "lyrically rambunctious Brooklyn MC," as described by McGruder himself on the Boondocks website; Hiro Otomo, who, according to McGruder on his website, is a "practitioner of the turntable bushido;" and Jazmine DuBois, a biracial girl, begotten of a white liberal woman and a Harvard-educated black man.
On the Boondocks website, McGruder surveyed Huey and Riley as, respectively, a "radical scholar," and a "hardcore knucklehead." The former's namesake is Black Panther, Huey Newton. McGruder commented on the Boondocks website that the strip was "meant to be an intelligent and satirical view of black/white relationships as well as black/black relationships." The child characters, like "Peanuts," engage in experience-based, adult-like dialogue, effectively bringing out thought-provoking topics to be reflected on by the reader.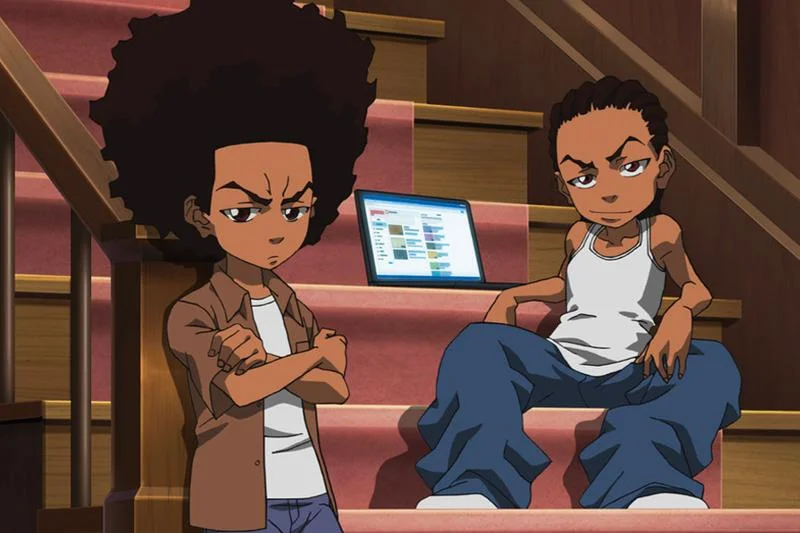 Made No Apologies for His Art
While McGruder has been regarded by many as a popular media hero who introduced critical pondering into an atmosphere of reader-friendly mainstream journalism, many others—readers and editors concerned with maintaining readership quantity—have deemed McGruder a cultural menace looking to incite a racial war. William Powers, one of McGruder's defenders, posited in a July of 1999 National Journal article, "The Boondocks' isn't pretending to tell the absolute truth about race, but instead McGruder is trying to create characters whose experiences, thoughts, and feelings on race somehow ring true."
McGruder assessed on his website that "…to effectively and intelligently poke fun at something as potentially explosive as race relations requires an in-depth knowledge of subtleties and nuances of the racial dynamic—not to mention an awareness of the line between humor and offense."McGruder paints the state of race relations in the United States based on how his life experience and study has revealed it to him. He hopes to improve problems of race evidenced in the involuntary preconceptions, scapegoating, and fear felt among Americans of all races by getting his readers to stop and reflect on, not necessarily the interracial ideal, but the reality, and how it might become closer to the ideal.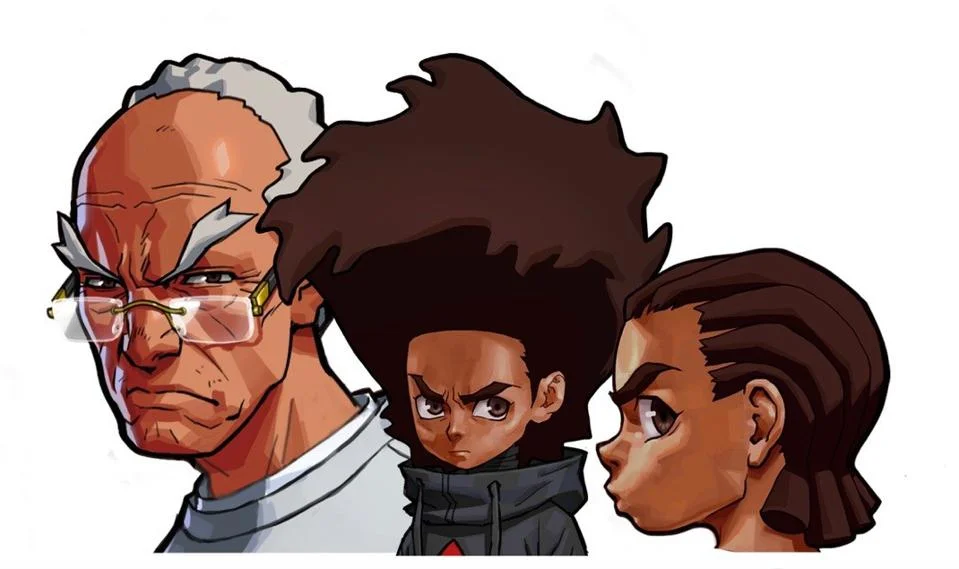 In mid-1999 McGruder began receiving payment based on his six-figure contract with Universal Press. Residing in Columbia, Maryland, with his parents, Elaine, 50, a homemaker, and Bill, 52, a communications specialist, McGruder was looking to move into his place. In his free time, he co-hosted a college radio show, "The Soul Controller Mix Show," on 88.1 WMUC, College Park, Maryland. In the fall of 1999, McGruder worked with director Reginald Hudlin on a for-television cartoon.
By 2000, "The Boondocks," appeared in over 250 newspapers. However, as the strip's readership increased, so, too, did the controversy surrounding it. The release of one particular Boondocks strip at the end of May proved to be very poor timing. In this strip, Huey launched into one of his trademark rants, accusing a teacher of, according to Editor & Publisher, "keeping the masses ignorant."
Huey then told the teacher that "the day of reckoning fast approaches." Two days after this strip ran, a student in Lake Worth, Florida shot and killed a teacher. The coincidence sparked an outcry against Aaron Vincent McGruder's strip, but the cartoonist remained calm and objective. Aaron Vincent McGruder explained that there has never been any real violence in "The Boondocks" and that, while the character is anti-system, Huey is not anti-people.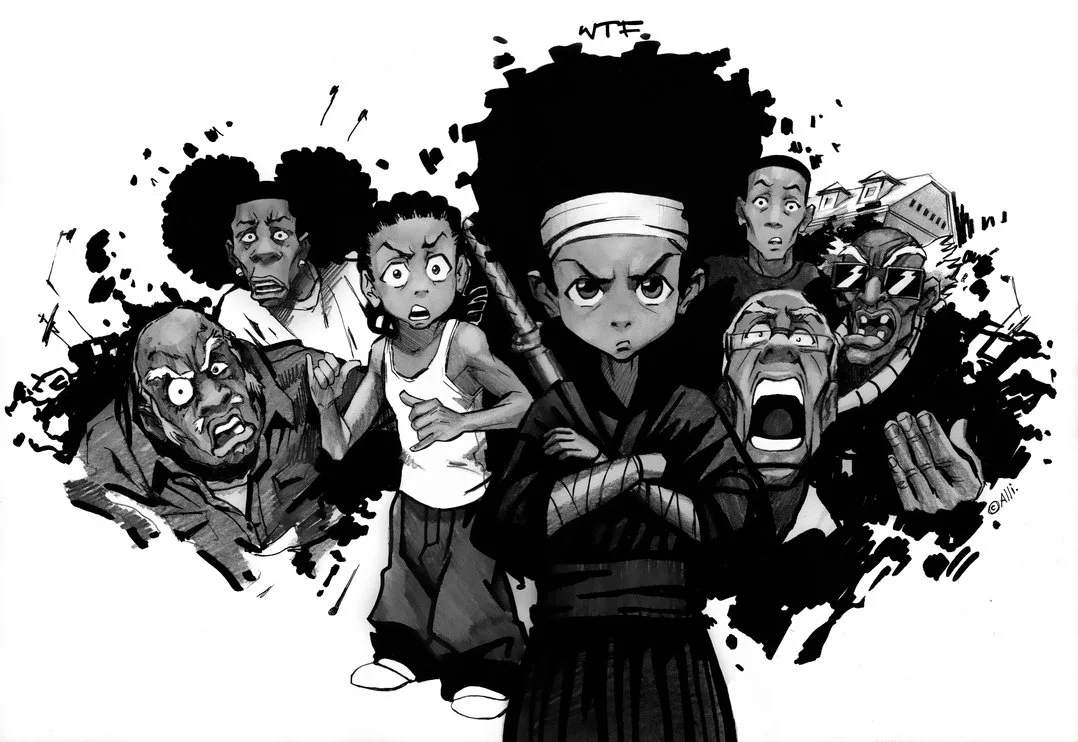 In 2000, Aaron Vincent McGruder stood among only nine African American cartoonists with syndicated comic strips. The Universal Press Syndicate's communications director, Kathie Kerr, said that, while the strip attracted a younger audience, "The Boondocks" also "brought a sense of diversity to the comic pages." That sense of diversity, however, came hand-in-hand with controversy and criticism.
Aaron Vincent McGruder suggested to Editor & Publisher in 2000 that much of the controversy surrounding "The Boondocks" stems from a double standard for white and black cartoonists, saying, "Trudeau [of "Doonesbury" fame] gets away with things, but I can't say the word 'pimp.'"
Although his strip has inspired considerable controversy, McGruder has lever purposefully chased after it. His goal is not too off and, but rather to increase social consciousness through humor. In October of 1999, Aaron Vincent McGruder told Editor& Publisher, "when my strip is at its best, it brings you up to the brink of being offended and pulls back at the last minute."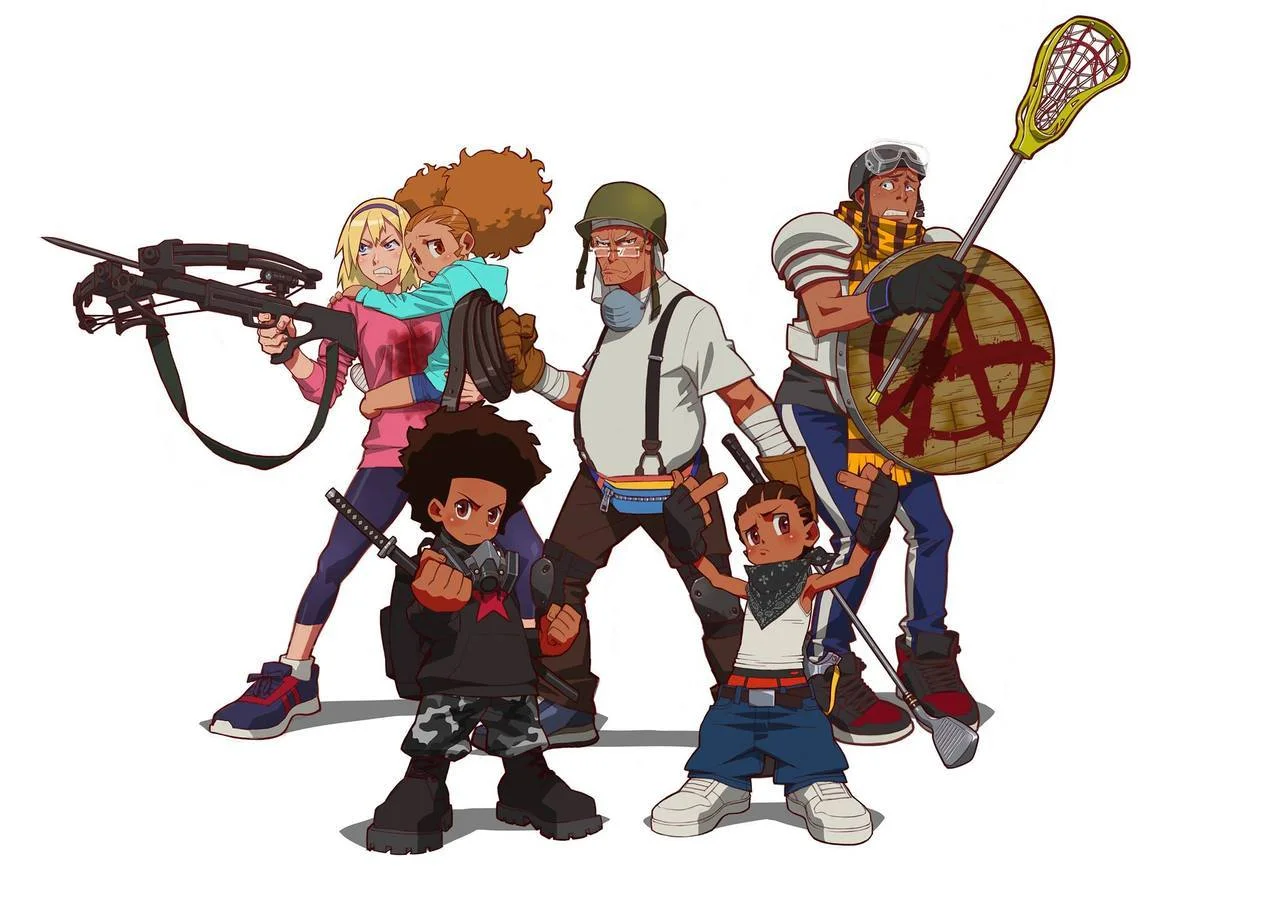 Sources
Periodicals
Black Enterprise, July 2000.
Editor & Publisher, April 17, 1999; August 14, 1999; October 9, 1999; June 12, 2000.
National Journal, July 10, 1999.
Newsweek, July 5, 1999.
People Weekly, July 26, 1999.
Time, July 5, 1999.
Washington Post, April 26, 1999.