Rube Goldberg
Rube Goldberg was a professional cartoonist for over 60 years, the creator of more than a dozen nationally syndicated comic strips, and the winner of a Pulitzer Prize for political cartooning, yet he is remembered at the end of the twentieth century chiefly for one thing—the Rube GoldbergInvention. In various strips over the years, he concocted elaborate, multi-part machines to perform the simplest of tasks. These struck readers as extremely apt comments on the overly complicated and often circuitous lives led by just about everybody in modern society.
Eventually, Goldberg's inventions earned him a listing in most dictionaries and made his name part of the language. Rube Goldberg Machine competitions continue to be held in high schools and colleges around America, and Purdue University has an annual National Competition for the best Goldberg variations.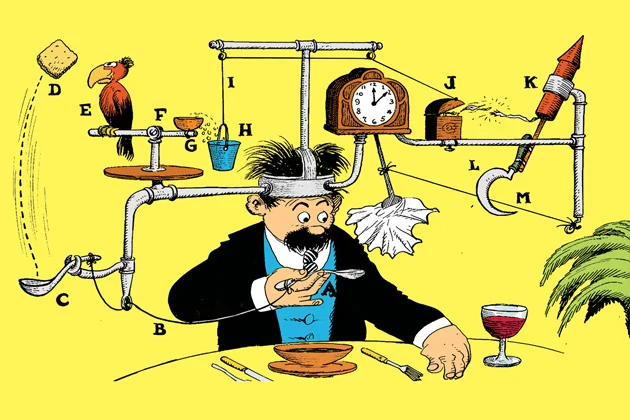 Born Reuben Lucius Goldberg into an affluent San Francisco family, Goldberg attended the University of California at Berkeley and majored, at his father's urging, in engineering. But he was also in on the founding of the college humor magazine, The Pelican, to which he became a contributing cartoonist.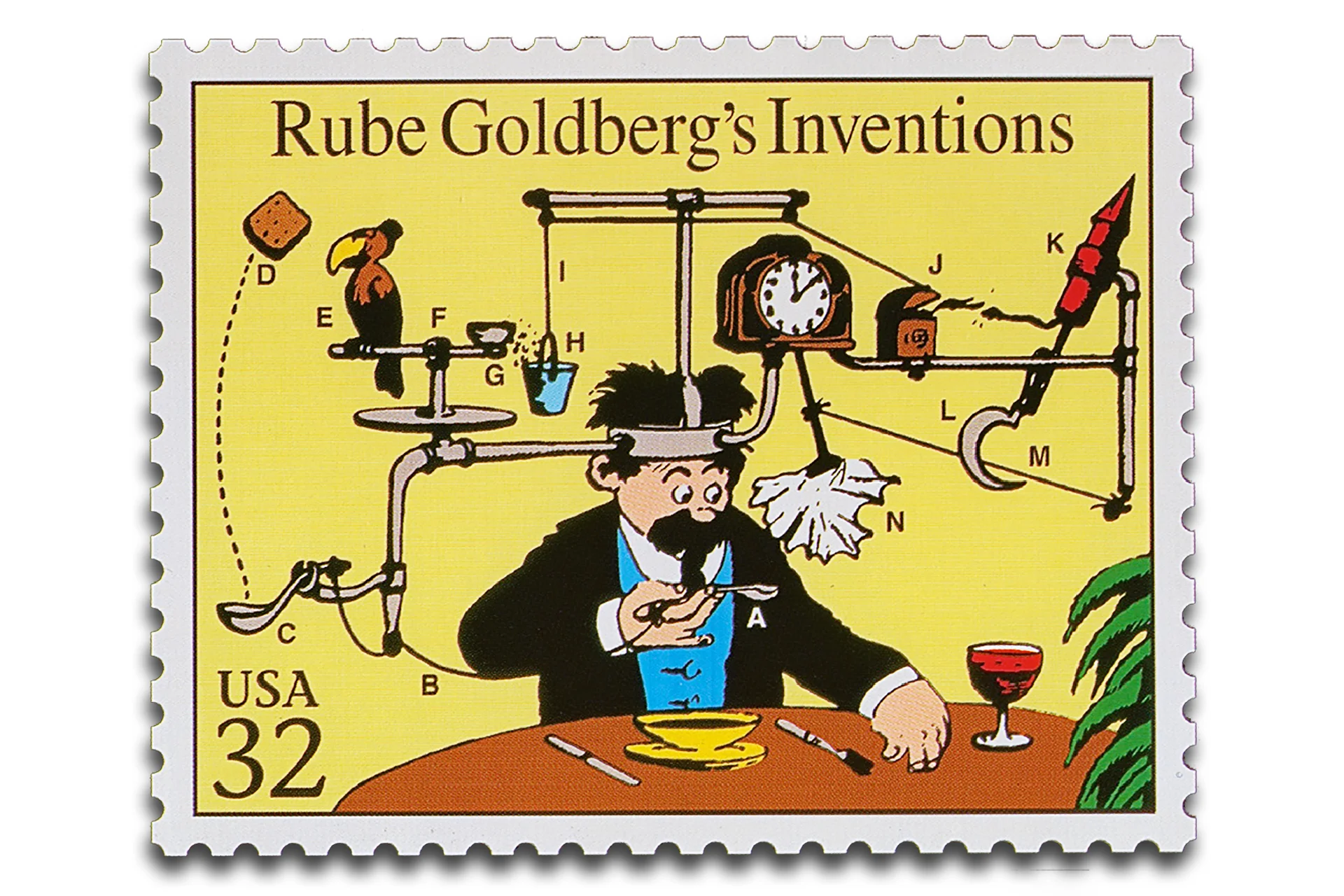 By 1904, despite his engineering degree, young Goldberg was working on the San Francisco Chronicle, and a year later he was drawing sports cartoons for the San Francisco Bulletin. Soon he moved to New York City to draw for an assortment of newspapers, starting with the Evening Mail, at impressive increases in salary each time he moved to the next publication.

He drew such daily strips and panels as Mike and Ike, They Look Alike, Lunatics I Have Met, I'm The Guy, Cartoon Follies, The Candy Kid, and Foolish Questions. This last-named panel, much imitated over the years, offered rude answers to obvious inquiries—"Q. Did your hat fall in the water? A. No, I threw it in there for some frogs to use as a ferry boat. Q. Is this number 99? A. No, mister, it's number 66—we turned the house upside down just for a change."
Goldberg began including inventions in his strips, often attributing them to Professor Lucifer Gorgonzola Butts, a sort of screwball anagram of his full name. The inventions, which were presented in cartoon diagram form, involved not only sundry mechanical devices, especially pulleys but ingredients that were not always readily available to more conventional inventors.

These included a hungry goat, a dancing Eskimo, a miniature elephant, waltzing mice, a college boy, a penguin, an electric eel, Miss Las Vegas, and a palooka hound, plus numerous bowling balls, pistols, midgets, fish, and umbrellas. The components of each mechanism were labeled with letters of the alphabet so that a reader could construct his intricate machine to perform such simple tasks as opening a can, uncorking a bottle, or slicing bread.

The typical description accompanying a Goldberg invention is exemplified by that for a device designed to wash dishes while one is out. It begins, "When spoiled tomcat (A) discovers he is alone he lets out a yell which scares mouse (B) into jumping into the basket (C), causing lever end (D) to rise and pull string (E)," etc.
Goldberg sometimes admitted that an invention might not function perfectly and so he offered alternatives. The dishwashing instructions concluded with, "If the cat and turtle get on to your scheme and refuse to cooperate, simply put the dishes on the front porch and pray for rain."
Goldberg's major Sunday page, Boob McNutt, began in 1915 and survived until 1934. The strip was syndicated in the Hearst papers by the McNaught Syndicate. It starred a plump, redheaded, and accident-prone young man, dressed somewhat like a silent movie comedian, and, as his name implied, was naïve and none too bright. The feature has been described as "an eclectic jumble of satire, burlesque, fantasy, and cockeyed technology."

From 1922 onward Boob was preoccupied with the courtship of a pretty girl named Pearl, who was the target of many a fiendish scheme constructed by the strip's villains. Mike and Ike, their panel defunct, joined the cast, along with Bertha the Siberian Cheesehound. Goldberg had done a mock adventure strip, Bobo Baxter, in the middle 1920s, and in the early 1930s, he drew a serious daily. Doc Wright was ahead of its time, trying soap-opera continuities years before Mary Worth made them fashionable, but it lasted less than two years.
Lala Palooza came along in 1936, daily and on Sundays, and concerned itself with the humorous adventures of the plump, rich Lala and her layabout brother Vincent. Even though Vincent now and then came up with an invention in the Professor Butts vein, Lala was not successful and ended in 1939.

Next came Goldberg's last go-round in the funny papers with Side Show, a Sunday page that offered a hodgepodge of different features under one roof: Crackpot College, Little Butch, Brad and Dad, and, of course, a Weekly Invention. By then, Goldberg was getting considerable help with the drawing from his longtime assistant Johnny Devlin. He and Devlin also had a hand in putting together Feature Funnies in 1937. When the comic book ceased reprinting Lala Palooza pages in its lineup, Devlin drew new ones, glamorizing and streamlining Lala considerably.
Goldberg began drawing political cartoons in the early 1940s for the New York Sun, and after the paper suspended publication he signed with the New York Journal American and King Features Syndicate. He had quite a bit of help from Warren King, who later became the political cartoonist for the New York Daily News. One of these collaborations won Goldberg a Pulitzer in 1948. He also put together many cartoon books, wrote a novel, and helped found the National Cartoonist Society. The highest annual NCS award is called a Reuben in his honor.