Bill Watterson: Unconditionally Passionate about Work; In today's world, 'work' is, probably, the most hated word- in general. Nobody feels like going to work, Monday blues are the most commonly shared feelings and finding something to do that not only fills the pocket but also the soul is the next to the impossible task assigned to every human being. Passion and profession- these two poles-apart terms define our life and if anyone succeeds in making these two work together, it is considered- successful in life.
Well, it's not as rare to find someone with this kind of success, as it may sound and cartoonist Bill Watterson is just one of them. With some of the strongest perseverance and consistency over a period of five years, he has become what he is today with his comic strips 'Calvin & Hobbes'- created about a boy and his imaginary toy tiger friend- despite some really bad failures in the beginning.
Bill Watterson Early Life
William Boyd Watterson was born on July 5, 1958, in Washington D.C. and he is currently living in Cleveland with his wife. He maintains a very low profile life and declines all the interviews. His father James Watterson was a patent attorney. He moved to Chagrin Falls, Ohio at the age of 6, along with his parents. There, his mother Kathryn started working at the City Council by winning a seat. James also joined the City Council of Chagrin Falls after about 30 years.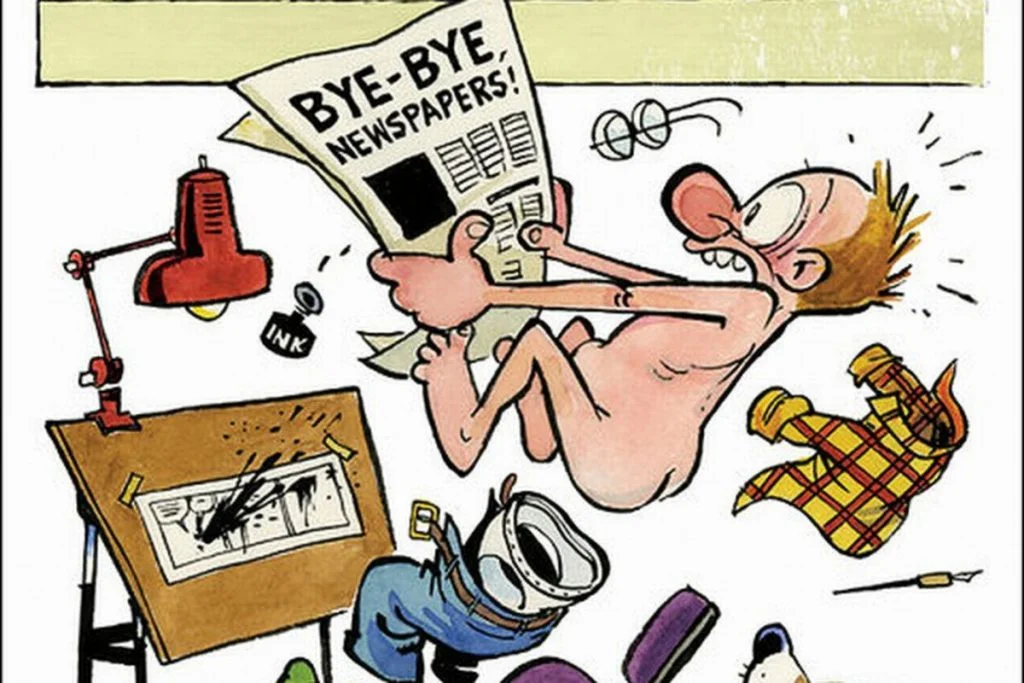 Bill Watterson was a very talented student all along. He attended Ohio's Kenyon College in 1976. There he worked for the Collegian Campus Newspaper, for 4 years, drawing political cartoons. Also, during his sophomore year, he took a few weeks to draw a copy of Michelangelo's "Creation of Adam" on his dorm room's ceiling. Just like other successful cartoonists, Bill too showed his talent for drawing at a young age. Although, unlike his character Calvin he never had an imaginary friend in his childhood, he was heavily inspired by Charles M Schulz (creator of Peanuts) and Walt Kelly (illustrator of Pogo).
The Struggling Period
"To endure five years of rejection to get a job requires either a faith in oneself that borders on delusion, or a love of the work. I loved the work."

– Bill Watterson, commencement speech at the graduation of Kenyon College in 1990
Bill graduated from college in 1980 and joined Cincinnati Post as an editorial cartoonist. But he was never really interested in Politics and that reflected clearly in his works. He used to observe his older colleagues there and think of what will happen to his life if he keeps on working to just pay the bills. Eventually, being not at all impressed with his work, the authority fired him within a year and he was back to living with his parents. After leaving the newspaper, he realized that politics was never his thing and returned to his core interest i.e. comic strips.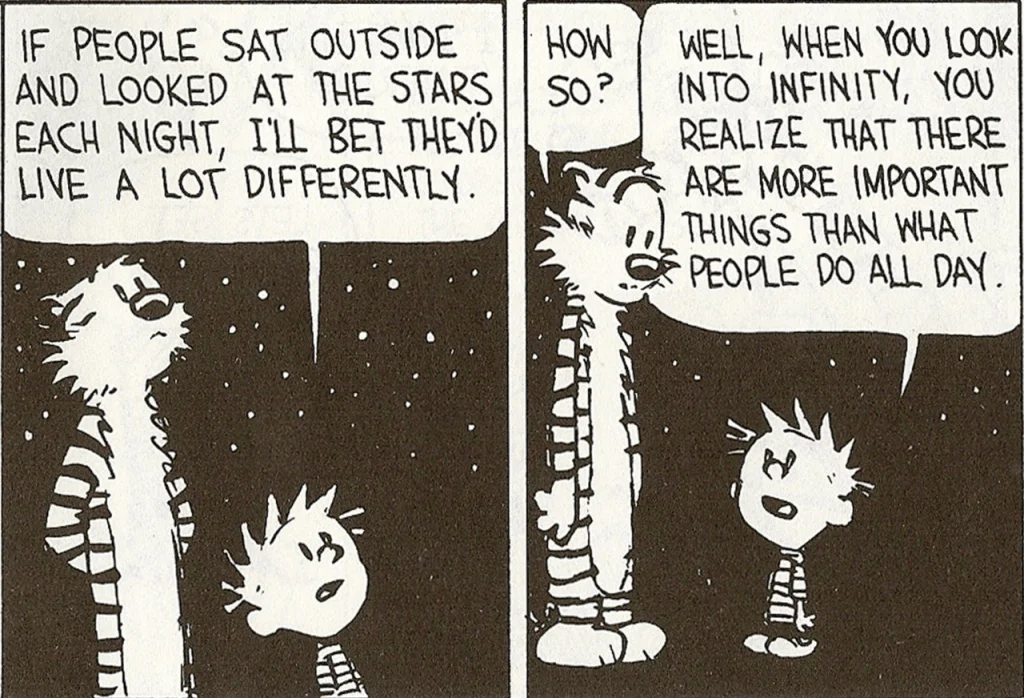 This was the starting of his test in terms of perseverance and consistency and it lasted for 5 years. During this period, he kept on sending his comic strips to syndicates and ended up opening only rejection mails. While he knew that this was not the practical way to live, he didn't give up on his dreams either and found a temporary balance until things work out as desired. He started designing advertisements for a car dealership and a grocery store to pay the bills and continued sending his comic strips. Six such comic strips were developed and sent to the United Features Syndicate and all the six were rejected. But things finally started to turn right in 1985 with the creation of 'Calvin & Hobbes' and getting published.
A Decade with Calvin & Hobbes
"If I had rolled along with the strip's popularity and repeated myself for another five, 10 or 20 years, the people now 'grieving' for 'Calvin and Hobbes' would be wishing me dead and cursing newspapers for running tedious, ancient strips like mine instead of acquiring fresher, livelier talent. And I'd be agreeing with them."

– Bill Watterson
Bill kept experimenting with many characters and developed 7 different comic strips in 5 years. The 7th one, though rejected by United Features Syndicate for they had a doubt about its business potential, Universal Press Syndicate bought it in 1985 and published it. Bill Watterson was only 27 years old at that time. This was the start of one of America's all-time most popular comic strips ever.
Calvin & Hobbes got to entertain the audience for a period of only 10 years! Sounds unbelievable, right? But that's a fact and it was intentional. The above-mentioned quote by Bill himself justifies his decision enough; however, naturally, the audience was not really happy about it. But nothing made Bill change his decision regarding this series. Neither did it ever receive any official merchandising.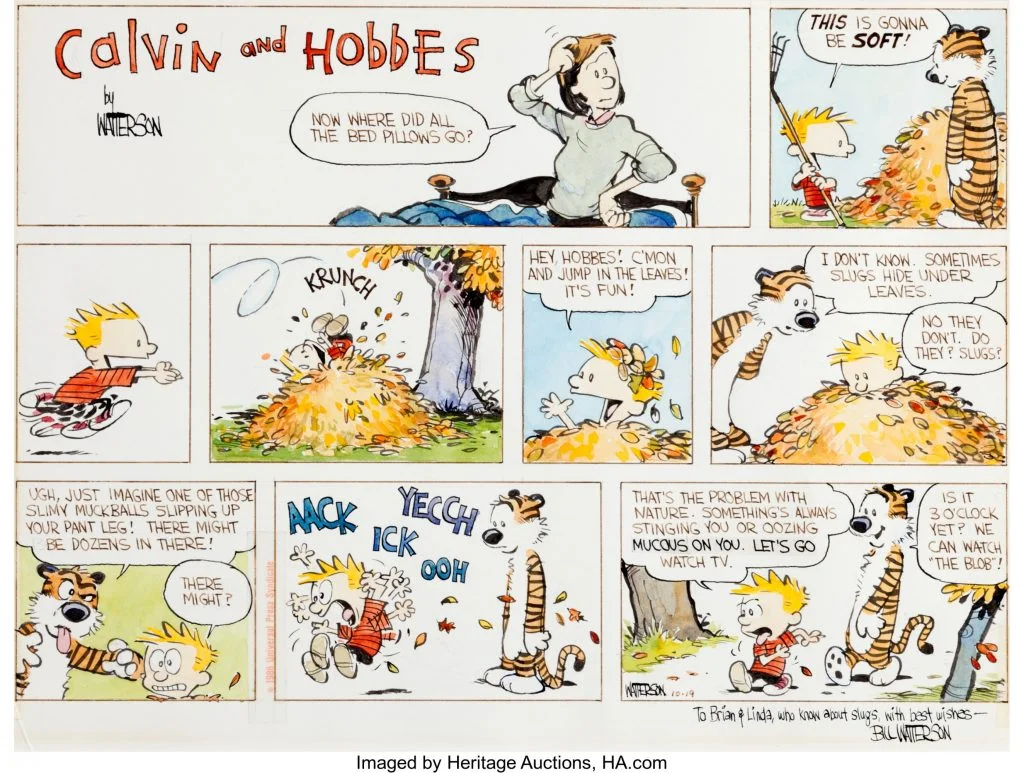 Calving & Hobbes- is a story of a boisterous 6 years old boy who has a confusing philosophy; at one point he behaves his age and on other times, he is way too older & wiser & learned with his remarks. Hobbes was his imaginary stuffed toy tiger who sprang to life only when alone with Calvin and was like a wise mentor. The comic strips, through its childish characters, presented some really deep philosophy that made the audience- think. It's not very known to everyone that Bill is very much fond of reading and he is a big fan of philosophy. In fact, the two leads of his comic strips are named after his two favorite philosophers and thinkers: theologian John Calvin and philosopher Thomas Hobbes.
"Reading those turgid philosophers here in these remote stone buildings may not get you a job, but if those books have forced you to ask yourself questions about what makes life truthful, purposeful, meaningful, and redeeming, you have the Swiss Army Knife of mental tools, and it's going to come in handy all the time."

– Bill Watterson
Calvin & Hobbes brought Watterson the highest honor in the industry, National Cartoonist Society's the 'Rueben Award for Best Cartoonist' in 1986. He was the youngest cartoonist to receive this honor. Seeing the huge popularity of the comic strip, the Universal Press Syndicate wanted to produce merchandise with Calvin & Hobbes, but Bill didn't want his characters to be used for such commercial purposes and wanted to keep them to express his personal thoughts only.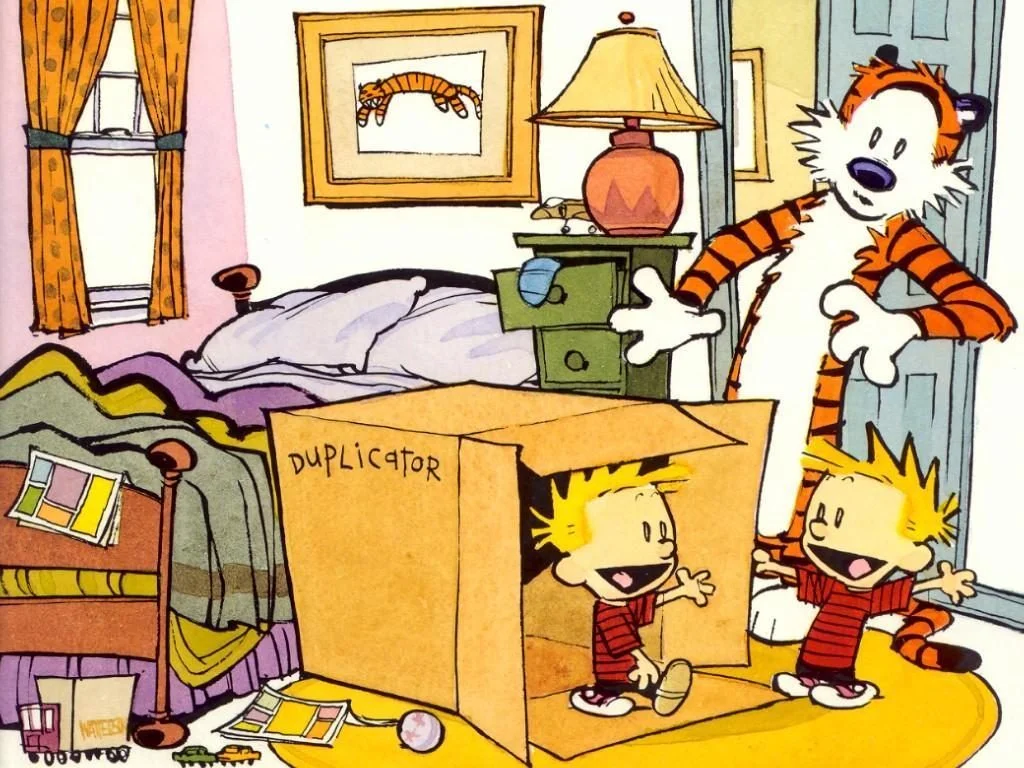 That is the reason for which there is no official merchandise with the series; yes, there are plenty of unauthorized ones available in the market. Not only that, Bill announced to end the strip in 1995 breaking hearts of millions of fans, after starting it only 10 years back. The final strip of Calvin & Hobbes was run on December 31, 1995. These two incidents are amazing proofs of how passionate Bill was with his works and how much he loved it. There was no financial inspiration behind it at all.
Later Life
Bill did come back to writing though, in 2014. He needed to raise some money to fight Parkinson's disease and so, he collaborated with cartoonist Stephan Pastis on 'Pearls Before Swine'. He also contributed to the poster art of the documentary named 'Stripped'.
At present, he is spending a very simple life with his wife in Cleveland. He has no regrets at all for ending his popular series of Calvin & Hobbes while it was so young and people wanted to have so much more out of it. As he puts it himself:
"It's always better to leave the party early."