Charles M Schulz: an Ordinary Life with Extra-ordinary Mind; In every class at school, there are only a handful of students who are equally cool and smart; on the other hand, there are those who may not make it to the cool list, however, they can possess a seriously interesting and brilliant mind. Charles M Schulz belonged to the latter group- not that he wasn't cool, but he wasn't quite the popular kid. And that's what inspired his best work making him a legend.  'Peanuts' is essentially the story of ordinary people with ordinary problems and yet the capabilities of going on- no matter what.
Early Life
To put it in the simplest form- Charles Schulz was an illustrator. But his work didn't limit to the term only; rather, it lived up to the definition of a legend. He was born as Charles Monroe Schulz on November 26, 1922, in Minneapolis, Minnesota and died on February 12, 2000, in Santa Rosa, California of the United States. His father was a German immigrant and a barber as a professional, whereas his mother Dena was a waitress who later remained just a homemaker. Charles was the only child of his parents. Most of his childhood was passed in Twin city. There, he studied at St. Paul's Central High School.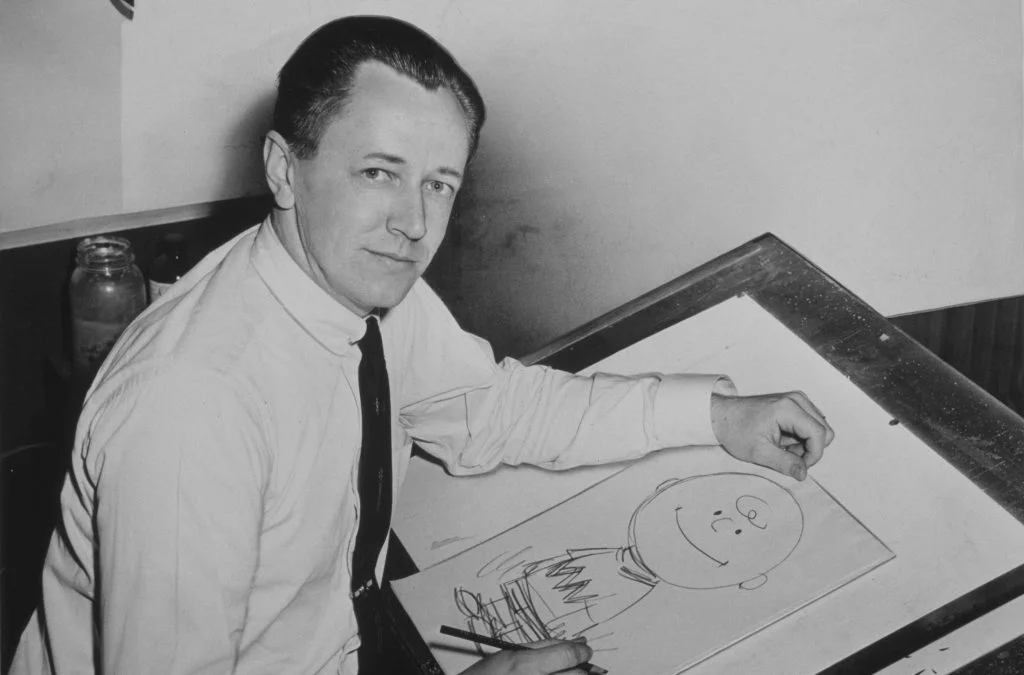 Like many other genii, his future too looked bright from a young age. E.C. Segar's Thimble Theatre (Popeye), Percy Crosby's Skippy and Al Capp's L'il Abner- were on the list of his weekly newspaper reading time with his father. The first time his talent received a public appreciation was when his drawing of the pet dog Spike was published in Robert Ripley's popular 'Believe It or Not!' in 1937. He officially began studying cartooning in his senior year at school through correspondence with the Federal School of Applied Cartooning in Minneapolis. Although he kept on sending his drawings to different publishing houses while managing his life by working odd-jobs, his career plan was halted in 1942 as he had to join the US Army.
Emergence of Peanuts
I'm astonished at the number of people who write to me saying, 'Why can't you create happy stories for us? Why does Charlie Brown always have to lose? Why can't you let him kick the football?' Well, there is nothing funny about the person who gets to kick the football.

– Charles Schulz
Charles earned enough fame in the army for his services, but he did not detach himself from the world of cartoon and during his service in the army, he developed a liking for the characters names 'Willie' and 'Joe' created by Bill Mauldin for the military publication 'Stars & Stripes'. After returning from the army, he joined his old cartooning school as an instructor and this gave him a great opportunity to hone his own skills.
1947 marks a great year in the cartooning career of Charles M Schulz. Early in that year, he got one of his pieces published for the first time and in the same year, he got his weekly panel started in the 'St. Paul Pioneer Press' titled 'Li'l Folks'. This actually was based on Schulz's personal life. Through this strip, he brought in a group of three, four, and five-year-old characters based upon semi-autobiographical experiences. It featured the prototypes of his soon-to-be-legendary characters 'Charlie Brown' and 'Snoopy'. Next year, 17 of his first cartoons were published in The Saturday Evening Post. In 1950 United Feature Syndicate bought his cartoon strip of 'Li'l Folks' which was the major breakthrough in his career; however, to avoid clashes regarding the naming of the strip with other similar ones, Schulz unwillingly renamed it to 'Peanuts'.
The Quirky Peanuts
My life has no purpose… my life has no direction… no aim… no meaning… and yet I'm happy… I can't figure it out… What am I doing right?

– Charlie Brown, Peanuts
All the characters of Peanuts had something to do with our ordinary everyday life. But these cast of quirky, yet normal, characters grabbed a permanent place in the audiences' mind before long. The stories of Peanuts center on Charlie Brown, although all the characters have significant roles to play to make Peanuts what it turned out to be. Charlie Brown is that not-so-cool, unpopular, looser of the class. He never gets to kick the ball and always has his kite stuck in a tree. He is fun to watch but nobody really wants to be like him; whereas, more or less almost all of us have, at least once in our life, been in his position.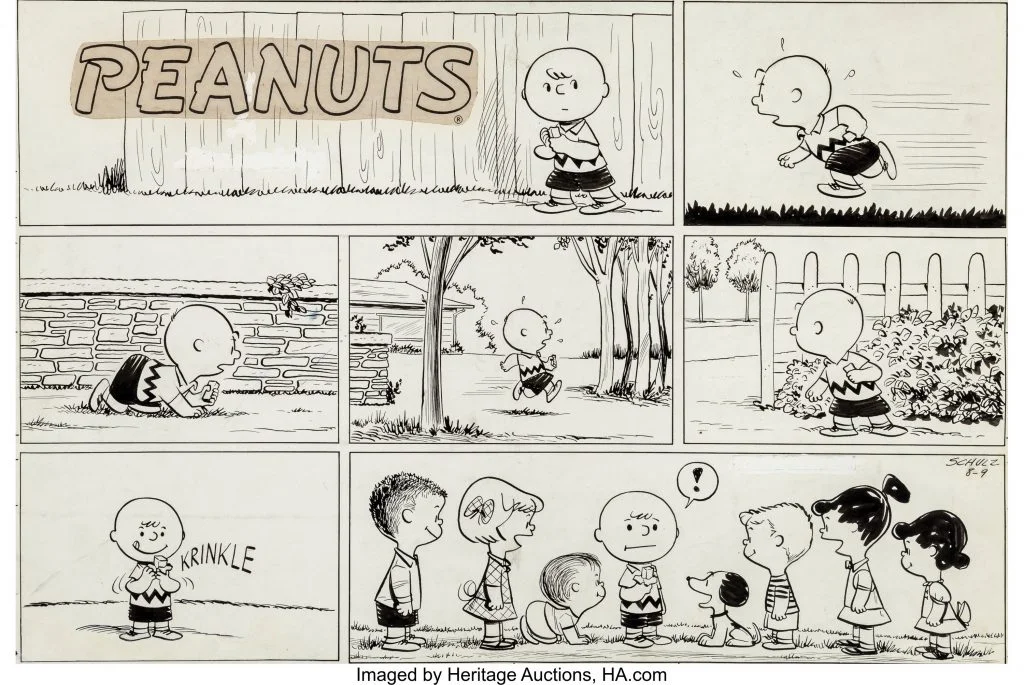 The other characters that get equal popularity are Charlie's little sister Sally, the fussy & bossy Lucy, Lucy's brother Linus who never moves anywhere without his 'protective' security blanket, and then there's Schroeder who is obsessed with playing Beethoven on his toy piano. Along with Charlie, there was another significant character named Snoopy- the dog who sleeps atop his doghouse and in his dreams fights with his imaginary enemy the Red Baron. Snoopy was created after Charles' own pet dog Spike. Another dog was introduced later in the comic strip with the original name as Snoopy's brother. Lucy always snatches away the football from Charlie and this story is based on Charles' childhood anecdotes. There is another girl who has red hair and is somehow seen as the romantic disappointment of Charlie's life. This red-haired girl represents the marriage proposal that Charles made to an ex-girlfriend but only to be spurned.
Journey of Peanuts
There is no greater burden than great potential.

– Linus, Peanuts
In 1955 and again in 1964, Charles received the 'Rueben Award for Outstanding Cartoonist' for his creation of Peanuts. Peanuts were also displayed at Rhode Island School of Design and the University of Minnesota. Yale University honored Charles M Schulz as the institution's 'Humorist of the Year'. Hallmark greeting cards and the advertisements of Ford Automobile started to feature the lead characters like Charlie Brown, Snoopy by 1960.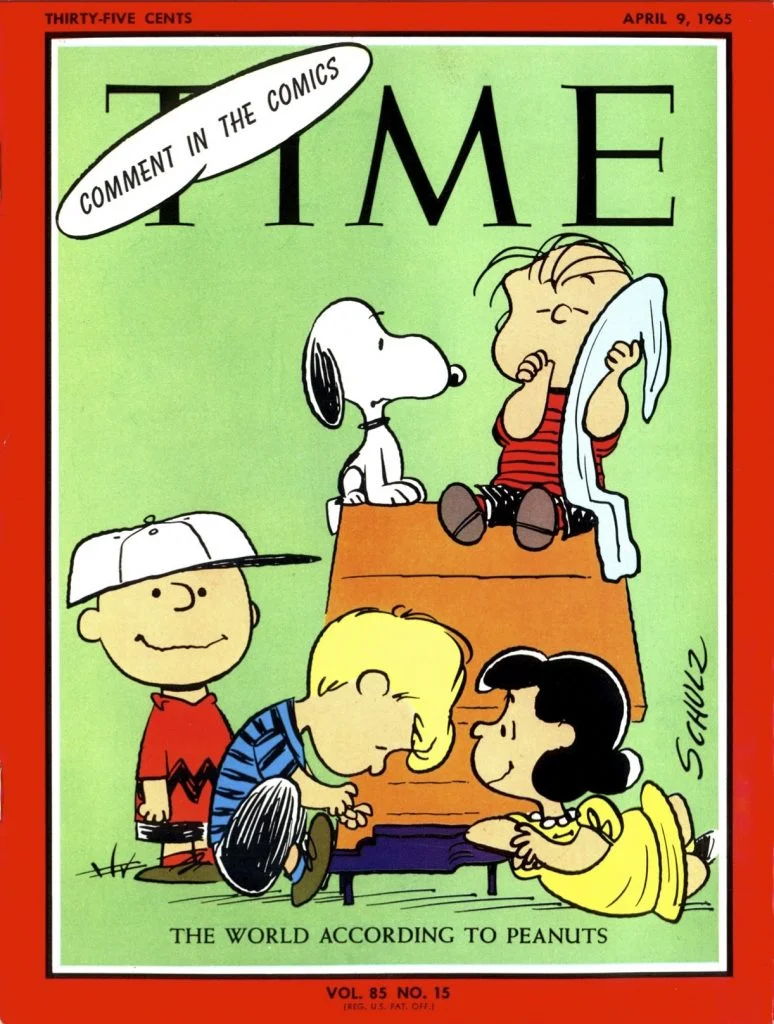 In the early 1960's Charles met Lee Mendelson regarding a documentary that was never aired, but this meeting resulted in the production of 'A Charlie Brown Christmas' for television in 1965. This production was awarded an Emmy and a Peabody Award in 1966. The same year also aired 'Charlie Brown's All-Stars' and 'It's the Great Pumpkin, Charlie Brown'. This featured animation work by Bill Melendez and music score by jazz musician & composer Vince Guaraldi. The characters of Peanuts made it to the cover of Time. On the other hand, The Royal Guardsmen had one of its hit songs based on the Peanuts. In 1967, 'You're A Good Man, Charlie Brown' was staged in New York City. Two years later, in 1969, 'A Boy Named Charlie Brown' was opened in the Radio City Music Hall in the form of a feature.
With time, more characters were added to the already popular gang of Peanuts e.g. Peppermint Patty, Marcie, and Franklin – Peanuts' first African-American character. Along with its increase in content, the production of TV programs, along with the comic strips, kept on increasing. Two more feature-length productions were made- 'Snoopy Come Home' and 'Bon Voyage, Charlie Brown (and Don't Come Back!!)' in 1972 and 1980 respectively.
Later Life
Charles Schulz had gone through 4 bypass surgeries and even after that in 1981 took the full responsibility of drawing, despite developing a hand tremor; however, he couldn't go much further for he was diagnosed with colon cancer in 1999 and announced his retirement. Ironically, he breathed his last just the night before the last Peanuts cartoon was published. By then, Peanuts was being published in 21 languages in 75 countries across more or less 2,600 newspapers. Over a period of half a century of work-life, Charles produced more than 18,000 cartoon strips.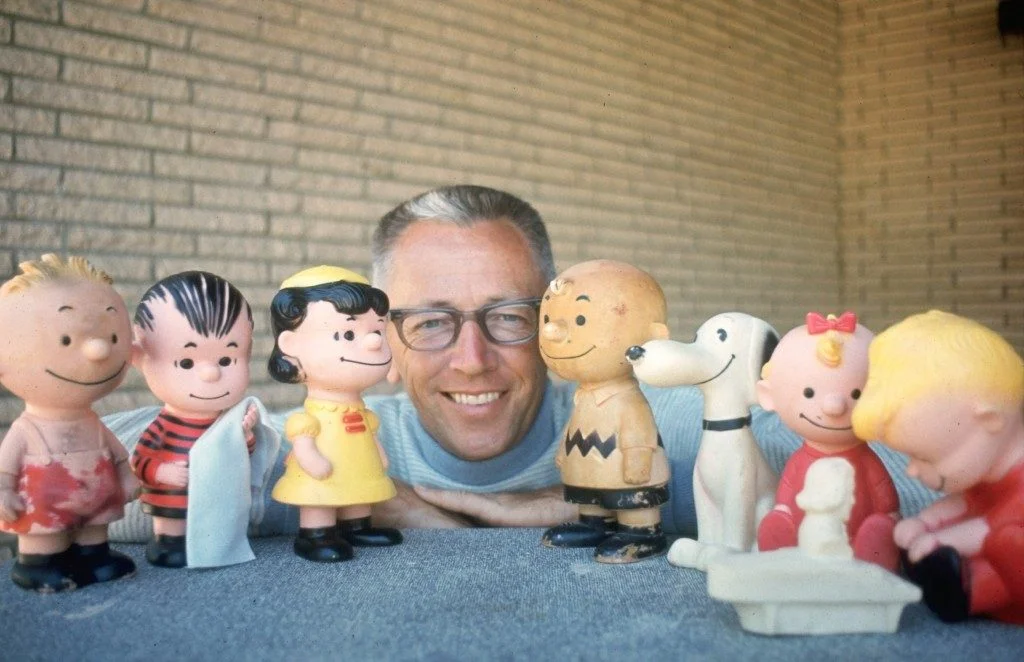 As a recognition for his works Charles M Schulz received many posthumous awards and one of those was the 'Congressional Gold Medal'. He was inducted into the 'California Hall of Fame' in late September 2015 marking the 65th anniversary of Peanuts and more than a month before the release of Peanuts movie in 3D.