Mort Walker (1923 – 2018) The Comic Genius Behind Beetle Bailey and More, whose full name was Addison Morton Walker, was a comic strip writer and artist who left an indelible mark on the world of comics. He is best known for creating iconic newspaper comic strips, including "Beetle Bailey" in 1950 and "Hi and Lois" in 1954. Walker's career in the comics industry was prolific and influential, and his work continues to be celebrated today.
Mort Walker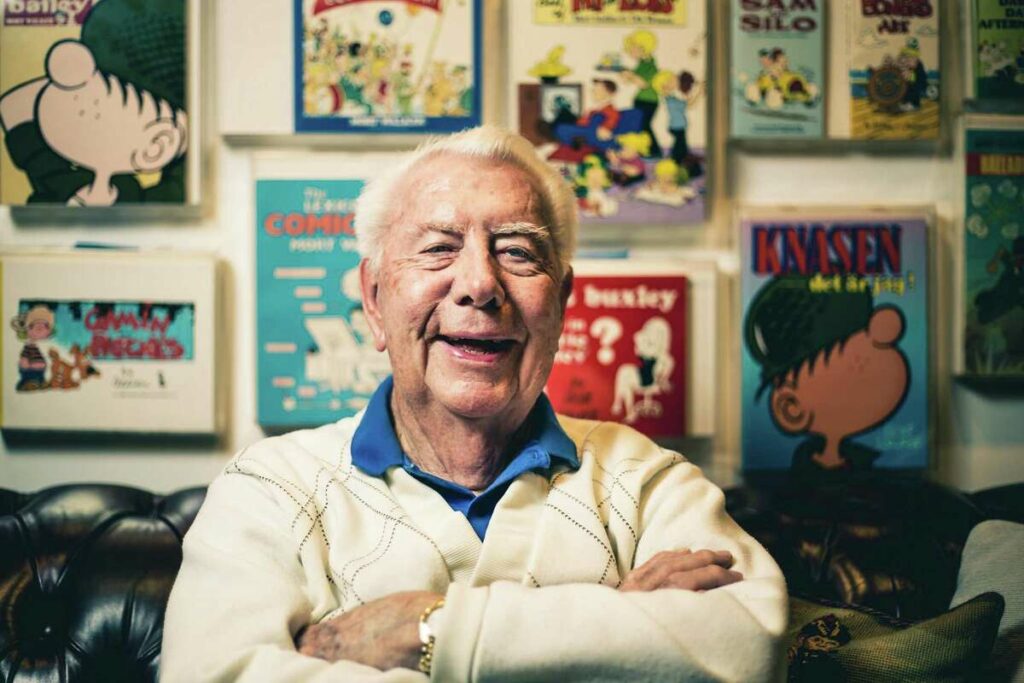 Born: Addison Morton Walker
Date of Birth: September 3, 1923
Place of Birth: El Dorado, Kansas, U.S.
Date of Death: January 27, 2018 (aged 94)
Place of Death: Stamford, Connecticut, U.S.
Occupation: Cartoonist, Writer, Artist
Pseudonym: Addison
Notable Works:
– Beetle Bailey (1950)
– Hi and Lois (1954)
Awards: (Include a link to the full list of awards)
Spouse(s):
– Jean Suffill (m. 1949; div. 1985)
– Catherine Prentice (m. 1985)
Military Career:
– Service/Branch: U.S. Army
– Years of Service: 1943–1947
– Rank: First Lieutenant
– Battles/Wars: World War II
Early Life:
– Born in El Dorado, Kansas
– Moved to Amarillo, Texas, and later to Kansas City, Missouri
– Family background: Scottish, Irish, and English descent
Education:
– Northeast High School, where he was involved in various activities
– Started publishing cartoons at a young age
Military Service:
– Drafted into the U.S. Army in 1943
– Served in Italy during World War II
– Discharged as a First Lieutenant in 1947
Comic Strips:
– Created Beetle Bailey in 1950, distributed by King Features Syndicate
– Launched Hi and Lois in 1954, a spin-off of Beetle Bailey
– Under the pseudonym "Addison," started Boner's Ark in 1968
– Other comic strips include Gamin and Patches, Mrs. Fitz's Flats, The Evermores, Sam's Strip, and Sam and Silo
Exhibitions:
– Founded the Museum of Cartoon Art in 1974
– Later locations in Greenwich, Connecticut, and Boca Raton, Florida
Legacy and Influence:
– Influenced numerous cartoonists and comic artists
– Known for his long and successful career in the comics industry
– Notable for introducing terms related to comic symbols and imagery
Books:
– Published various books about comics and children's books
– Collected Beetle Bailey and Hi and Lois strips into multiple paperbacks
Death:
– Mort Walker passed away on January 27, 2018, from complications of pneumonia
Early Life and Education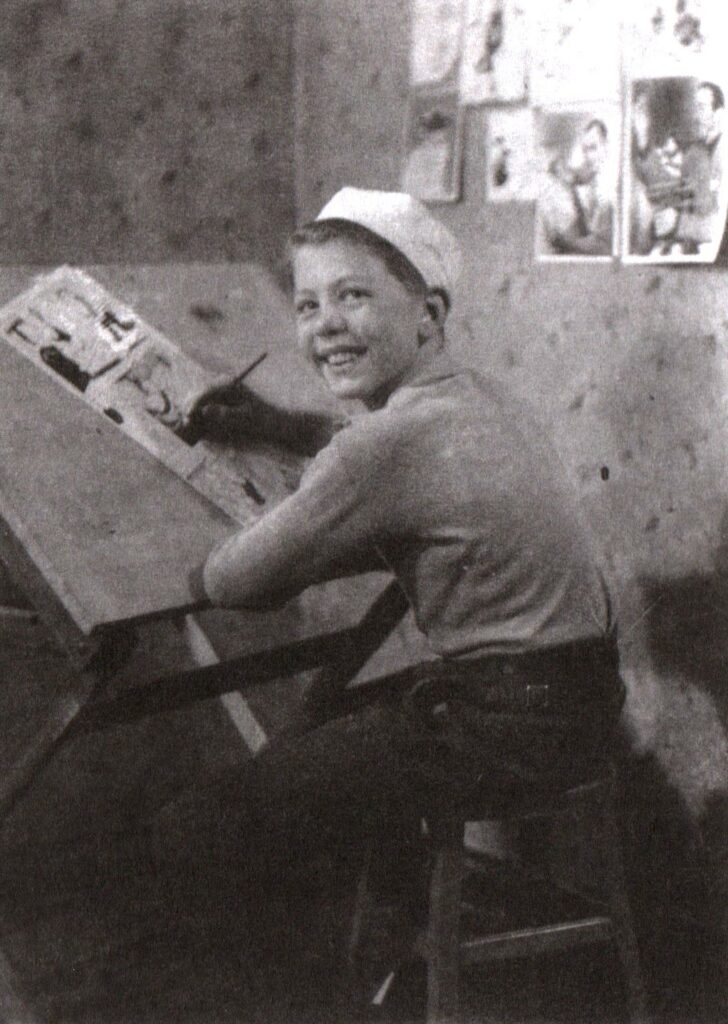 Mort Walker was born on September 3, 1923, in El Dorado, Kansas, as the third of four children. His family later moved to Amarillo, Texas, and then to Kansas City, Missouri. Walker's parents, Robin Adair Walker and Carolyn Richards Walker played a significant role in his artistic development. His mother worked as a newspaper staff illustrator, while his father was an architect.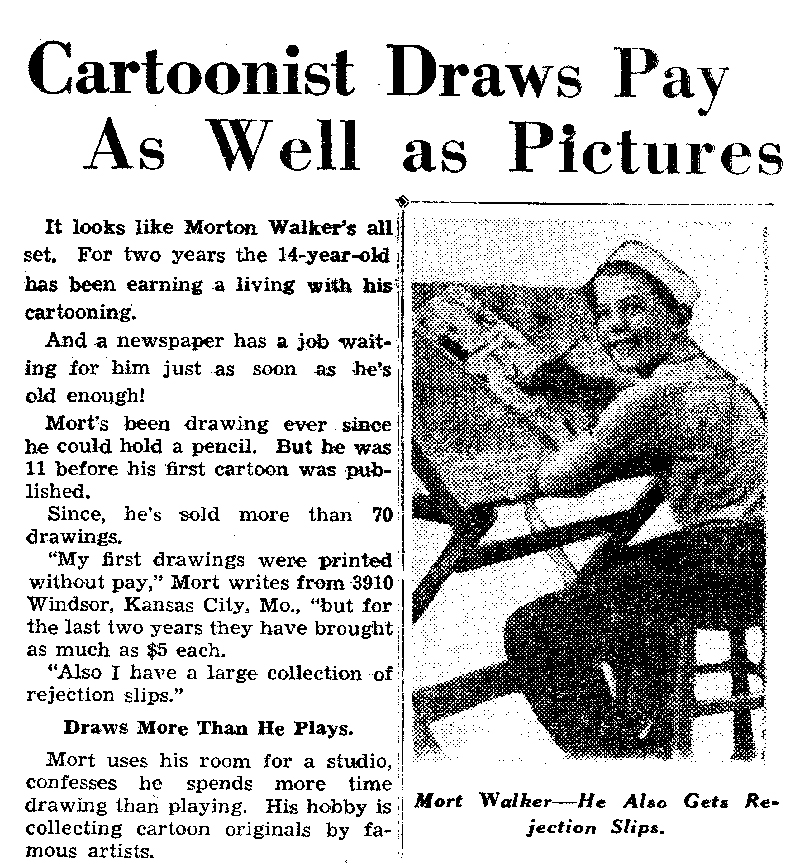 From an early age, Walker displayed a natural talent for drawing and humor. During his elementary school years, he contributed to a student newspaper, hinting at his future in the world of comics. His journey into cartooning began at 11 when he sold his first comic. By age 12, he had already sold his first cartoon. This early start laid the foundation for a career in the comics industry.
Early Career and Education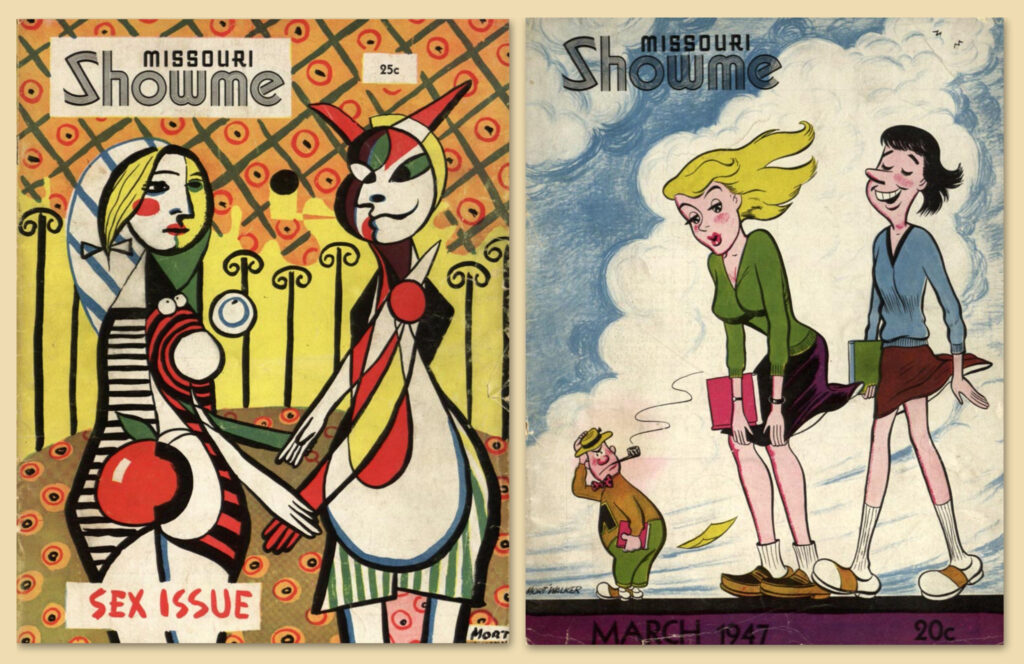 Walker's passion for cartooning continued to grow, and by the age of 14, he was regularly selling gag cartoons to various magazines, including "Child's Life," "Flying Aces," and "Inside Detective." At 15, he had his comic strip, "The Lime Juicers," published in the weekly "Kansas City Journal." Simultaneously, he worked as a staff artist for an industrial publisher, showcasing his versatility.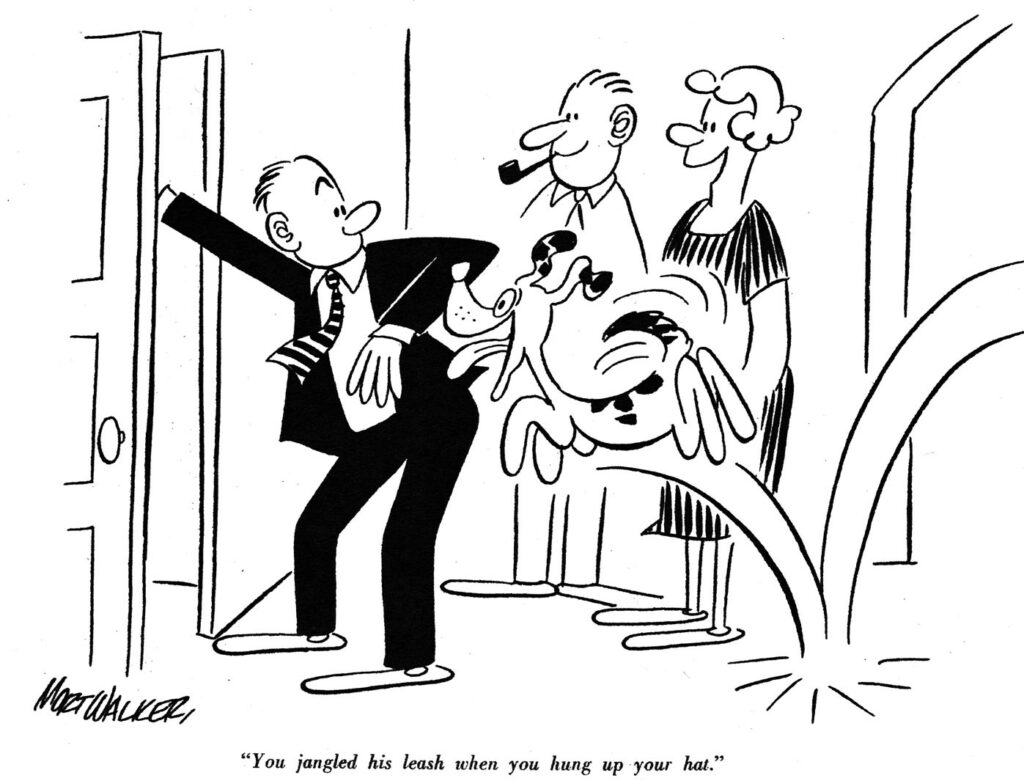 Upon graduating from Northeast High School, Walker attended Kansas City Junior College in 1942-43 before enrolling at the University of Missouri. At the university, he was actively involved in creative pursuits. He served as the editor and art director of the college's humor magazine, "Showme." Additionally, he was the president of the local chapter of the Kappa Sigma fraternity.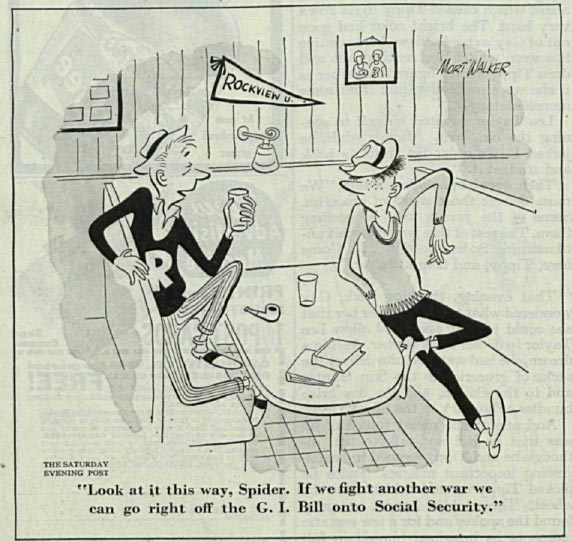 Military Service and Post-War Career
Walker's life significantly turned during World War II when he was drafted into the United States Army. He served in Italy as an intelligence and investigating officer and was also responsible for an Allied camp housing 10,000 German prisoners of war. After the war, he oversaw an Italian guard company stationed in Italy. His military career concluded with an honorable discharge as a first lieutenant in 1947.

After returning to civilian life, Walker graduated from the University of Missouri in 1948. His time at the university allowed him to refine his creative skills, and he contributed significantly to the college's humor magazine, "Showme."
The Birth of Beetle Bailey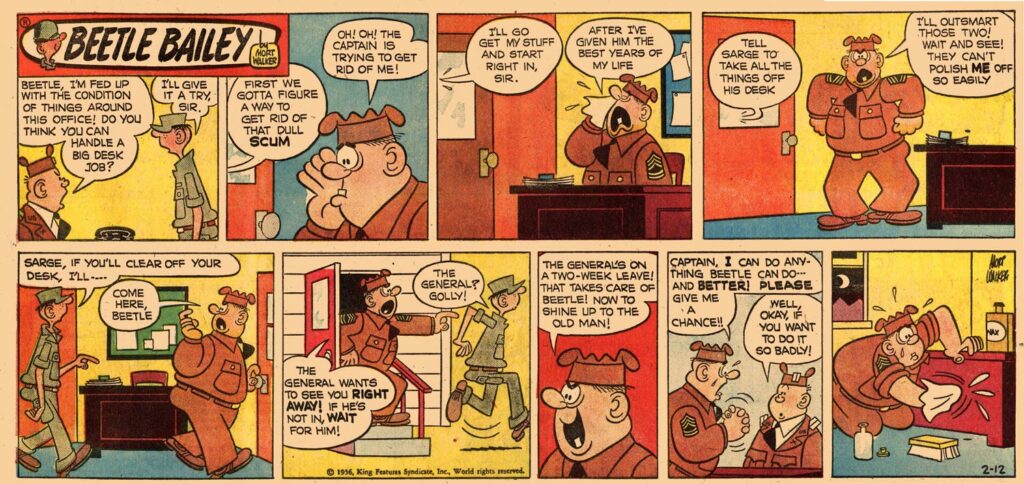 After graduation, Mort Walker moved to New York City, determined to make a name for himself in cartooning. He began his career with a one-panel series called "Spider," which appeared in "The Saturday Evening Post." The series featured a laid-back college student named Spider and showcased Walker's talent for humor.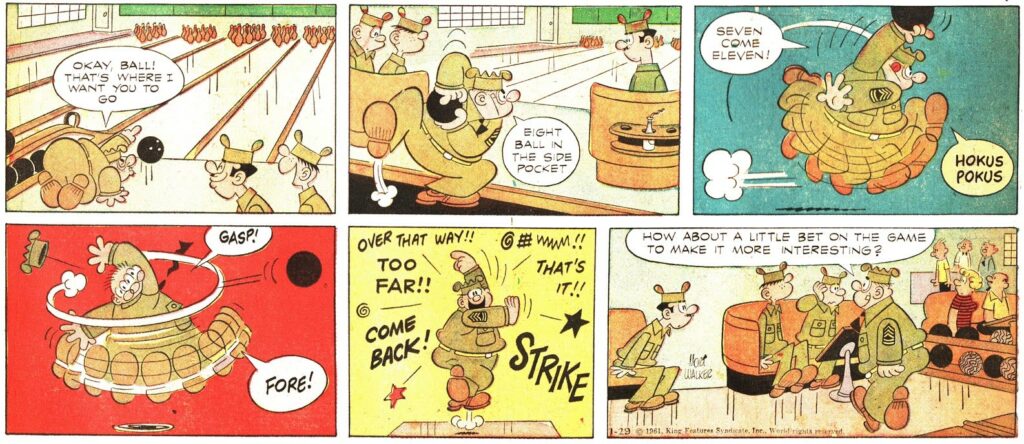 As he continued working on "Spider," Walker realized he could achieve even greater success with a multi-panel comic strip. This led to the transformation of "Spider" into "Beetle Bailey," a comic strip that would become his signature creation.
Beetle Bailey: A Comic Icon

"Beetle Bailey" debuted in newspapers on September 4, 1950. The strip's premise was centered around Beetle Bailey, a laid-back and inept soldier, and his fellow recruits stationed at Camp Swampy, an army base. The strip humorously portrayed these military personnel's daily lives and misadventures, making it an instant hit with readers.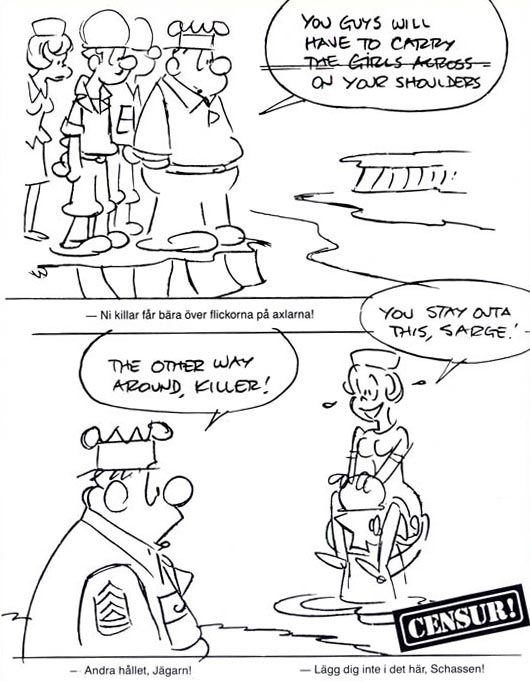 One notable aspect of "Beetle Bailey" was that it never directly engaged in political or wartime commentary. Instead, it focused on the comedic situations that could arise in a military setting. This approach allowed the strip to be enjoyed by a broad audience, as it didn't take sides in political debates or controversies.
"Beetle Bailey" achieved widespread popularity, and King Features Syndicate distributed it to over 1,800 newspapers in more than 50 countries. The strip reached an estimated daily readership of 200 million people. Walker's creation became a cultural icon, and Beetle Bailey became one of the most recognizable characters in the world of comics.
Hi and Lois: A Family Affair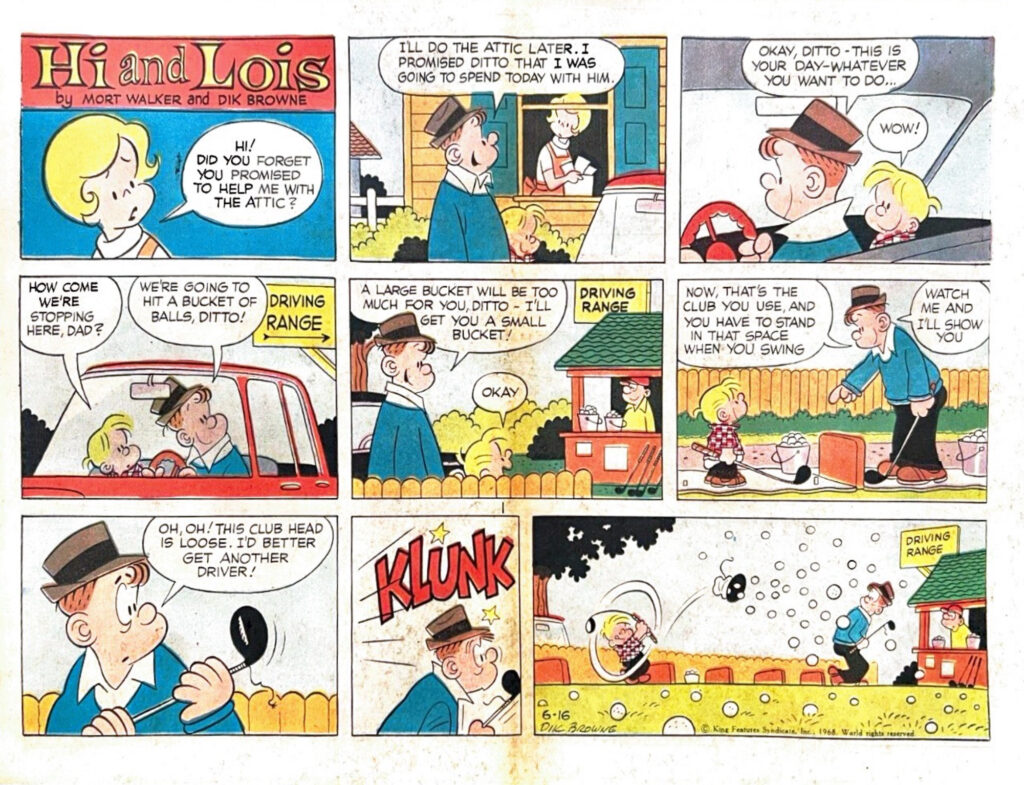 In 1954, Mort Walker and his collaborator Dik Browne introduced "Hi and Lois," a spin-off comic strip around Beetle Bailey's sister, Lois, and her husband, Hi. This family-oriented strip focused on the humorous situations and challenges faced by the Flagstone family, including their children Chip, Dot, Ditto, and Trixie.
"Hi and Lois" starkly contrasted the military-themed humor of "Beetle Bailey." It was a heartwarming and relatable comic strip that resonated with readers who appreciated family life's everyday challenges and joys.
Like "Beetle Bailey," "Hi and Lois" gained immense popularity and featured in newspapers worldwide. The strip was known for its enduring appeal and ability to connect with readers personally.
Boner's Ark: A Nautical Adventure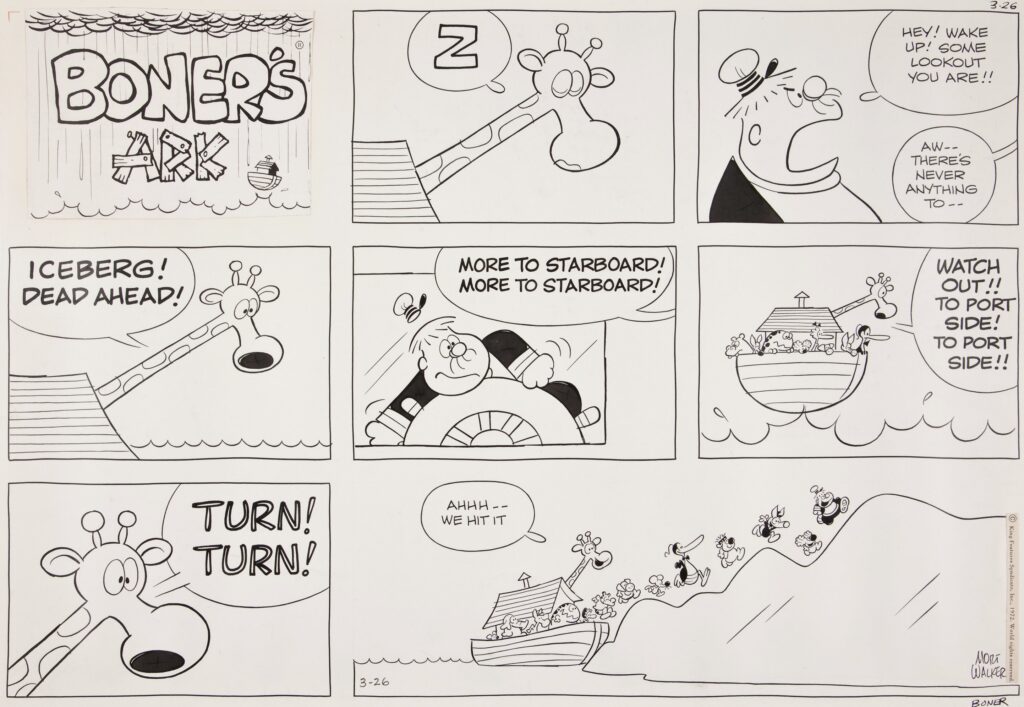 In 1968, Mort Walker introduced another comic strip titled "Boner's Ark." The series followed the adventures of Captain Boner, who navigated the ocean with a colorful cast of animals, much like Noah's Ark. The comic presented a lighthearted and often absurd take on the story of Noah's Ark, with animals from different species interacting in humorous ways.
"Boner's Ark" was notable for its clever wordplay and puns, often using the names of the animals to create humor. The strip was recognized for its creativity and witty storytelling and became a beloved addition to the comics world.
Additional Works and Achievements
Mort Walker was a prolific and innovative comic artist and writer. In addition to his well-known strips, he created various comic features and contributed differently to the world of cartoons. Some of his other works and achievements include:
Sam & Silo

: This comic strip, co-created with cartoonist Jerry Dumas, followed the lives of two brothers, one a judge and the other a sheriff. It touched on both legal and law enforcement situations with humor and wit.

The Best of Beetle Bailey

: Walker authored several books compiling the best of "Beetle Bailey" comic strips. These books allowed fans to revisit classic moments and humor from the series.

Cartooning and Comic Art

: Mort Walker was passionate about educating the next generation of cartoonists and artists. He wrote instructional books on cartooning and conducted workshops and seminars.

National Cartoonists Society

: Walker was actively involved in the National Cartoonists Society (NCS), serving as the organization's president and contributing to its growth.
Legacy and Impact
Mort Walker's contributions to the world of comics were immeasurable. His creations, including "Beetle Bailey," "Hi and Lois," and "Boner's Ark," entertained and resonated with audiences for decades. The humor in his strips was often characterized by its accessibility, appealing to a wide range of readers, from children to adults.
The enduring popularity of "Beetle Bailey" and "Hi and Lois" is a testament to Walker's ability to capture the essence of everyday life, whether in a military setting or a suburban family home. His comics weren't just funny but relatable and filled with heart.
Mort Walker's impact extended beyond his comic strips. He actively promoted and preserved the history of comics, made significant contributions to the National Cartoonists Society, and advocated for the recognition of cartooning as an art form.
Walker's work paved the way for future generations of cartoonists, and his legacy lives on through his creations, which continue to be enjoyed by readers worldwide. His influence on the world of comics is profound, and he will always be remembered as a comic genius who made the world laugh and think through his art.
Mort Walker passed away on January 27, 2018, leaving a rich and enduring comic legacy. His work remains a source of inspiration and joy for comic enthusiasts, aspiring artists, and anyone who appreciates the power of humor and storytelling.
Mort Walker Gallery
Read also
Frequently Asked Questions (FAQ) – About Mort Walker
1. Who was Mort Walker?
Mort Walker, whose full name was Addison Morton Walker, was a renowned American cartoonist and comic strip creator. He is best known for creating the popular newspaper comic strips "Beetle Bailey" in 1950 and "Hi and Lois" in 1954.
2. What are Mort Walker's most famous comic strips?
Mort Walker is most famous for creating two long-running comic strips: "Beetle Bailey" and "Hi and Lois." "Beetle Bailey" follows the humorous escapades of a group of military personnel at Camp Swampy, and "Hi and Lois" is centered around a family consisting of Hi and Lois Flagston and their children.
3. Did Mort Walker create any other comic strips?
Yes, Mort Walker created several other comic strips during his career. Some of his lesser-known strips include "Boner's Ark," "Mrs. Fitz's Flats," "The Evermore," "Gamin and Patches," "Sam's Strip," and "Sam and Silo."
4. What was unique about "Sam's Strip"?
"Sam's Strip" was a unique and satirical comic strip created by Mort Walker and illustrated by Jerry Dumas. It deconstructed and parodied various comic strip clichés and characters, making it a self-referential and humorous take on the comic strip world. It featured cameo appearances from many well-known comic strip characters.
5. What is the legacy of Mort Walker's work?
Mort Walker's work significantly impacted the world of comics and cartooning. He created enduring and beloved characters, and his comic strips have been published and translated in numerous countries. His influence can be seen in the work of many cartoonists and humorists who followed in his footsteps.
6. Did Mort Walker have any controversial moments in his career?
Yes, Mort Walker's comic strip "Beetle Bailey" faced some controversies over the years. It was banned from the Tokyo edition of Stars and Stripes magazine in the 1950s for its portrayal of military officers, and it faced criticism for perceived sexism in the portrayal of female characters. Additionally, some gags and references in his comics, such as political humor, led to occasional controversies.
7. What awards and recognitions did Mort Walker receive?
Mort Walker received numerous awards and recognitions for his contributions to the world of comics, including the Reuben Award in 1953 for "Beetle Bailey." He was inducted into the Museum of Cartoon Art Hall of Fame and received the Inkpot Award. He also founded the National Cartoon Museum and contributed to the professionalization of the National Cartoonists Society.
8. What was Mort Walker's life like outside of cartooning?
Mort Walker had a rich personal life. He was married twice and had ten children from his marriages. He was involved in various charitable activities, such as drawing memorable cartoons for those who were ill. He had a long and successful career in cartooning that spanned several decades.
9. What is the significance of Mort Walker's "Boner's Ark"?
"Boner's Ark" was a comic strip created by Mort Walker and illustrated by Frank B. Johnson. It featured a sea captain named Boner and a group of animals traveling on an ark. The strip was notable for its wordplay and puns and ran for 32 years. While it may not be as well-known as "Beetle Bailey" or "Hi and Lois," it still holds a special place in the history of comic strips.
10. When did Mort Walker pass away?
Mort Walker passed away on January 27, 2018, at 94. He died due to complications of pneumonia at his home in Stamford, Connecticut. His contributions to the world of comics continue to be celebrated and remembered.