Avrom Yanovsky (1911–1979) was a Canadian graphic artist and editorial cartoonist, whose work appeared in a variety of leftist publications. He was known professionally as Avrom, though some of his work was also signed Armand, Richards or Tinòdi. In 1966-67, he was president of the Canadian Society of Graphic Art.
Avrom Yanovsky Personal life
Avrom Yanovsky was born in Kryvyi Rih, in southern Ukraine in 1911 and two years later his family emigrated to Winnipeg. His parents were political activists and were involved in the Winnipeg general strike of 1919. His son was a musician and restaurateur Zalman Yanovsky.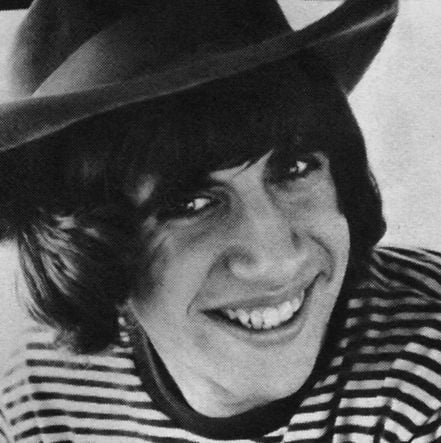 During the twenties, he began drawing cartoons for various labor union newspapers and in 1928 studied at The Winnipeg School of Art with LeMoine FitzGerald. In 1930 he moved to Toronto and in 1933 studied at the Ontario College of Art under Yvonne McKague Housser, John Alfsen, and Rowley Murphy. In 1938 he won a scholarship to study at the American Artists' School in New York. Throughout his life, he was a political activist, a unionist, and a communist. During the thirties, Yanovsky produced numerous political cartoons for socialist/communist organs such as Masses and The Worker.
Avrom Yanovsky's Career
Cartoons
In the 1930s, Yanovsky's cartoons and illustrations appeared in left-oriented periodicals such as Masses and New Frontier and party newspapers such as The Worker and its successor, the Daily Clarion." From the 1940s to the 1970s, he published in the Canadian Tribune and a number of union and ethnic newspapers and leftist magazines. His cartoons attacked unemployment, poverty, fascism, racism, and capitalism. They also promoted labor unions, human rights, anti-imperialism and other causes, including, by the 1950s, Canadian nationalism, peaceful coexistence, and nuclear disarmament.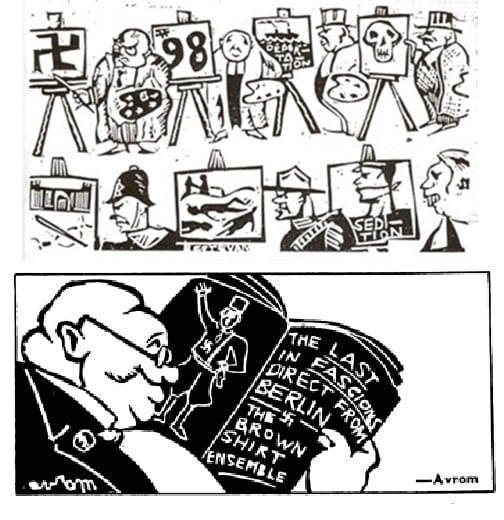 Avrom Yanovsky Comics
In the late summer of 1945, after the war was over, Avrom Yanovsky began drawing stories for Bell Features Publications. His main creation was Major Domo and Jo-Jo in Joke Comics No. 21 and around the same time he did a one-off strip in Commando Comics No. 13 called "Sasha and Masha -The Young Russian Guerillas".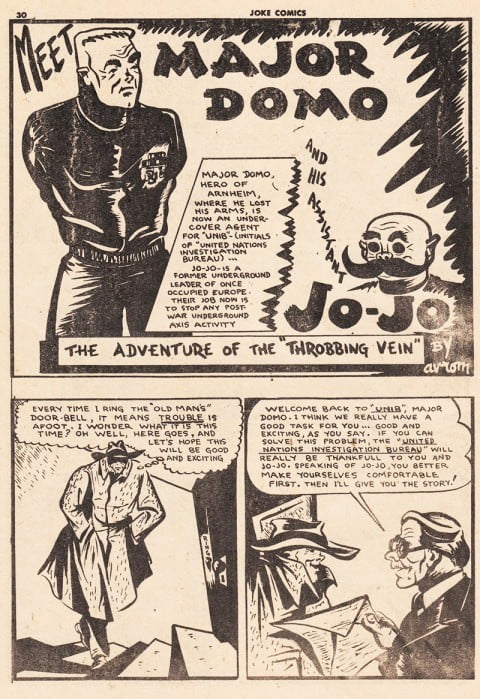 The singularity of Yanovsky's creation is that Major Domo is an armless war veteran who now serves and an undercover agent for the "United Nations Investigation Bureau" with his pint-sized assistant (a former underground leader in occupied Europe).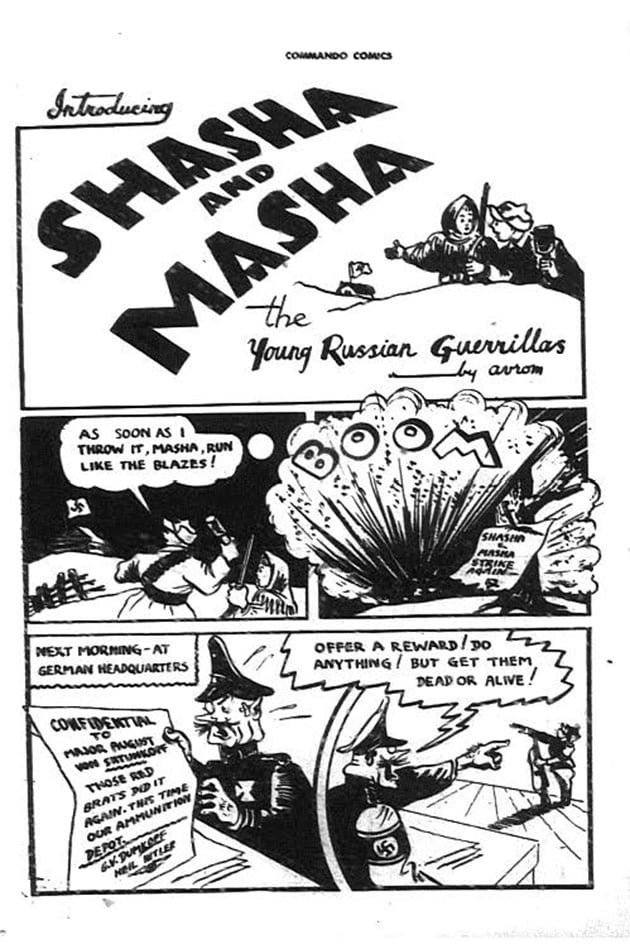 Sometimes he signed these stories with the pen name "Armand" rather than his usual pen name "Avrom."There is an unusual occurrence for Bell Features Publications and probably for WECA books in general that involve Yanovsky. He produced a three-part, serialized Major Domo story that extends over three different Bell Features titles. The "saga" of the "Mysterious Mr. Mister" begins in Major Domo's usual title Joke Comics No. 25 but then jumps over to Triumph Comics No. 30 for episode two and then concludes in Dime Comics No. 28.All this close to the final issues of each title. Avrom Yanovsky also created a private detective named Hugh Dunnit that appeared in Dime Comics No. 26 and Mr. Distracted Attorney in the last few issues of Commando Comics. Yanovsky's style was angular, animated and wild, untypical of main comic book fare from the period and exceedingly effective.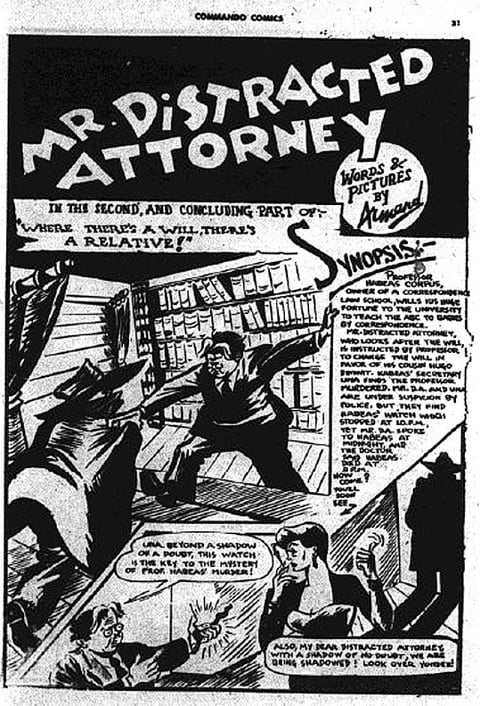 Other Art
Although known mainly as a cartoonist, Yanovsky also exhibited sketches, drawings, and lithographs at the annual shows held by the Canadian Society of Graphic Art. In 1952, he published a folio of lithographs. During the brief heyday of Canadian comic books in the 1940s, he created stories and art for several series published by Bell Features. Yanovsky also designed costumes and settings for stage productions, especially those associated with the Labour League Mutual Benefit Society, later part of the United Jewish People's Order, where he was an active member.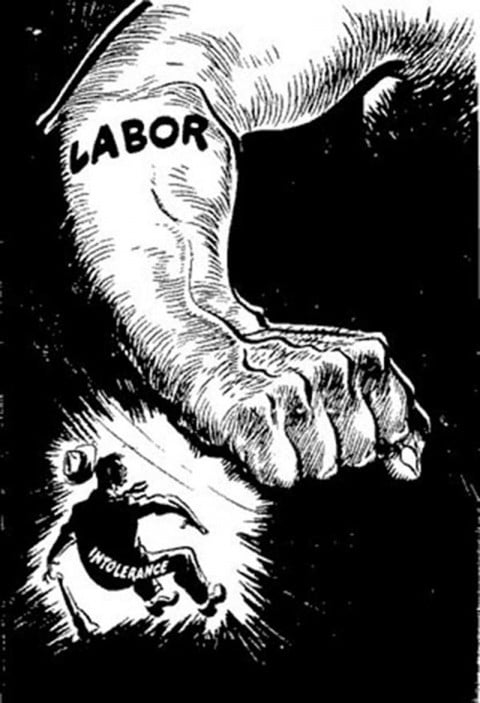 Extra Achievements
As Editor
In 1958, he was appointed as the editor of the English section of the Canadian Jewish weekly Vochenblatt Throughout his career, Yanovsky gave entertaining chalk-talks on political, historical and biblical themes to children's classes, union meetings, and other audiences.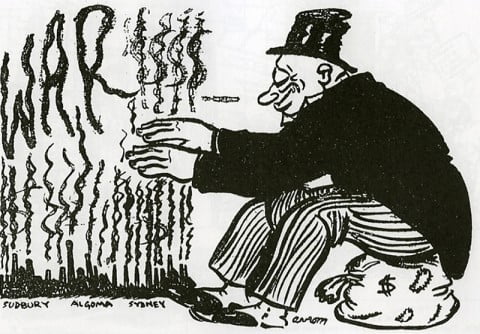 Murals
He was also known for a mural depicting the Canadian doctor Norman Bethune, which was completed in 1964 for display at Communist Party headquarters in Toronto In recent years, several websites have posted examples of his art, including photographs of the Bethune mural. Yanovsky had been deeply moved by the murals of Rivera, Siqueiros and especially Clemente Orozco and had studied with American muralist Anton Refregier.
As illustrator
He also did illustrations for political plays such as Eight Men Speak which was originally banned in Canada.
As Painter
Lucy Kaplansky chose one of Avrom Yanovsky's painting for the cover of her Reunion CD released in September 2012. It's a painting of Lucy Kaplansky's grandmother's bakery in Toronto. Yanovsky worked at the bakery and painted himself into the bottom left-hand corner.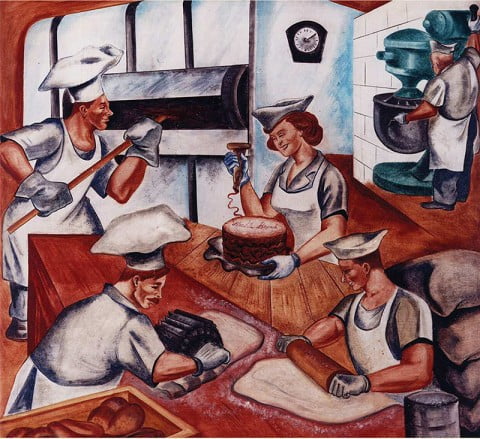 There exists an annual "Avrom Yanovsky Bursary in Fine Arts" at York University with the benefactor listed as Anna Yanovsky, Avrom's wife. It is intended for students who are completing studio-based studies that require supplies or materials beyond regular student fees and are meant to assist in the purchase of such supplies as they are needed to complete creative studio or performance-based work.
Death
Avrom Yanovsky was also the father of perhaps a more famous son called Zal Yanovsky of the Lovin' Spoonful and Kingston's Chez Piggy restaurant. Avrom Yanovsky died early in 1979 in Toronto.