Bombay Rose: A Painted Animation Feature; The Indian animation industry has created a great buzz in recent times; although the potential for this outcome has always been there. It's not like the talent and skill over there have reached its peak yet, for there is still a lack of enough government support and other resources. Despite all these obstacles, few people have made it make a mark of their own on the map of the international animation industry and Gitanjali Rao is one of those animators. Recently, her first-ever animated feature 'Bombay Rose' was released and ever since it's been a talk among the enthusiasts.
Bombay Rose
Bombay Rose is set in the slums of India's entertainment capital of Mumbai and has its heart firmly beating to the music of Bollywood. Animator Gitanjali Rao is a self-taught artist and a film-maker. Through this film, she took detours into the past, onto the Bollywood big screen, through black and white and then, back again to color. In total, Bombay Rose combines three separate story strands turning into one big-screen fantasy. It is surely overstuffed at many points, and actually, it is a lot to take on board. Technically, though, this is impressively inventive; a 3-D cell animation which is cleverly choreographed and painted frame by frame over a six-year production period.
It is basically a dark love story, a fairy tale encompassing those many dreams that are dreamt and broken in the city of Mumbai- every single day. The lead female character is a dancer at an illegal nightclub- Kamala (voiced by Cycli Khare). She fled an arranged marriage and came to Mumbai with her ailing grandfather and her bright younger sister Tara. She is planning to sell herself into marriage in Dubai, and in this process, through her pimp who is running from the cops, she encounters Samil (voiced by Amit Deondi). Samil- the male lead- is a Kashmiri young man, orphaned by the military. He earns a living by selling the flowers he steals from graves. Kamala & Samil wish to get married someday.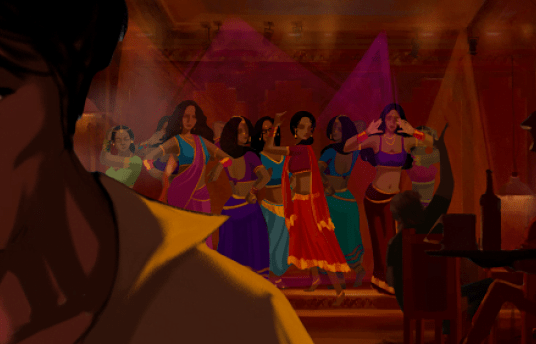 The other characters include a wandering cat who likes to roam around the city streets at night, watching the ghosts of the cemetery dancing in the darkness when the rest of the city is supposed- sleeping. Then there's Mrs. D'Souza (Amardeep Jha), an eccentric old actor who longs to be visited by a ghost of her own. Mrs. D'Souza, on many occasions, is seen giving private lessons to Tara; if she's not teaching her English, then she's schooling her in colors- explaining the difference between red and crimson, purple and carmine. The shades here play a vital role in the film appear to be captivated by colors. It's so much drenched in this palette of turmeric oranges and primrose pinks that it eventually takes things too far into fantasy and starts throwing sequences involving flying horses and a talking bird.
This is, perhaps, when the critics found the film to be lacking in enough creativity or strength of storytelling. The film is a treat for the eyes in its true form and the way it portrays the dreamland of India in the name of Mumbai, even though in a flashy, filmy manner. There are many moments that blended present and a fantasized past or even a future e.g. at one point Kamala is seen buying jasmine from a shop at the bazaar, on the very other moments she is seen dancing like a princess. Sometimes, there's also a lack of flow- in a systematic manner. But there's always a connection to Bollywood, in fact, the film starts with a scene in a cinema where action star Raja Khan's latest action blockbuster is playing. Again, Mrs. D'Souza is a former Bollywood star who harks back to the days of Howrah Bridge.
Gitanjali Rao earned a name in the entertainment business as an animated short filmmaker, writer, director, and actor. She even appeared in a vital role in Shoojit Sircar's 'October' alongside top-tier actor Varun Dhawan. Before Bombay Rose, she made some award-winning short animated films like Printed Rainbow, True Love Story and Chai. Bombay Rose was drafted six years before its release, for the first time. But it took so many years in between to come to reality, mainly because of financing issues. In Rao's words, "Four years out of the six were spent in getting finance and two years is what we got production-wise." She even had a plan B, had the initial plan of making a feature film not come to be and that plan B was not a short film, but a graphic novel.
The story of star-crossed lovers is at the center of Bombay Rose, but viewers may be more entranced by the vibrant animation, gliding colors and resonant sounds that accompany it. The frame-by-frame painted animation done by Rao here is more than just an artwork or a painterly visualization. The story is so quintessentially a Bollywood fantasy that it may feel similar to a hundred others; however, it's never going to get old or cease to capture the hearts of the audience. Watching the film one can easily feel a palpable sense that this was made by someone who knows Mumbai the like back of hands and is truly in love with its ochre-colored streets, cluttered sidewalks and peeling billboards advertising old movie releases.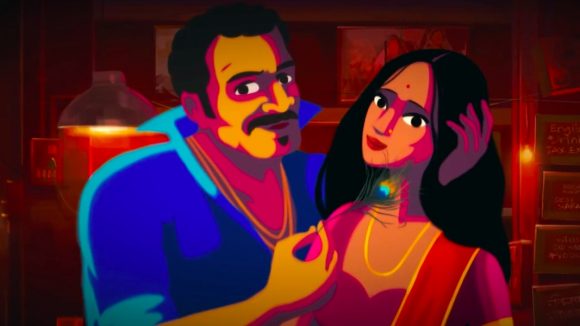 Some of the reviews on the film go like:
"Bombay Rose is at heart a dark story, yet it can also shine brightly, dealing with heartbreak and hope, a perilous life in the slums of Mumbai in which death is always close by but a big-screen Bollywood escapist ending is equally only a cinema ticket away. A soundtrack which merges the original music of Yoav Rosenthal with soulful classics from the likes of Caetano Veloso smooths our way through the silken story."
"Gitanjali Rao's handcrafted animation is both social-realist drama and sentimental fairytale, with odd flights of fancy."
"Although Rao uses flowers as a linking device to draw the stories together, the narrative remains a bit on the scrappy side and not entirely resolved. That's not necessarily a bad thing, and the fragmentary vibe goes with the oneiric, fantastical parts of the story. Likewise, the naive, cartoonish look of the figures, with their deliberately limited movements, enhances the folk art feel overall."