Indian Animation Industry: Potential & Success; India- is one country that alone covers the whole spectrum of shades life has got to offer. Despite being a country with almost 2/3rd of its population living in the developing condition, India is one of the dominating powers in the world and when it comes to art, literature, travel, entertainment, history, food, scenic beauty- India is undoubtedly the Queen that will never be conquered by any other country. With a population of nearly 200 crores, this country is flourishing in various trades both locally and internationally; it also possesses great potential for many of the other industries where it is making comparatively slower progress.
Potential & Possibilities
One such industry of the latter group is the animation industry; although, at a growth rate of more than 20% per year, it's really not slow progress at all. India has two of the biggest movie industries in the world.
Being a supplier of cheap labor to the international market, the prospect of jobs in this industry is also very high; in fact, the cost of animation labor in India is almost 35% less than that of Korea & Philippines and almost 1/4th of what it is in Northern USA. Again, this pool of skilled labor serving the animation industry is also very much capable of maintaining the relationship and communicate in English resulting in bringing in more & more international clients. All these together are responsible for the growth rate.
Recently, the country lost its pioneer of the animation industry- Ram Mohan. When Mohan started out working in the industry, the biggest problem or barrier he faced was the lack of enough logistical support. He didn't have space, equipment, and manpower to deliver the services he could be easily assigned to by big international clients including UNICEF. Back in those days, although Mohan did a lot of the storyboard & character design, he had to depend on countries like Philippine for getting the actual products ready to be delivered. This also made him lose out on many opportunities until he partnered with UTV's animation wing.
But Mohan knew that the animation industry of India had a strong potential to go a long way and that's why he put a huge emphasis on training the best students out of the academic institutions employed in his company. He used to source the best talent of the country and hone them even further with on-the-job training.
And today, the industry has varieties of roles in this field to be chosen from as a career path including Content developer, Modeler, Storyboard Artist, Character Animator, Background Artist, Layout artist, 2D animator, Scanner operator, Compositing artist, Special effects artist, Audio and video specialist, Visualizer, Texture Artist, Rigging Artist, Clean-up Artist, Lighting Artist, Compositor, Editor, Rendering artist, 3D animator, Image Editor – Website designing, CD-ROM production, graphics designing to three-dimensional product modeling.
Success Abroad
The most well-known VFX and animation studios in India that have worked on some of the biggest Hollywood movies are Prime Focus, Digital Domain, Phantom FX, Technicolor India, Toolbox Studio, Red Chillies VFX, etc. The recent success list of the industry has some of the biggest names of big-budget Hollywood films like Avatar, Spiderman: Homecoming, Avengers, Transformers: Dark of The Moon, GI Joe, Deadpool, and many others.
Still, it is a very surprising fact to most of the Indians as well as movie buffs that those striking display of visuals were created in India by Indian animation or VFX artists. Worldwide hit and a favorite to the audience of all ages & gender, the TV series 'Game of Thrones' also had they're larger than life dragon created by the Indian subsidiary of Prana Studios; according to reports, 800 people worked on making those three huge dragons in the series.
According to a recent article published in 'ilead.net.in', "As per FICCI, India's Animation, VFX and post-production sector is set to reach INR 127.7 billion by 2021. The break-up projection of INR 127.7 billion stands as – Animation at 24.4 billion, VFX at 75.5 billion and post-production segment at 27.8 billion."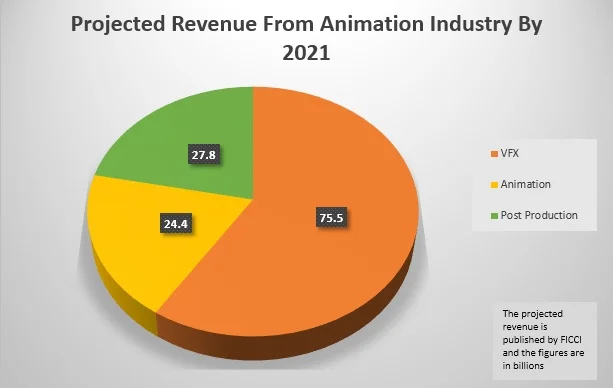 Success at Home
It's a well-known fact that it's always easier to impress the people who don't really know you enough, but when it comes to people at home, you're meant to be faced with some of the tougher critics. The same goes for the animation & VFX industry of India; although, success isn't a surprise in this field either. Bahubali, 2.0, Zero, Kedarnath, Simmba, Thugs of Hindostan are some of the films that have used multiple visual effects. FICCI stated that the domestic VFX market is going to grow at a rate of 40% over the next few years.
Recently, Indian films have shown some remarkable improvement and heavier use of animation & VFX works as well as better post-production delivered in the final products presented before the audience. This has been possible because of the increase in budget. Previously, producers only allotted 5-10% of the total production budget for the post-production works, and that has been increased to 15-20% in recent years. Clearly, the increase in investment has resulted in a larger profit.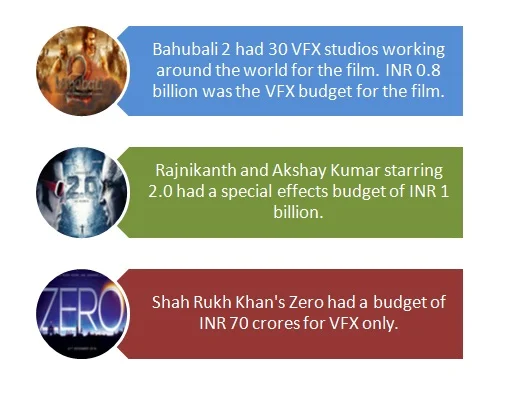 Success in Non-Film Productions
The consumption of digital content is toppling the non-digital world everywhere. There are many things for all types of audience who is willing to spend time online. Therefore, it creates yet another gold mine platform for the animators and concerned artists to make money from. Indian industry is not lagging behind either.
According to FICCI, "There are now five Indian companies in the top 100 animation companies on YouTube. They are USP Studios, Chu Chu TV, Green Gold, Hoopla Kids, and CVS 3D Rhymes." Some shows produced by the Indian artists that have managed to grow and maintain their own loyal pool of audience are Mighty Little Bheem on Netflix, Motu Patlu and Shiva that can be streamed now on Voot Kids, Vir- The Robot Boy on WowKidz, Kalari Kids on Amazon Prime.
Another sector that is sharing the pie of Indian Animation Industry's annual earning is the sector of commercials aka advertising. India has been one of the leading industries in producing a catchy commercial for brands that have managed to not only capture the audience but also brought a huge amount of profit. Some of the brands whose animated commercials are huge hits among the consumers include PNB Housing Finance, Nestle's Kit Kat, Ching's Secrets, Vodafone, Frooti, ICICI Bank.
The animation and VFX industry in India is already thriving towards a dominating position in the world of entertainment; however, better support from the government and facilities for institutional education & skill development in this sector can actually take the country to its desired leading position in the international arena. For one, it has yet to go a long way in the production of games.