Mark Knight was born in the 1960s, he is an Australian cartoonist. He is currently the editorial cartoonist for the Herald Sun, a daily tabloid newspaper in Melbourne. Knight was also the last editorial cartoonist for one of the Herald Sun's joint predecessor newspapers, the afternoon broadsheet The Herald.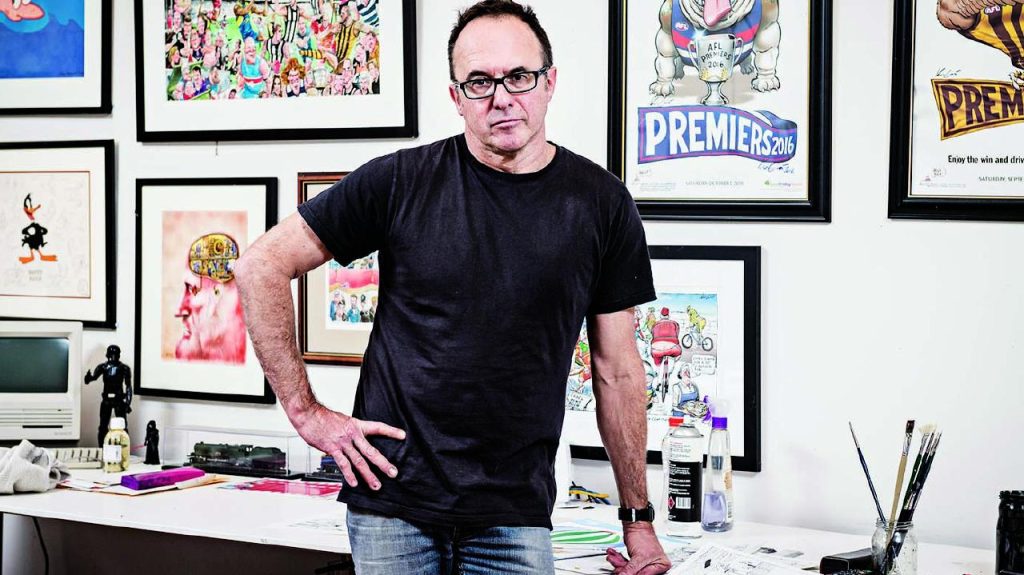 Mark Knight's Childhood
[lwptoc]
Knight was born and raised in Sydney. He grew up in Lakemba, attended Wiley Park Primary School and then Narwee Boys' High School. He showed an early interest in drawing which was encouraged by his artistic father. Knight's first cartoons were of his family and their idiosyncrasies, drawn at family gatherings. When he was six years old, Knight's father bought him Paul Rigby's cartoon annual of 1967; Rigby's work influences his artwork for many years. He created scrapbooks of Rigby's cartoons cut from The Daily Telegraph and studied and imitated them while developing his cartooning style
Knight started a cadetship in 1980 in the Fairfax art department, filling in the black squares in the crossword grids. He went to East Sydney Technical College and studied life drawing, painting, drawing, and etching.
Career
Editorial cartoonist
Knight worked as an editorial cartoonist for The Herald, and later for the Herald Sun after The Herald and The Sun were united in 1990. In 1999 Knight, alongside Bill Leak and other male political cartoonists, were criticized by the Labor Party's deputy leader, Jenny Macklin, who argued that cartoons such as those by Knight and Leak showing Meg Leeson sexual relations with John Howard were demeaning to women politicians. Knight created the children's character "Leuk the Duck" (derived from leukemia), a mascot for the Challenge cancer foundation which has subsequently been used in the organization's educational material.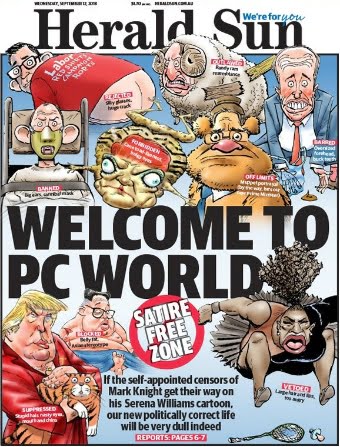 Knight is also well-known for his Australian rules football imagery. After cartoonist William Ellis Green ("WEG") died in 2008, Knight took over his role as the Herald Sun's creator of Australian Football League (AFL) premiership posters and, because of this, has made media appearances on AFL shows, including designing alternate posters. For example, in 2017 on The Front Bar ahead of that year's grand final between Richmond and Adelaide, he unveiled a poster showing co-host and Richmond fan Mick Molloy wearing a Tiger onesie.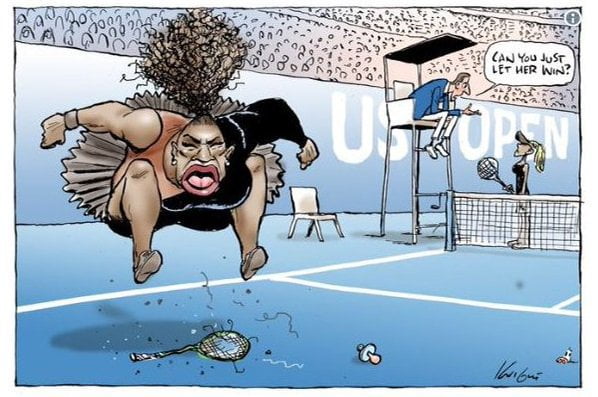 Caricaturist
In September 2018, a cartoon by Knight depicting tennis player Serena William having a tantrum during the 2018 US Open was criticized as racist by international media and commentators, who noted the resemblance between Williams' facial features in the cartoon and American racist caricatures of the 19th and 20th century. Knight and the Herald Sun defended the caricature as depicting Williams' behavior and having nothing to do with race, and Knight said he knew nothing of the Jim Crow period or drawings. A day later, the Herald Sun reprinted the caricature depicting Williams on the front page with the headline "Welcome to PC World".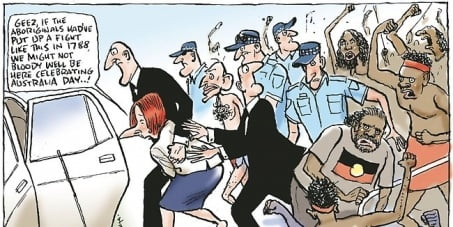 Other works
Other publications in which Knight's cartoons appeared include Christopher Sheil's War on the Wharves: A cartoon history (Evatt Foundation & Pluto Press, Annandale NSW, 1998), an anthology of newspaper cartoons about the 1998 Wharfies' strike. A witty cartoon, The announcement of Bob and Hazel's Divorce, showing Bob weeping to the media 'This is a very sad moment for Hazel and I…' while Hazel does a joyful handstand in the background, was reused in Ann Turner's book of interviews, In Their Image: Contemporary Australian Cartoonists (NLA, 2000). Turner claimed in the NLA News (October 2000) that on the criteria she established for the book (circulation figures) Knight and Warren Brown of the Sydney Daily Telegraph were the most influential cartoonists in Australia. Both appear seven days a week. The Herald-Sun sells over 560,000 copies on weekdays (making it Australia's largest selling weekday paper), 520,000 copies on Saturdays and 530,000 on Sundays.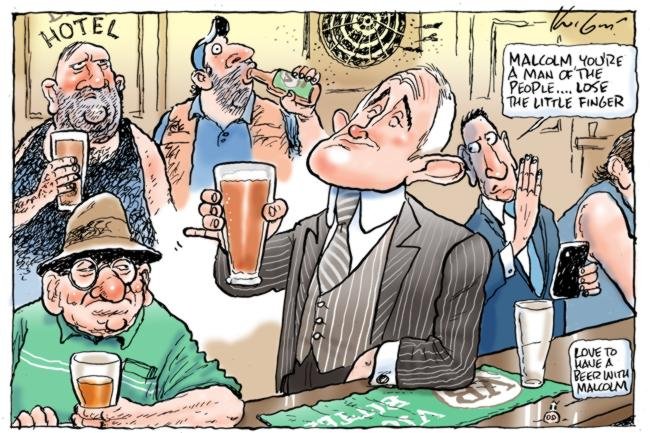 Awards
Knight won a Gold Quill Award from the Melbourne Press Club in 2005 for the best cartoon of the year. In 2001 he also picked up a Quill Award for Best Cartoon from the MPC.
He was also named The Age Cartoonist of the Year at the 22nd annual Stan Cross Awards ceremony hosted by Rod Quantock in Ballarat, Victoria on 4 November 2007. His other accolades include awards in the categories Single Gag (2003) and Editorial (1995, 2006).In 2004, Knight was also presented with a Walkley Award for his cartoon named "Benefits Of A Bedtime Story".In 2003, he received an award as part of the Australian Comedy Awards in the visual category for Outstanding Cartoonist as well as another Walkley Award.