Paul Crispin Rigby AM was Australia's one of the most internationally acclaimed and widely syndicated cartoonists. He was born on 25 October 1924 and died on 15 November 2006. He was an Australian cartoonist who worked for newspapers in Australia, the United Kingdom, and the United States. He usually worked under the name Rigby.
At the Daily News in Perth, Rigby won five Walkley awards in the 1960s before drawing for Murdoch papers in Sydney, London, and New York. His 1976 book Paul Rigby's Course of Drawing and Cartooning influenced hundreds of other cartoonists and for years it seemed editors expected cartoonists to draw like Rigby. He estimated he drew 15,000 cartoons.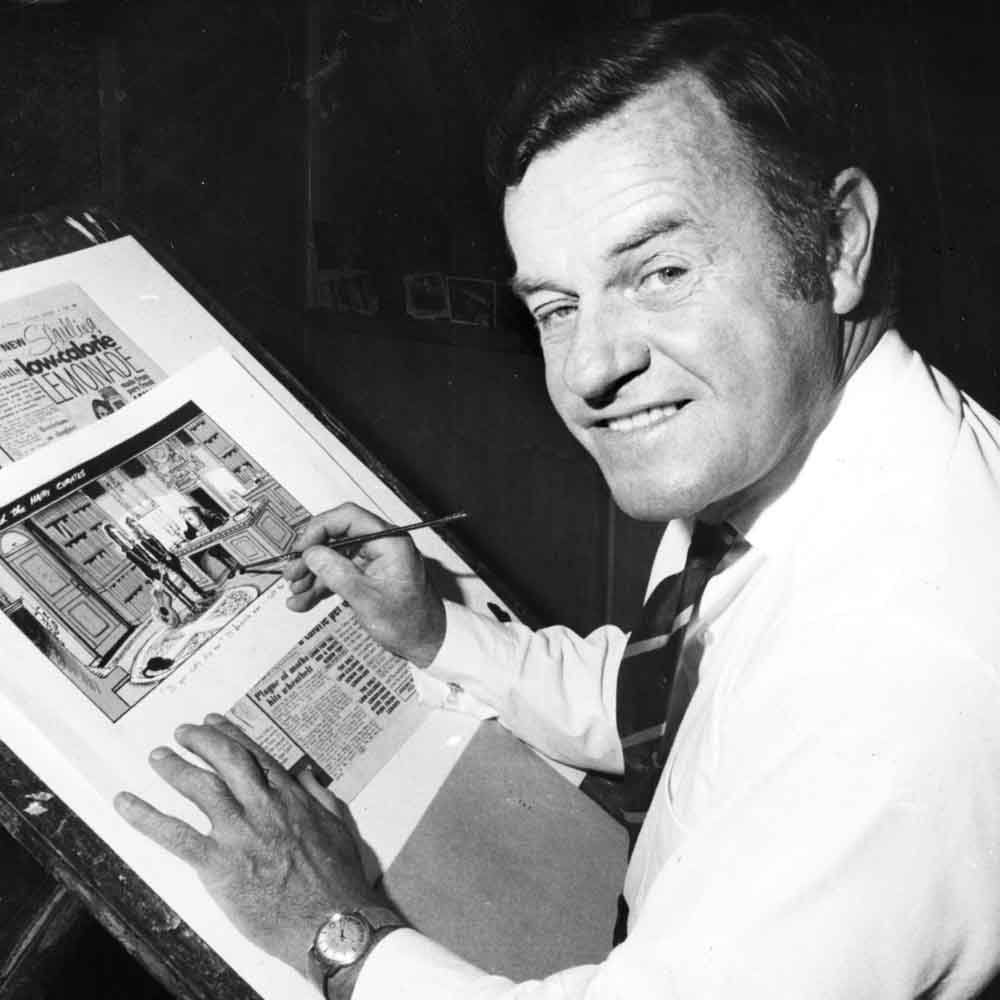 Paul Rigby's Early life
Rigby was born in Sandringham, Victoria, on 25 October 1924, the second son of James Rigby, a telephone engineer, and his wife Violet Wood He studied art at Brighton Technical School before leaving at 15 to work as a commercial artist, eventually taking up freelance work.
Rigby was a gunner-armorer in the Royal Australian Air Force during World War II from 1942 to 1946, serving primarily in bombers in North Africa and Europe.
After the war, he returned to Melbourne and completed his studies in commercial art and took on teaching art. In 1949, he decided to go to Europe, only getting as far as Perth before running out of money. He played tennis in the West Australian championships and took a job in commercial art, and was soon illustrating for the Daily New sand Western Mail.
Personal life
Rigby married the radio and television journalist Marlene Cock burn-in Perth in 1956.  had two sons and three daughters. Rigby and his wife had retired to Margaret River, Western Australia in 2003, where they established a gallery and studio.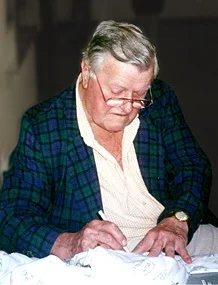 Paul Rigby's Career
Rigby worked as a commercial artist and teacher before moving to Perth to work as an illustrator for West Australian Newspapers(1948–52), notably in the Western Mail. His work as a political cartoonist started at the Daily News (Perth) in 1952, where he won five Walkley Awards between 1960 and 1969.
From 1949 his work coincided with that of topical columnist Bernie Kirwan Ward on the back page of the Daily News. The pair published a number of books containing reprints of their popular collaborations. From 1959 Rigby's cartoons were syndicated to various newspapers throughout Australia.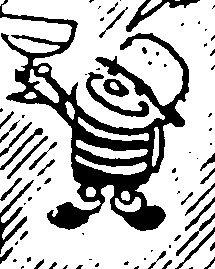 In 1968 Rupert Murdoch took control of The News of the World in London, a Sunday newspaper with a circulation of six million. In November the following year, he also acquired The Sun, then a struggling London daily. As part of his revamp of these papers, he convinced Rigby to move to England to draw cartoons for them. Originally it was for six months, but he stayed for five years.
Rigby's style, drawn in pen with black ink on Duo-shade board, with lots of shading and jam-packed with detail went over well. He always drew a small boy and a dog somewhere in his cartoons. It became a game with the readers to find them. In some pubs, the cartoons were cut up into 200 pieces and sold, with a prize going to the person with the piece that showed the dog.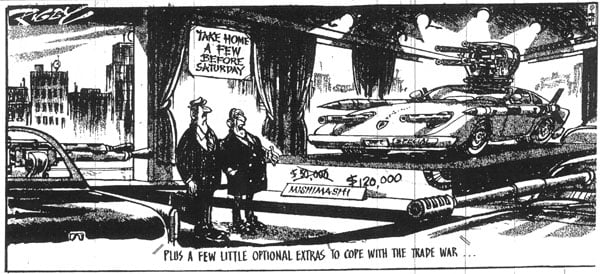 Rigby's cartoons were also syndicated by the German Springer group and were run in many European newspapers. Rigby worked briefly at Rupert Murdoch's Sydney Daily Mirror from 1969. Murdoch had just purchased English tabloid The Sun and in the same year, Rigby relocated to London to work on Murdoch's new acquisition. He spent eight years on the New York Daily News and for 15 years was the main cartoonist on the New York Post. Rigby also contributed work to the News of the World, the German Springer Group and the U.S. National Star.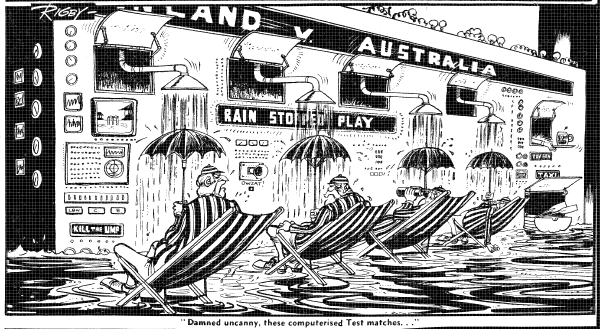 Rigby returned to Australia in 1974 to work at the Sydney Daily Telegraph and then moved to the United States to work at another new Murdoch acquisition, the New York Post, also contributing to the Star. From 1984 to 1992, he worked at the New York Daily News. Many later artists were influenced by his book Paul Rigby's Course of Drawing and Cartooning (1976), which was privately published. He illustrated more than 30 books and produced a number of collections of his drawings.
In 1977, Murdoch convinced Rigby to move to New York to work for six months on the New York Post, America's oldest newspaper. The happy relationship lasted until 1984 when they had a falling out over working conditions for Australian employees, and Rigby picked up his paintbrushes and departed. There was the talk of returning to Australia, but he moved to the New York Daily News instead.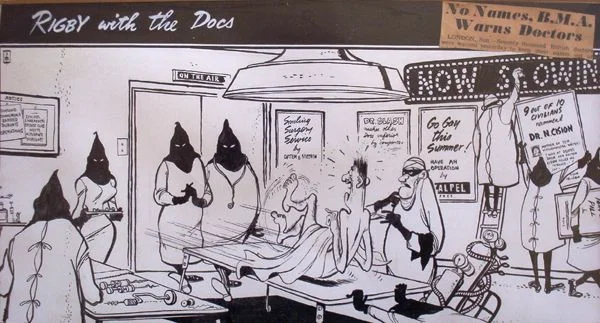 Rigby returned to the New York Post in 1992, and in 1995 the Australian Embassy in Washington hosted an exhibition of his and Pat Oliphant's cartoons. Don Russell, the Australian ambassador, said at the time: "Both gentlemen are widely known and recognized not only in Australia and the US but also internationally."After drawing an estimated 15,000 cartoons over 50 years, Rigby retired in 2000. He settled in Florida, but it was not as idyllic as he and his wife Marlene had hoped, and they returned to Australia in 2003, settling in Margaret River in southwest Western Australia and opening a gallery there.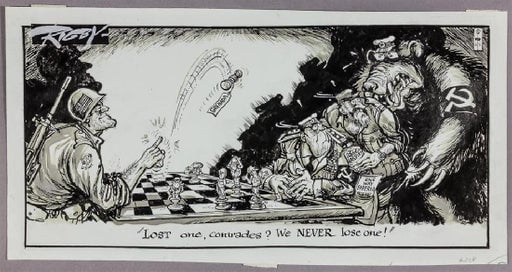 Rigby worked in pen and ink on Bristol board. In much the same way that Al Hirschfeld concealed the name "NINA" in his own drawings, Rigby usually included hard-to-find images of a tiny dog and a small boy (referred to as "the urchin")somewhere in his cartoons.
Awards
Rigby is a recipient of an Order of Australia for services to cartooning (1999). He won five Walkley Awards, a New York Press Club Award in 1982, and US Newspaper Guild's Page One Award in 1983,1984,1985, and 1986.
Limp falling club
Paul Rigby is credited with founding the Limp Falling Association in Perth in the late 1950s."Limp falling" is the art of going limp and falling to the ground. It is usually practiced unannounced in a public place, typically a pub People working in Perth's media began limp falling while drinking at the Palace Hotel.
Death
On the morning of 15 November 2006, Rigby suffered a mild heart attack at his Caves Road property. His condition worsened in the afternoon and he was taken by ambulance to Busselton hospital where he suffered another heart attack and died at 7.10 pm.