Patrick Bruce Pat Oliphant was born on 24 July 1935. He is an Australian-born American artist whose career spanned more than sixty years. His body of work as a whole focuses mostly on American and global politics, culture, and corruption; he is particularly known for his caricatures of American presidents and other powerful leaders. Throughout his long career, Pat Oliphant produced thousands of daily editorial cartoons, dozens of bronze sculptures, as well as a large oeuvre of works on paper and paintings. He retired in 2015.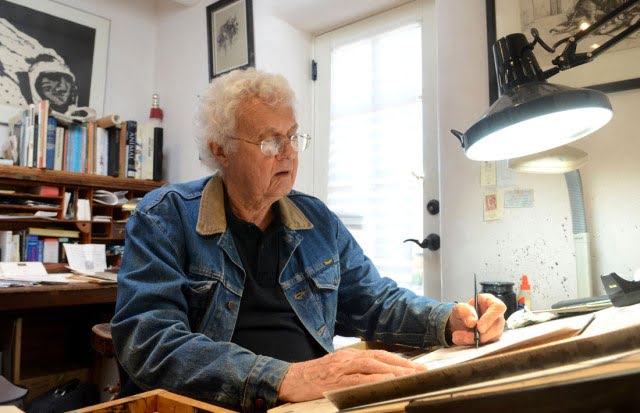 Biography
Australian Period
[lwptoc]
Pat Oliphant was raised in a small cabin outside of Adelaide. His father worked as a draftsman for the government, and Oliphant credited him with sparking his interest in drawing. In his early years attended school in a one-room schoolhouse. He attended Olney High School. Oliphant's career in journalism began in 1952 when as a teenager, he began working as a copy boy with Adelaide's evening tabloid newspaper, The News, which had recently been inherited by Rupert Murdoch. He had no interest in going to college; he had an ambivalent relationship to formal education and already knew he wanted to be a journalist. In 1955 he moved to the News's rival The Advertiser, a morning broadsheet with 200,000 subscribers.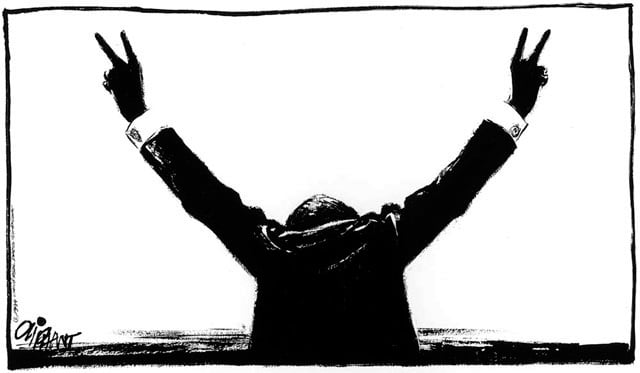 He found inspiration during this period in the work of English cartoonist Ronald Searle, the western Australian cartoonist Paul Rigby, and Mad magazine's political commentary, which he called a "shot in the arm".
United States Period
The Denver Post years :
In 1959 Oliphant went to the United States and Great Britain to learn about cartooning in those nations. He decided that he wanted to move to the United States. However, he had to wait five years until his contract with the Advertiser ran out. In 1964, while preparing to move without a job, he learned that cartoonist Paul Conrad was leaving the Denver Post. Oliphant sent a portfolio of work to the Post and was hired over 50 American applicants. Oliphant moved to the United States with his wife, Hendrika DeVries, and his two children. The Post placed a small snippet of the day's Oliphant cartoon on the paper's front page as a "teaser" for what would be found on the editorial page.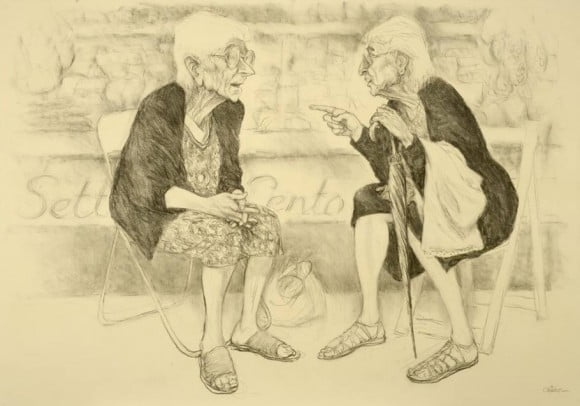 Less than a year after Oliphant began working at the Denver Post, in April 1965, his work was syndicated internationally by the Los Angeles Times Syndicate. Oliphant's reputation grew swiftly, and in 1967 he was awarded the Pulitzer Prize for Editorial Cartooning for his 1 February 1966 cartoon They Won't Get Us To The Conference Table … Will They? In this cartoon, Ho Chi Minhcarries the body of a dead Vietnamese man in the posture of a Pietà. Oliphant had intentionally submitted a cartoon that he felt was among the weakest he had published that year. When it won, he roundly criticized the Pulitzer board, stating that they had selected the cartoon for its subject matter rather than the quality of the work. He refused to be considered for the award ever again and became a regular critic of the Pulitzer.
According to Ralph Steadman, Oliphant would have been Hunter S.Thompson's "first choice of a 'cartoonist collaborator.'
The Washington Star years 
In 1975 Oliphant moved to the Washington Star, wooed by editor Jim Bellows. In 1980, he switched syndication companies, joining Universal Press Syndicate. The Star went out of business in 1981.
The independent years 
After the Star folded, Oliphant had offers from other newspapers, but decided to remain independent, living off the earnings from his extensive syndication. He was the first political cartoonist in the twentieth century to work independently from a home newspaper.a situation that provided him with unique independence from editorial control. By this time, he had become a nationally recognized figure.
In the early 1980s, Oliphant noticed that the rest of the field followed suit. In 1990, the New York Times described him as "the most influential editorial cartoonist now working."
In 1979, Oliphant was naturalized as an American citizen. In 1983 he married his second wife, Mary Ann Kuhn. They divorced in 1994, and he married Susan C.Conway in 1996; they remain married today.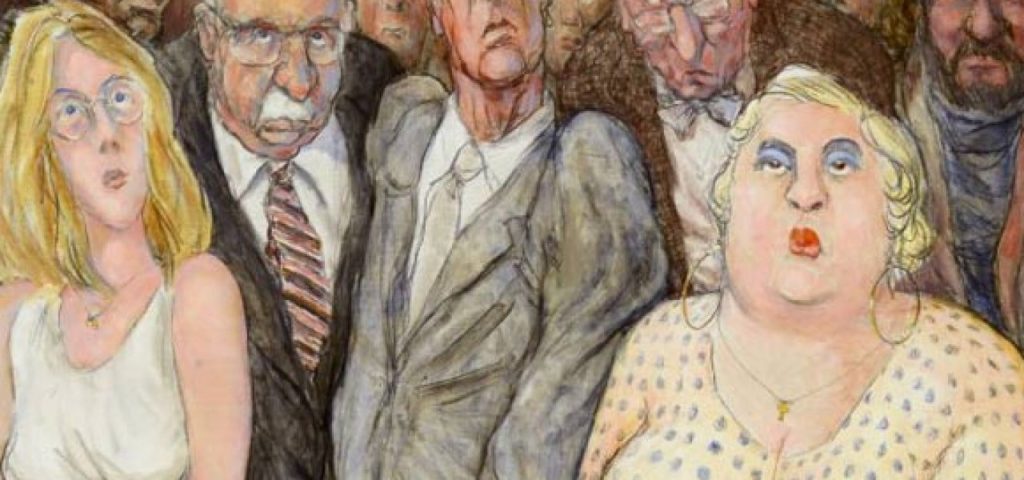 By 1995, Oliphant had reduced the frequency of his daily cartoons to four days a week. It was at this time that he began submitting his cartoons in digital form in the form of scans of original drawings. By 2014 he was submitting three cartoons a week.
In 2004, Oliphant moved from Washington, D.C. to Santa Fe, New Mexico. In 2012, Oliphant was for three months the Roy Lichtenstein Artist in Resident at the American Academy in Rome. Oliphant retired from publishing syndicated cartoons after January 13, 2015. He came out of retirement on February 2, 2017, with two images on The Nib of Donald Trump and Steve Bannon. One shows Trump as a childlike member of the Hitler Youth asking a ghoulish Steve Bannon what he thinks of his outfit.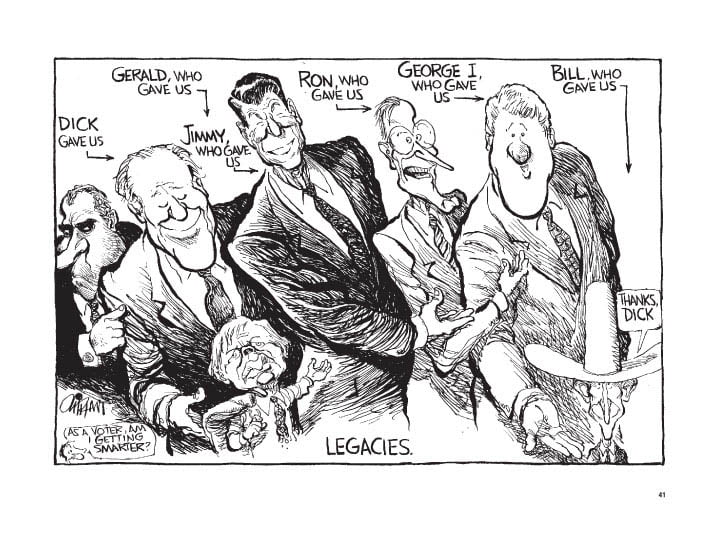 Oliphant's style
Pat Oliphant's earliest cartoons in Australia often mimic the style of his elders, but his mature style is easily identifiable and distinctive. His caricatured subjects are immediately recognizable, and have been made "grotesque" through "extreme distortion."He is recognized for his skilled drafting, and for making unprecedented use of the horizontal format of the editorial cartoon space.
Punk 
Early in his career, Oliphant began to include a small penguin in almost every one of his political cartoons, who he named Punk. In 1980, Oliphant briefly drew a full-color comic strip featuring the penguin for the Sunday funny pages, titled Sunday Punk, but found the work too laborious and soon gave up the strip.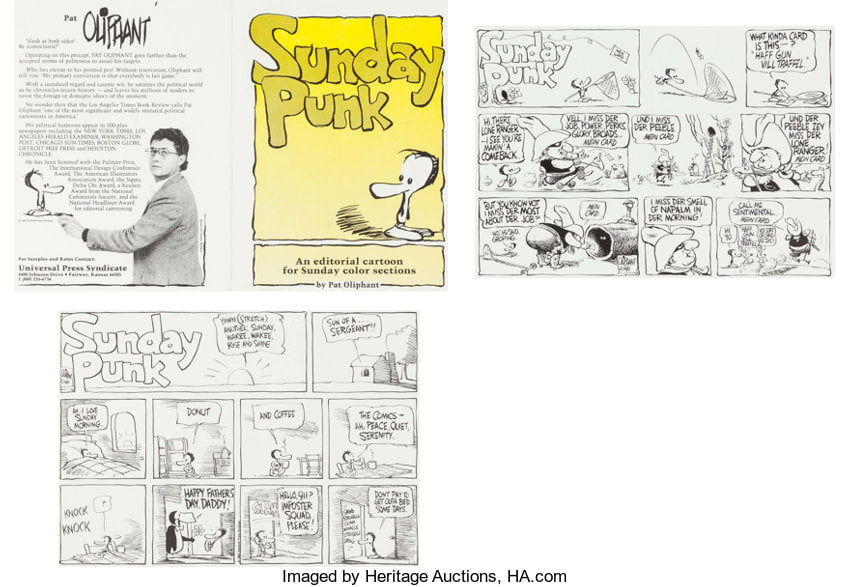 Oliphant created Punk as a space for subversion in the conservative editorial environment of the Adelaide Advertiser. Punk was a space for the cartoonist's own opinion, while the overall cartoon needed to hew to the views of the paper's editors. Punk's point of view changes from cartoon to cartoon: sometimes bemused, sometimes ironic, and sometimes trenchant, he does not always represent an opinion that can be assumed to be that of Oliphant himself.
Non–newspaper drawing 
Newspaper editorial cartoons were not Oliphant's only genre. In his earliest days in Australia, he produced a wide variety of newspaper illustrations. Later in his career, he produced illustrations for several books and his work, often in full color, was featured in the pages and on the covers of numerous magazines. For a time he drew cartoons for Rolling Stone: this body of work is produced for a different audience than his newspaper cartoons and is often more graphic or intentionally offensive than his work for the syndicate. In the 1990s he drew for a Northwest Airlines advertising campaign advocating the "open skies" policy concept (Oliphant has flown himself, and has had a pilot's license).
 
Sculpture 
Pat Oliphant began working in bronze in the early 1980s and produced a significant body of work over the remainder of his career. His bronze caricatures have been compared favorably with those of the nineteenth-century French caricaturist Honoré Daumier. Oliphant's bronzes are frequently heads, busts, or full figure portraits of major political figures, though he has also sculpted animals, human types, and compositions containing multiple figures.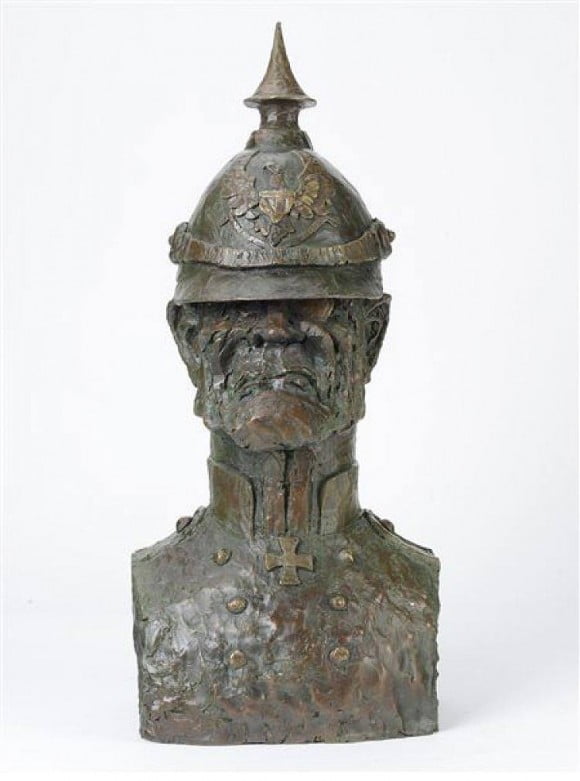 Awards and honors 
1.Award-winner in the Grand Challenge Editorial Cartoonist Competition (London),1958.
2. Sigma Delta Chi Distinguished Service Award, Society of Professional Journalists,1966
3. Pulitzer Prize for Editorial Cartooning,1967
4. Reuben Award for Outstanding Cartoonist of the Year, National Cartoonists Society 1968,1972
5. Distinguished Service Award, National Wildlife Federation,1969
6. Reuben Award for Editorial Cartooning,National Cartoonists Society, (1971,1973,1974,1984,1989, 1990,1991)
7. Tajiri Award, American Civil Liberties Union,1973
8. National Headliners Award for Editorial Cartooning
9. National Cartoonist Society Editorial Cartoon Award(1971,1972,1973,1974,1984,1989,1990,1991).
10. Honorary Doctor of Humane Letters, Dartmouth College,1981
11. Thomas Nast Prize,1992.
12. Cartoonist of the year, Washington Journalism Review (1985, one other year)
Trivia
Pat Oliphant is the nephew of Sir Mark Oliphant, the Australian physicist who worked on the Manhattan Project during World War II, and who later became Governor of South Australia. Pat Oliphant enjoys flying and has had a commercial pilot's license. He has long been a member of the Bad Golfers Association. He is a left-handed vegetarian.
Archives and Collections
Pat Oliphant's papers reside at the Albert and Shirley Small Special Collections Library at the University of Virginia and include almost 7,000 daily cartoon drawings, dozens of sketchbooks, fine art on paper, sculpture, fan and hate mail and extensive documentation of Oliphant's career. His works are held in the permanent collections of the Library of Congress, National Portrait Gallery, Gerald R. Ford Presidential Museum, the George W. Bush Library, The University of Colorado Library, and New Mexico Museum of Art in Santa Fe.