Born on June 27, 1924, in Cedar Rapids, Iowa, Paul Conrad emerged as a prominent political cartoonist whose work resonated particularly during the 1960s. His biting commentary touched on right-wing politics, civil rights, integration, and the Vietnam War.
Paul Conrad's early life was shaped by his parents, Robert H. Conrad, a freight and passenger agent, and Florence G. (Lawler) Conrad. He began his educational journey at Saint Augustine's Elementary School in Des Moines, Iowa. It was here that he first exhibited his innate talent for drawing, using it as a means to make social commentary. An early instance of this creative expression involved spotting a written remark on the boys' room wall and responding with a fitting cartoon, marking the beginning of Conrad's lifelong journey as a political commentator through art.
Paul Conrad
Born
June 27, 1924
Cedar Rapids, Iowa, U.S.
Died
September 4, 2010 (aged 86)
Rancho Palos Verdes, California, U.S.
Nationality
American
Occupation
Political Cartoonist
Notable Works
Editorial Cartoons, Pulitzer Prize-Winning
Spouse
Children
Kay King
2 sons, 2 daughters, 1 grandchild
Awards
3 Pulitzer Prizes for Editorial Cartooning, Distinguished Service Awards for Editorial Cartooning, Overseas Press Club Awards, Robert F. Kennedy Journalism Awards, Lifetime Achievement Award, Lifetime Public Service Award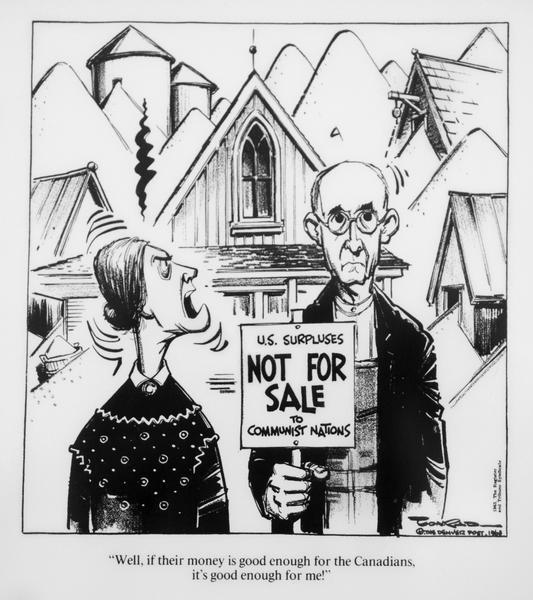 Early Life: Nurturing Artistic Aspirations in Iowa
Paul Conrad was born to Robert and Florence Conrad on June 27, 1924, into a conservative Catholic family. Raised alongside his identical twin brother James and older brother Bob in Cedar Rapids, Iowa, Conrad's early years were marked by a burgeoning interest in art. Even as a child, he displayed a penchant for creativity, often expressing it by writing on the bathroom walls of St. Augustin Elementary School in Des Moines. However, he faced the challenge of being left-handed but was compelled by teachers to favor his right hand. Another hurdle in his early life was a stutter that persisted until he was 12.
During his formative years, Conrad encountered the work of Jay Norwood Darling, also known as "Ding Darling." Darling's conservative cartoons, featured in local newspapers, served as a significant influence and a childhood role model for Conrad.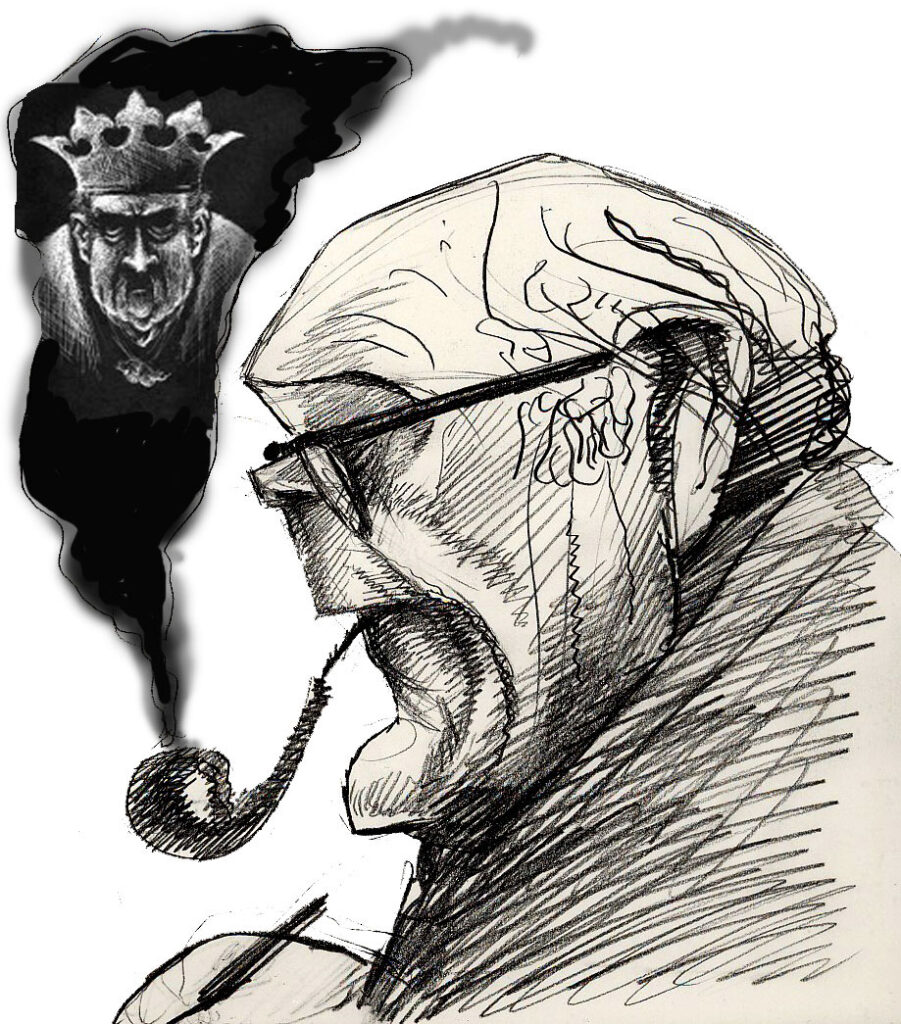 World War II and Artistic Beginnings
After graduating from Roosevelt High School, Conrad and his brother he embarked on a unique adventure by working construction jobs in Valdez, Alaska. During this time, Conrad's artistic talents took an unexpected turn. He honed his musical skills by playing the piano in a bordello, adding a musical dimension to his multifaceted talent.
With World War II raging, Conrad and his brother enlisted in the U.S. Army Corps of Engineers, despite Conrad's initial rejection due to poor eyesight. He was eventually deemed fit for service and became a truck driver stationed in the Pacific Theater of Operations at Guam and Okinawa. It was during this period that he acquired the nickname "Con."
While initially planning to attend Iowa State University after the war in 1945, Conrad's path veered into music. He taught himself to play the bass and joined a big band. However, when this venture did not yield the desired results, he embarked on a new journey, enrolling at the University of Iowa in 1946 to study art. Little did he know that this decision would shape his life.
The Birth of a Cartoonist
The pivotal moment in Conrad's transformation into a cartoonist he has occurred at a local bar in Iowa City. Charlie Carroll, a friend and the editor of the school's newspaper, the Daily Iowan, recognized Conrad's artistic potential. He approached Conrad with a proposition: the newspaper needed a cartoonist, and Conrad was invited to give it a try. This seemingly casual offer set the stage for Conrad's illustrious career in cartooning.
One of Conrad's earliest cartoons for the Daily Iowan featured Herbert Hoover, the 31st President of the United States. Impressed by his talent, Conrad's professors saw potential and sent copies of his work to the Denver Post.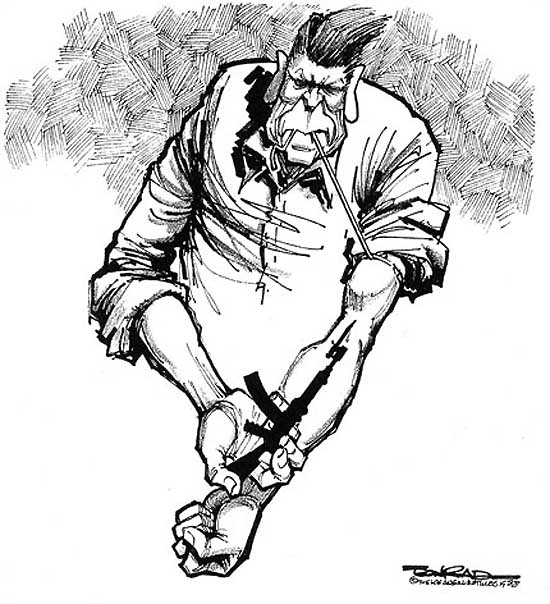 Denver Post: Nurturing the Cartoonist's Talent
Following graduating from the University of Iowa with a degree in art in 1950, Conrad embarked on his professional journey by joining the Denver Post. The early years of his career were marked by determination and persistence, traits instilled in him by his childhood role model, Ding Darling.
However, Conrad's path was challenging. Despite occasional setbacks, he found unwavering support and encouragement from his editor, Palmer Hoyt, at The Denver Post. During this period, Conrad began to gain recognition, especially when he attracted attention for creating critical and unflattering cartoons of Dwight D. Eisenhower, the 34th President of the United States.
1960 Time magazine acknowledged Conrad's burgeoning talent, dubbing him "probably the nation's hottest new cartooning property." The pinnacle of his early career came in 1964 when he was awarded the Pulitzer Prize for editorial cartooning. His cartoons, initially featured in The Denver Post, were now distributed through the Register and Tribune Syndicate, reaching 81 newspapers.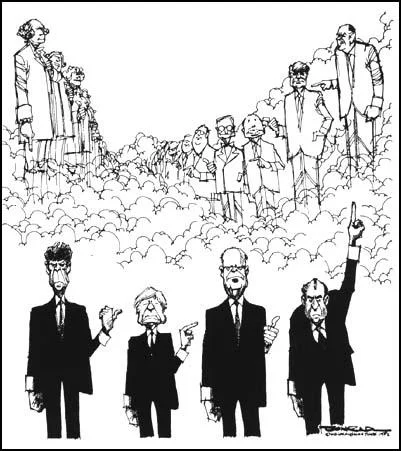 The Transition to the Los Angeles Times
In December 1963, a significant turning point occurred when Bruce Russell, the lead cartoonist for the Los Angeles Times, passed away from a heart attack. Russell had been associated with the conservative paper since 1927. In a bid to revamp the newspaper's reputation, Publisher Otis Chandler embarked on a quest to replace Russell. This endeavor led to the recruitment of Paul Conrad, a decision that would reshape the future of political cartooning.
Conrad accepted an initial three-year contract with the Los Angeles Times, marking the beginning of a transformative era for the newspaper and himself. His arrival signaled a significant shift, as his more liberal editorial perspective resonated with readers while sparking criticism. Conrad's ability to speak truth to power earned him accolades and a place in the hearts of those who celebrated his fearless approach to social justice issues.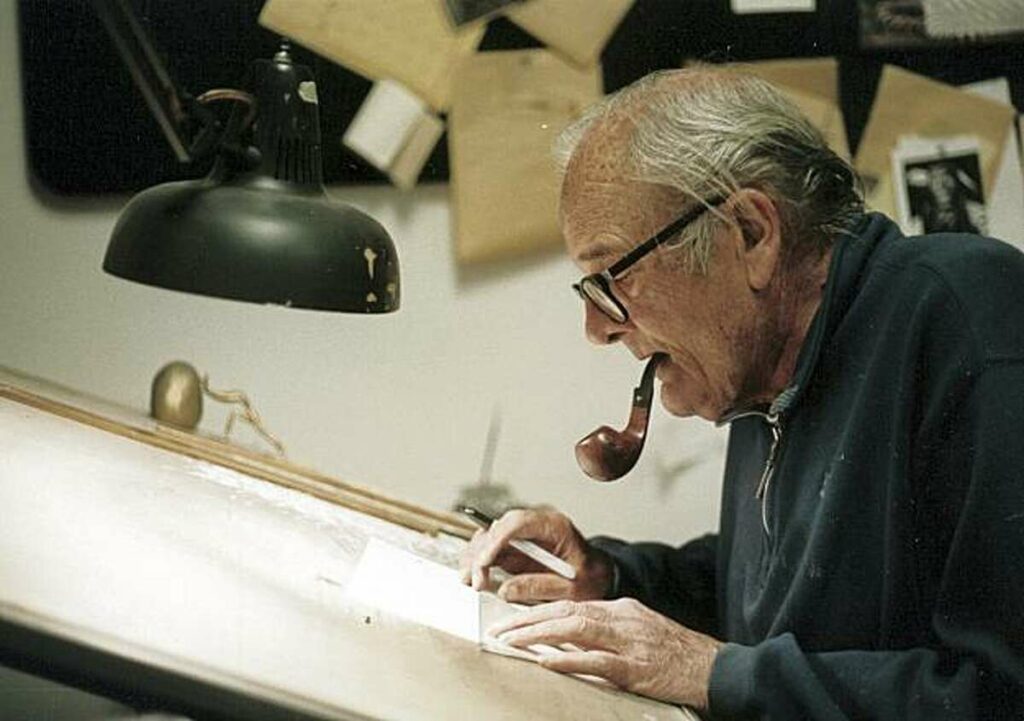 Chronicling History: The Conrad Cartooning Era
Conrad's influence extended far beyond the newspaper's readership as the chief editorial cartoonist for the Los Angeles Times from 1964 to 1993. His cartoons, syndicated to hundreds of newspapers worldwide, became a powerful medium for addressing pressing social justice issues. Week after week, Conrad tackled topics ranging from poverty in America and the civil rights movement to the Vietnam War, the Israeli–Palestinian conflict, and corporate and political corruption.
However, during the tumultuous Watergate scandal, Conrad's cartoons captured the zeitgeist. His portrayal of President Richard Nixon, during his final days in office, nailing himself to a cross, remains one of his most iconic and memorable creations. In 1973, Conrad received a call from the Associated Press informing him that he had been added to Nixon's Enemies List. Unfazed, Conrad regarded this inclusion as a badge of honor, even as it subjected him to increased government scrutiny and IRS audits. However, his tax return remained the same.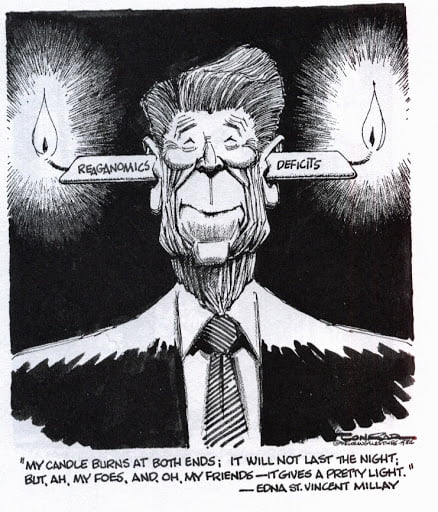 Legacy and Influence: Beyond Cartoons
Conrad's impact extended beyond the realm of political cartoons. In a pivotal moment in the mid-1970s, he ventured into sculpture. His fascination with this art form led him to create a 600-pound sculpture titled "The Trinity," inspired by the Christian doctrine of the same name. This monumental piece, crafted from steel and given a verde patina for a copper-like appearance, found a home at Marymount College.
Conrad's artistic endeavors further expanded by creating small bronze sculptures depicting famous Americans. These sculptures, characterized by caricatures of notable figures like Richard Nixon, Jerry Brown, Ronald Reagan, Jimmy Carter, and others, were featured in exhibitions, including one at the Los Angeles County Museum of Art in 1979. Conrad's bronze sculptures often found their way into fundraisers and events, reflecting his artistic range and political beliefs.
Beyond the realm of art, Conrad made significant contributions to public monuments. His works, including "Risen Christ" at Saint John Fisher Catholic Church in Rancho Palos Verdes, "Otis Chandler" at the Los Angeles Times building, and "Chain Reaction," a peace monument in the shape of a mushroom cloud located in the Santa Monica Civic Center, stand as testaments to his enduring legacy.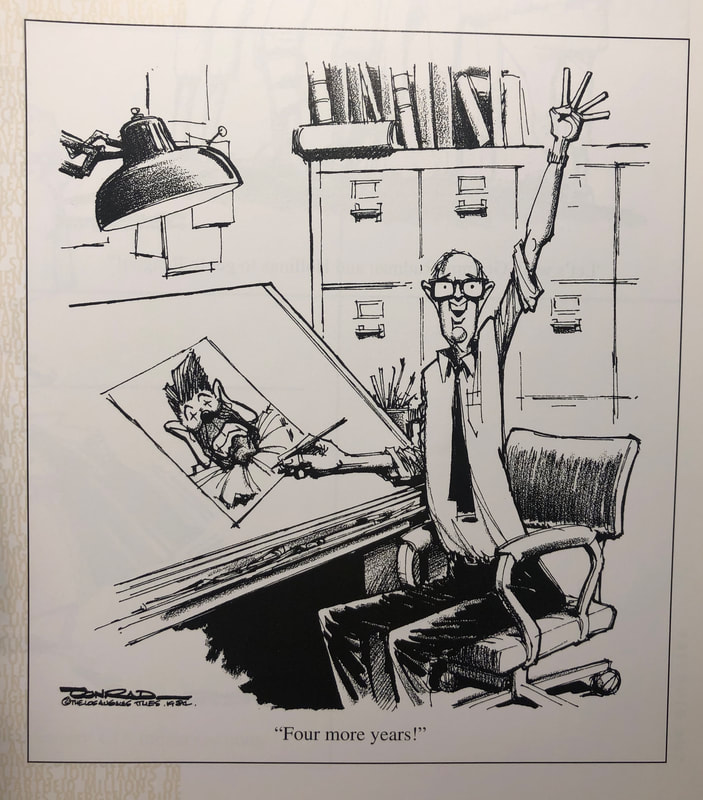 Awards and Recognition: Honoring Excellence
Throughout his illustrious and impactful career, Paul Conrad accumulated many prestigious awards and accolades, reflecting his profound influence in editorial cartooning. His remarkable achievements included:
Three Pulitzer Prizes for Editorial Cartooning:

 Conrad's exceptional talent earned him this prestigious honor three times. His first Pulitzer was awarded at the Denver Post in 1964, followed by two more accolades at the Los Angeles Times in 1971 and 1984.

Seven Distinguished Service Awards for Editorial Cartooning:

 The Society of Professional Journalists/Sigma Delta Chi (SDX) recognized Conrad's outstanding contributions with this esteemed award on seven occasions. He received this honor in 1962, 1968, 1970, 1980, 1981, 1987, and 1996, underscoring his consistent excellence in the field.

Two Overseas Press Club Awards:

 Conrad's global impact and insightful commentary were acknowledged with this award on two separate occasions, in 1981 and 1970. These awards highlighted his ability to engage with international issues through his art.

Four Robert F. Kennedy Journalism Awards:

 Conrad's dedication to addressing critical social and political topics was celebrated with this prestigious accolade. He received this honor in 1985, 1990, 1992, and 1993, demonstrating his commitment to using his art as a platform for meaningful change.

Lifetime Achievement Award from the Association of American Editorial Cartoonists (AAEC):

 In 1998, the AAEC gave Conrad the Lifetime Achievement Award, recognizing his enduring impact on editorial cartooning and his dedication to the craft.

Lifetime Public Service Award from the Edmund G. "Pat" Brown Institute of Public Affairs:

 In 2000, California State University, Los Angeles, honored Conrad with the Lifetime Public Service Award. This award highlighted his significant contributions to public discourse and his role in shaping public opinion through his thought-provoking cartoons.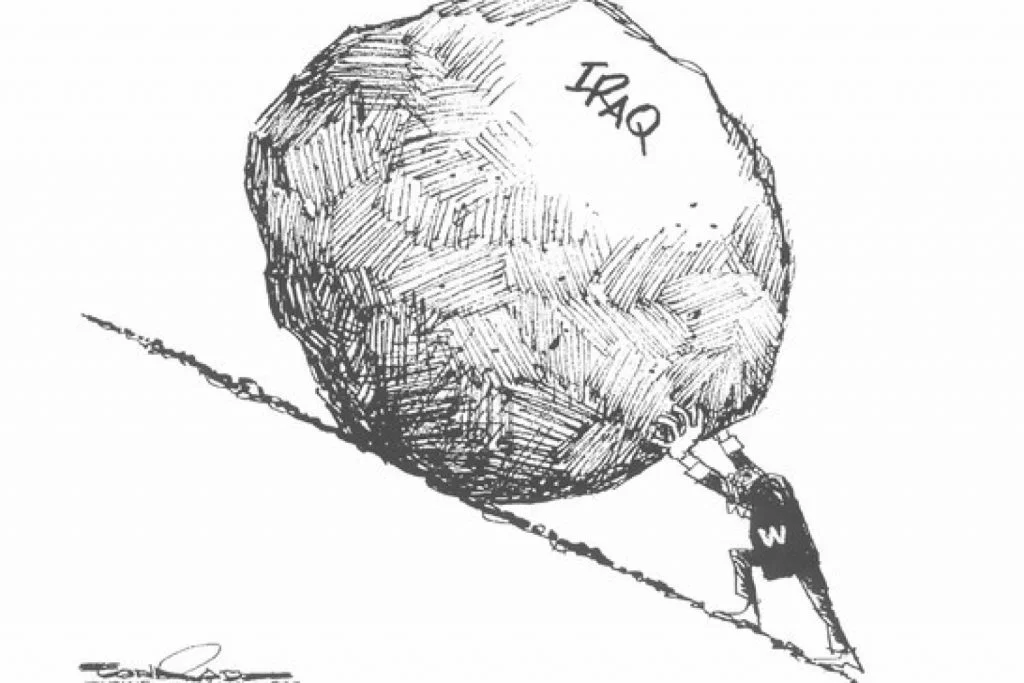 Conrad's role as an editorial cartoonist who openly voiced his liberal perspective on contemporary issues often placed him amid political and religious controversies. He fearlessly used his cartoons to tackle subjects that ignited passionate debates.
One notable dispute saw him being sued, albeit unsuccessfully, by then-Mayor of Los Angeles, Sam Yorty. Conrad had depicted Yorty as delusional for aspiring to become Richard Nixon's Secretary of Defense. Another instance that courted controversy was when he compared conservatives to white supremacist Buford Furrow in a cartoon, drawing ire from conservatives.
Conrad's cartoons occasionally poked fun at Ronald Reagan's governorship, leading to complaints from Nancy Reagan about their impact on her husband's breakfast. In yet another controversy, Conrad faced criticism from Jewish community members in Los Angeles for his portrayal of the Israeli–Palestinian conflict.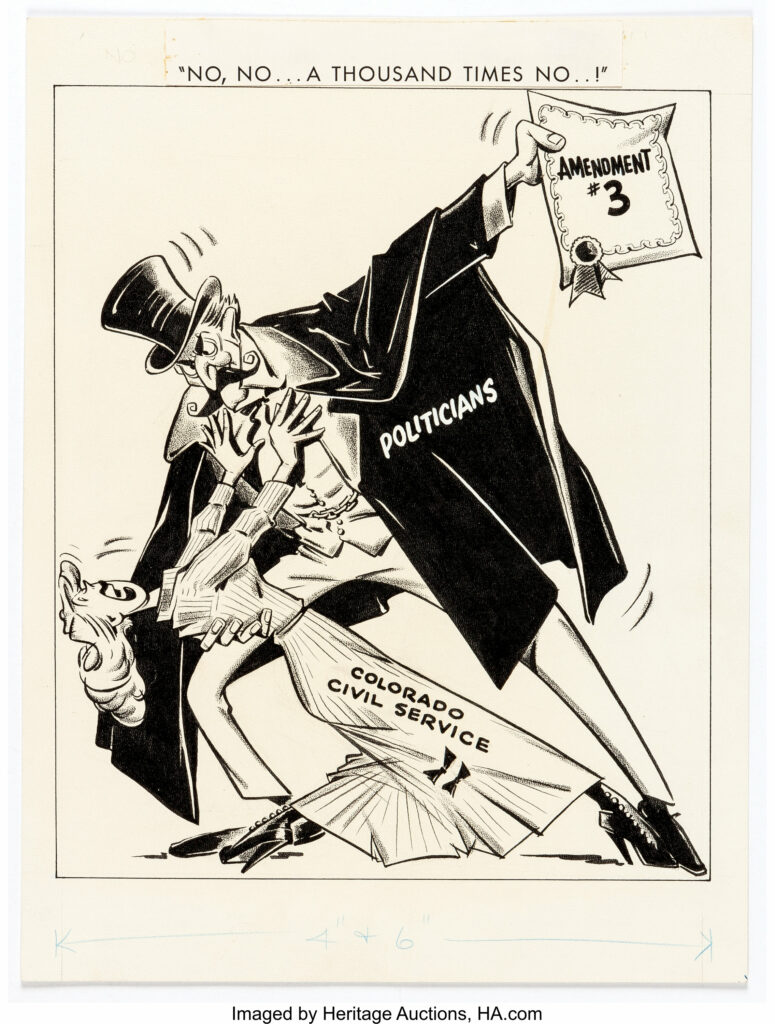 A Voice for Change: Challenging Religious Norms
Conrad's editorial cartoons were not limited to political topics; he also used his platform to challenge religious norms. In the late 1970s, Pope Paul VI expressed his opposition to the ordination of women, asserting that priests should represent the image of Christ. In response, Conrad created a cartoon depicting the pope holding a baby resembling a miniature version of himself. Cardinal Timothy Manning expressed his discontent, but Conrad defended his work, emphasizing the significance of shared humanity over appearances.
Conrad did not shy away from critiquing the Catholic Church's stance on priests' celibacy and treatment of nuns. He questioned whether these practices aligned with Christ's envisioned church, highlighting his unwavering commitment to social justice.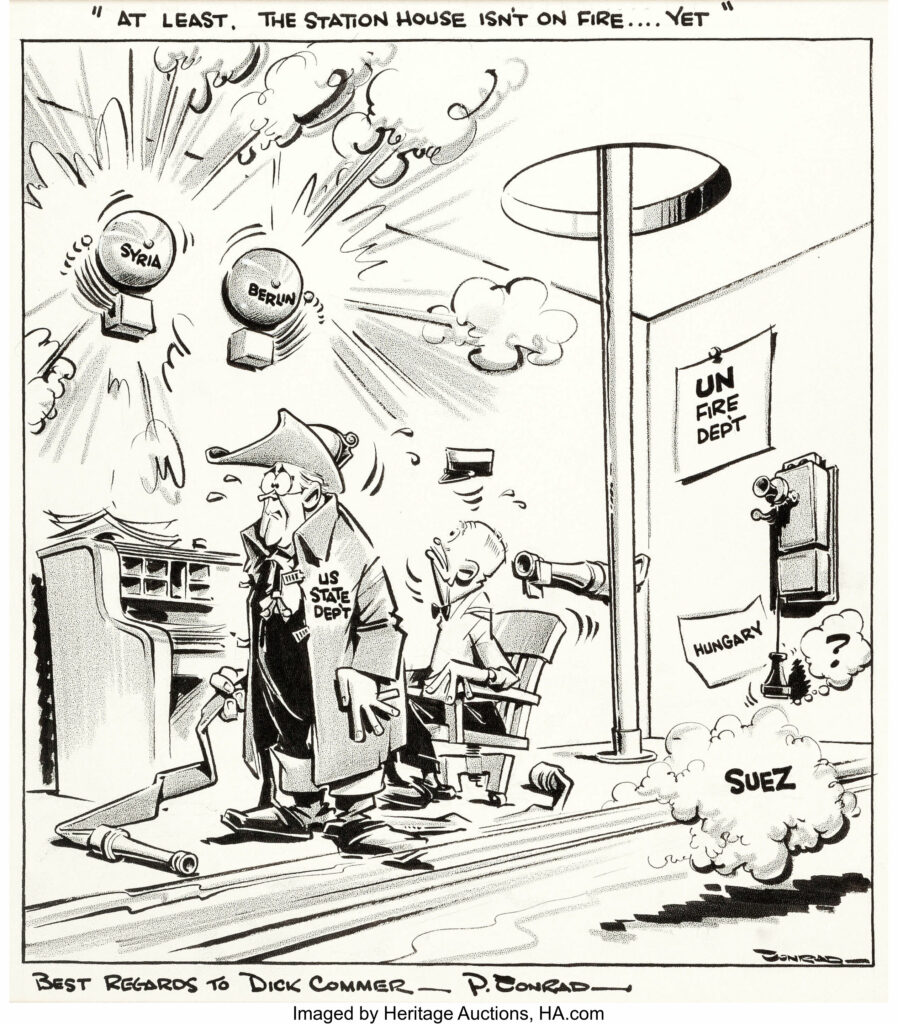 Personal Life: The Man Behind the Cartoons
Paul Conrad was a towering figure both in stature and influence. Standing at 6 feet 2 inches, with thick, black-rimmed glasses framing his large head, he possessed a powerful voice that resonated with those who knew him. His demeanor was often described as loud and occasionally profane in person, reflecting his passionate and unapologetic approach to his craft.
In 1953, Conrad married Kay King, the society editor at the Denver Post. As his wife, Kay became one of only two individuals, along with his editor at the Los Angeles Times, Edwin O. Guthman, who uniquely influenced his work.
While Conrad's early years saw him raised in a Republican and Catholic household, his views evolved. By 1960, he was often compared to an "Adlai Stevenson Democrat" in terms of his political perspective. He voted for only one Republican, Dwight D. Eisenhower, a decision he later regretted. Although his political beliefs leaned liberal, Conrad held a long-standing opposition to abortion. However, in the 1980s, he transformed, viewing abortion as a matter of private choice.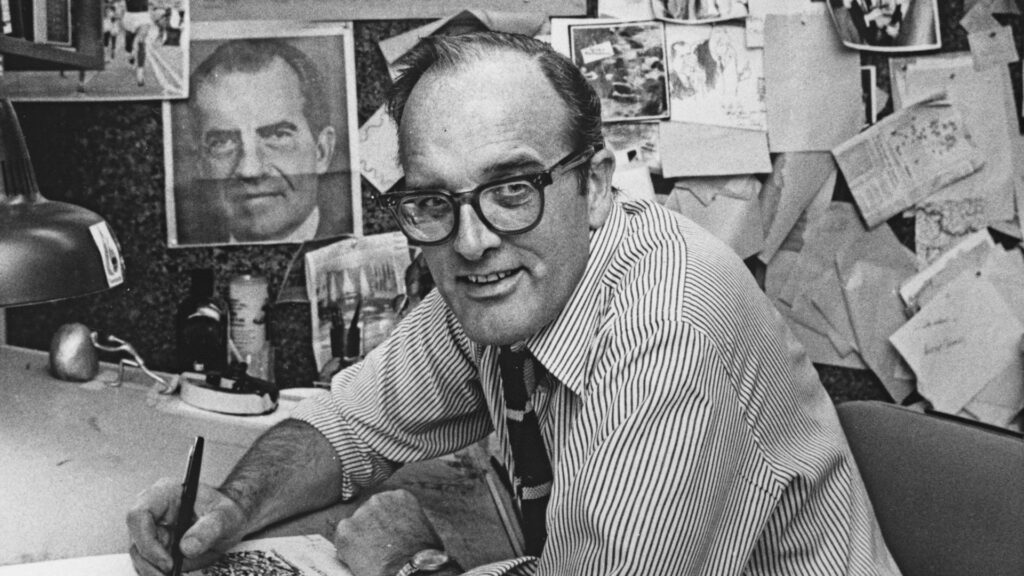 The End of an Era: Conrad's Passing
On September 4, 2010, Paul Conrad breathed his last at his home in Rancho Palos Verdes, leaving behind a legacy that would endure through his work. His funeral, held at Saint John Fisher Catholic Church in Rancho Palos Verdes on September 11, 2010, featured eulogies by journalist Robert Scheer and editorial cartoonist Tony Auth. Conrad is survived by his wife, Kay King, two sons, two daughters, and one grandchild.
Legacy and Influence: Conrad's Enduring Impact
Paul Conrad's legacy as a political cartoonist is firmly entrenched in history. He is hailed by publishers and journalists alike as one of the finest political cartoonists of the 20th century. Conrad's cartoons were more than just illustrations; they were powerful tools for conveying societal messages and sparking conversations.
In Southern California, where Conrad's work became a daily ritual for many, his cartoons were a source of outrage and delight. He was one of only a few post-war cartoonists to have won three Pulitzers, and he proudly was the only cartoonist named on Nixon's Enemies List. 1977–1978, Conrad held the Richard M. Nixon Chair at Whittier College, adding another layer to his storied career.
Conrad's influence is not confined to the pages of newspapers; it extends to exhibitions at prestigious institutions like the USC Annenberg School for Communication and Journalism. Several books authored by Conrad provide insights into his work, and many of his original editorial cartoons are housed in the Prints and Photographs Division of the United States Library of Congress.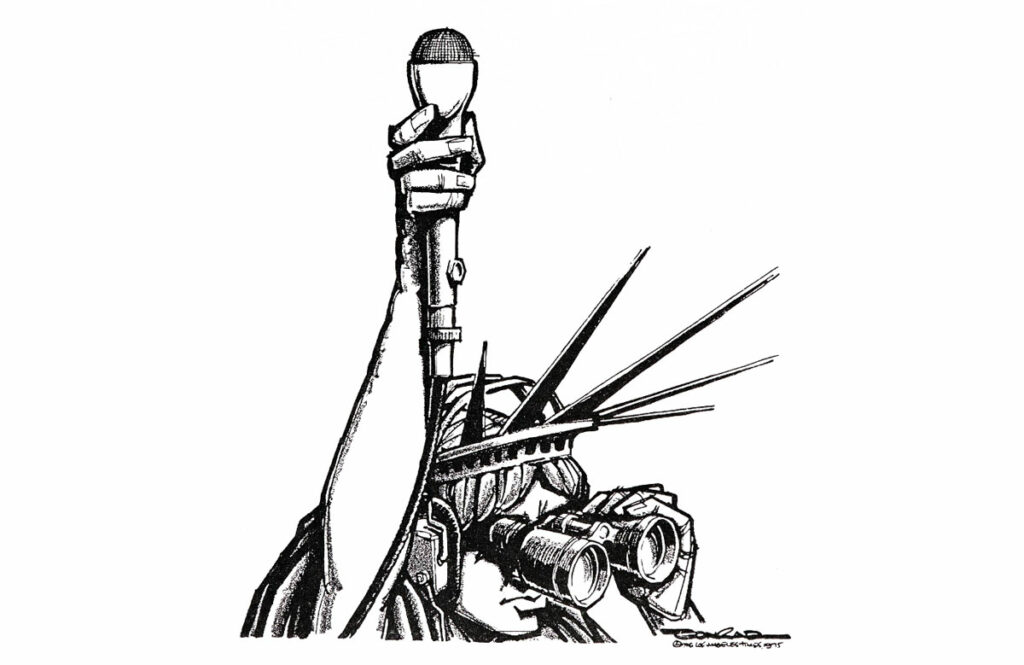 Honoring a Legacy: The Paul Conrad Scholarship
Recognizing his enduring legacy, the University of Iowa annually awards the "Paul Conrad Scholarship" to journalism and mass communication students. This scholarship is a testament to the lasting impact of Conrad's work and his commitment to journalism.
Conclusion: The Enduring Echoes of a Master Cartoonist
Paul Francis Conrad's journey from a small-town upbringing in Iowa to becoming a revered political cartoonist is a testament to the power of talent, determination, and unwavering commitment to one's craft. His cartoons, characterized by their fearless critique and unapologetic commentary, resonate with audiences today. Beyond the ink and paper, Conrad's sculptures and public monuments are enduring symbols of his multifaceted artistic prowess.
As we reflect on his legacy, we are reminded that Paul Conrad was not merely a cartoonist but a force for change, a voice for the marginalized, and a catalyst for debate. His work serves as a poignant reminder of the enduring power of art and journalism to shape the world in which we live. In political cartooning, Paul Conrad remains an iconic figure, a master of his craft, and an inspiration to future generations of artists and journalists.
Read also: William Ellis Green (1923 – 2008)
Reference
Conrad, Paul. "Drawing the Line: The Political Cartoons of Paul Conrad." Los Angeles Times, 1983.
Conrad, Carol. "Paul Conrad: Drawing Fire." Abrams, 2006.
Oliphant, Pat. "Paul Conrad: A Political Cartoon Collection." Andrews McMeel Publishing, 2006.
Stout, David. "Paul Conrad, 86, Dies; Punctured Politicians as a Cartoonist." The New York Times, 2010.
Satire & Society: The Art of Paul Conrad. The Annenberg Space for Photography, 2011. Exhibition Catalog.
Editorial Cartoons by Paul Conrad. University of California, Los Angeles, Library Special Collections.
Pulitzer Prize Winners: Editorial Cartooning. Pulitzer Prizes.
FAQs about Paul Conrad
Who was Paul Conrad, and what was his profession?
Paul Conrad was an American political cartoonist known for his editorial cartoons.
How many Pulitzer Prizes did Paul Conrad win?
Paul Conrad won three Pulitzer Prizes for Editorial Cartooning during his career.
What was the focus of Paul Conrad's editorial cartoons?
His cartoons addressed various social justice issues, including poverty, civil rights, the Vietnam War, the Israeli–Palestinian conflict, and political corruption.
Which newspaper did Paul Conrad work for during his career?
Paul Conrad was the chief editorial cartoonist for the Los Angeles Times for three decades.
Why was Paul Conrad's work controversial?
Conrad's work was controversial because he openly expressed liberal views and criticized political figures, which led to disputes and legal issues.
What subjects did Paul Conrad's editorial cartoons often cover?
His cartoons covered various subjects, including presidential administrations, political scandals, and social issues.
Yes, he faced legal challenges, including a lawsuit by then-Mayor of Los Angeles, Sam Yorty, and criticism from various groups for his portrayals in cartoons.
What is Paul Conrad's legacy in the world of political cartoons?
Paul Conrad is considered one of the finest political cartoonists of the 20th century and left a lasting impact on the field.
Did Paul Conrad engage in other artistic endeavors besides political cartoons?
Yes, he also became interested in sculpture, creating works like "The Trinity" and sculptures of famous Americans.
When and where did Paul Conrad pass away?
Paul Conrad died on September 4, 2010, in Rancho Palos Verdes, California, at 86.