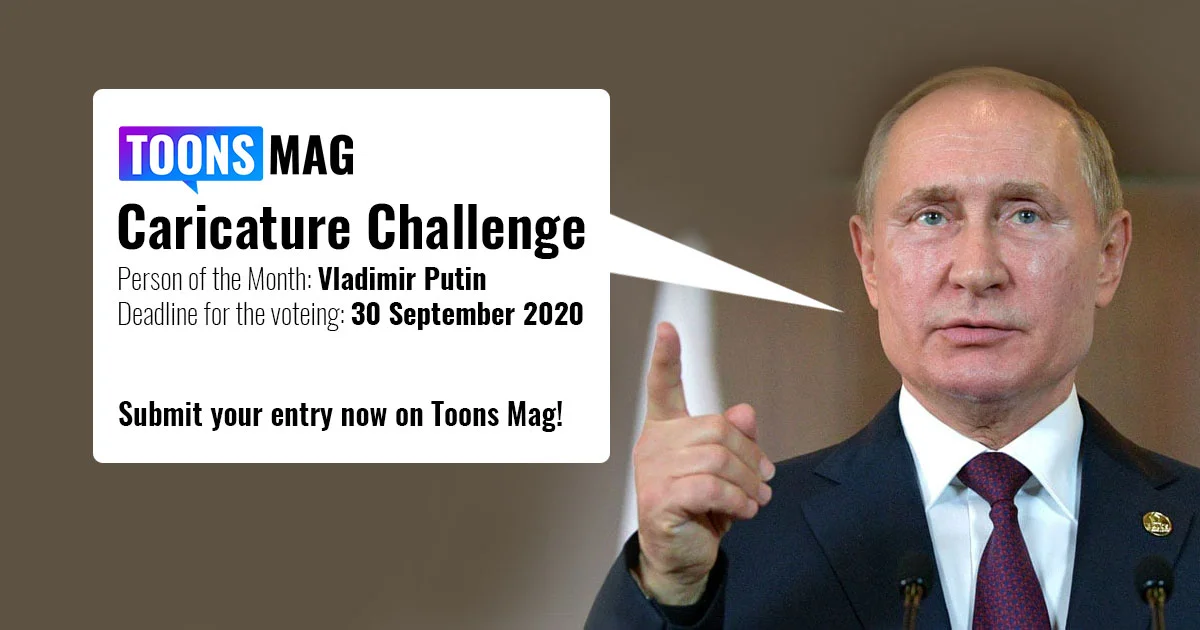 Person of the Month: Vladimir Putin
Deadline for the vote: 30 September 2020
About Vladimir Putin
Vladimir Vladimirovich Putin is a Russian politician and a former officer of the KGB who has served as President of Russia since 2012, previously holding the position from 1999 until 2008. He was also the Prime Minister of Russia from 1999 to 2000 and again from 2008 to 2012.
Rules:
You have to draw a portrait caricature and submit under this contest page for voting.
Voting:
Any Toons Mag member will able to vote and most voted entry will appear on the Top.
Award:
Top 5 position holders most voted entry will receive a Cartoon Award from Toons Mag.
See also: Donald Trump Caricature Challenge, and Boris Johnson Caricature Challenge.
Vladimir Putin and Corona Vaccine
Vladimir Putin, in full Vladimir Vladimirovich Putin, (born October 7, 1952, Leningrad, Russia, U.S.S.R. [now St. Petersburg, Russia]), Russian intelligence officer and politician who served as president (1999–2008, 2012– ) of Russia and also was the country's prime minister (1999, 2008–12). A controversial national vote on constitutional reforms has now given him the opportunity to stay in power beyond his current fourth term, which ends in 2024.
See also: Vladimir Putin cartoon portrait
This post was created with our nice and easy submission form. Create your post!