Theodor Seuss Geisel (/ˈsuːs/ or /zɔɪs/ /ˈɡaɪzəl/; March 2, 1904 – September 24, 1991) was an American children's author, political cartoonist, illustrator, poet, animator, screenwriter, and filmmaker. He is known for his work writing and illustrating more than 60 books under the pen name Doctor Seuss (/ˈsuːs/ or /ˈzuːs/ abbreviated Dr. Seuss). His work includes many of the most popular children's books of all time, selling over 600 million copies and being translated into more than 20 languages by the time of his death.
Name: Dr. Seuss 
Full Name: Theodor Seuss Geisel 
Born: March 2, 1904 
Died: September 24, 1991 (aged 87) 
Nationality: American 
Occupation: Author, Cartoonist, Illustrator 
Known For: Iconic Children's Books 
Notable Works:
"The Cat in the Hat"

"Green Eggs and Ham"

"How the Grinch Stole Christmas!"

"One Fish Two Fish Red Fish Blue Fish" 
Genre: Children's Literature 
Artistic Style: Playful Illustrations and Rhyming Text 
Early Life:
Born in Springfield, Massachusetts, USA

Attended Dartmouth College
Pursued a career in advertising and editorial cartooning 
Career Highlights:
Published over 60 children's books

Winner of multiple awards, including two Academy Awards for animated short films

Known for promoting literacy and imagination in children's literature 
Legacy:
Dr. Seuss's books continue to be beloved classics in children's literature

His books have sold over 650 million copies worldwide
His work remains a staple in early childhood education 
Notable Characters:
The Cat in the Hat

The Grinch

Horton the Elephant

Sam-I-Am

Thing One and Thing Two 
Honors:
Pulitzer Prize (Special Citation) in 1984 for his contribution to children's literature

Named a National Historic Landmark in 2021 
Death: Passed away on September 24, 1991, in La Jolla, California, USA, leaving a lasting legacy in children's literature and illustration.
Geisel adopted the name "Dr. Seuss" as an undergraduate at Dartmouth College and as a graduate student at Lincoln College, Oxford. Dr. Seuss left Oxford in 1927 to begin his career as an illustrator and cartoonist for Vanity Fair, Life, and various other publications. He also worked as an illustrator for advertising campaigns, most notably for FLIT and Standard Oil, and as a political cartoonist for the New York newspaper PM. He published his first children's book And to Think That I Saw It on Mulberry Street in 1937.
During World War II, he took a brief hiatus from children's literature to illustrate political cartoons, and he also worked in the animation and film department of the United States Army where he wrote, produced or animated many productions – both live-action and animated – including Design for Death, which later won the 1947 Academy Award for Best Documentary Feature.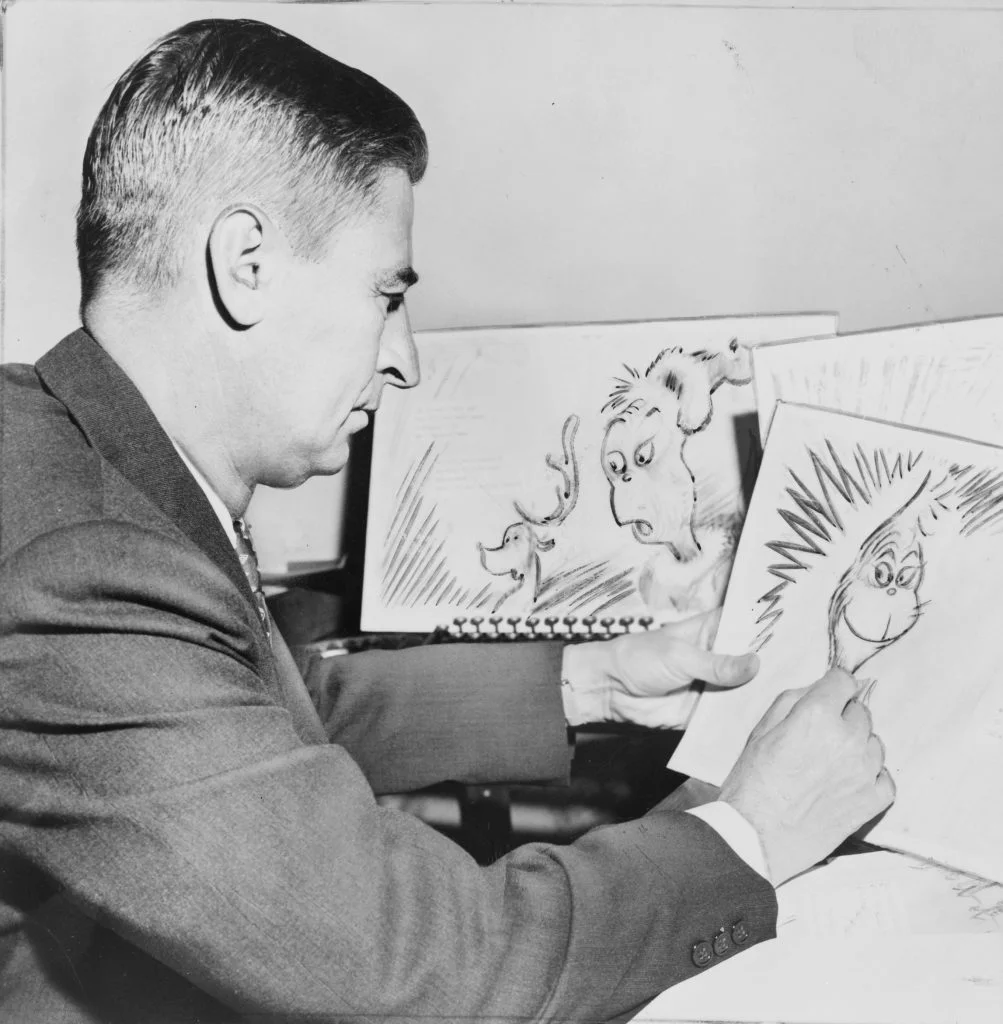 After the war, Geisel returned to writing children's books, writing classics like If I Ran the Zoo (1950), Horton Hears a Who! (1955), If I Ran the Circus (1956), The Cat in the Hat (1957), How the Grinch Stole Christmas! (1957), and Green Eggs and Ham (1960). Dr. Seuss published over 60 books during his career, which have spawned numerous adaptations, including 11 television specials, five feature films, a Broadway musical, and four television series.
Geisel won the Lewis Carroll Shelf Award in 1958 for Horton Hatches the Egg and again in 1961 for And to Think That I Saw It on Mulberry Street. Geisel's birthday, March 2, has been adopted as the annual date for National Read Across America Day, an initiative on reading created by the National Education Association.
Geisel's early years
Geisel was born and raised in Springfield, Massachusetts, the son of Henrietta (née Seuss) and Theodor Robert Geisel. His father managed the family brewery and was later appointed to supervise Springfield's public park system by Mayor John A. Denison after the brewery closed because of Prohibition.
Mulberry Street in Springfield, made famous in his first children's book And to Think That I Saw It on Mulberry Street, is near his boyhood home on Fairfield Street. The family was of German descent, and Geisel and his sister Marnie experienced anti-German prejudice from other children following the outbreak of World War I in 1914.
Geisel attended Dartmouth College, graduating in 1925. At Dartmouth, he joined the Sigma Phi Epsilon fraternity and the humor magazine Dartmouth Jack-O-Lantern, eventually rising to the rank of editor-in-chief. While at Dartmouth, he was caught drinking gin with nine friends in his room.
At the time, the possession and consumption of alcohol were illegal under Prohibition laws, which remained in place between 1920 and 1933. As a result of this infraction, Dean Craven Laycock insisted that Geisel resigns from all extracurricular activities, including the Jack-O-Lantern. To continue working on the magazine without the administration's knowledge, Geisel began signing his work with the pen name "Seuss".
He was encouraged in his writing by professor of rhetoric W. Benfield Pressey, whom he described as his "big inspiration for writing" at Dartmouth.
Upon graduating from Dartmouth, he entered Lincoln College, Oxford, intending to earn a D.Phil. in English literature. At Oxford, he met Helen Palmer, who encouraged him to give up becoming an English teacher in favor of pursuing drawing as a career. She later recalled that "Ted's notebooks were always filled with these fabulous animals. So I set to work diverting him; here was a man who could draw such pictures; Dr. Seuss should be earning a living doing that."
Geisel's early career
Geisel left Oxford without earning a degree and returned to the United States in February 1927, where he immediately began submitting writings and drawings to magazines, book publishers, and advertising agencies. Making use of his time in Europe, he pitched a series of cartoons called Eminent Europeans to Life magazine, but the magazine passed on it. His first nationally published cartoon appeared in the July 16, 1927, issue of The Saturday Evening Post. This single $25 sale encouraged Geisel to move from Springfield to New York City.
Later that year, Geisel accepted a job as a writer and illustrator at the humor magazine Judge, and he felt financially stable enough to marry Helen. His first cartoon for Judge appeared on October 22, 1927, and the Geisels were married on November 29. Geisel's first work signed "Dr. Seuss" was published in Judge about six months after he started working there.
In early 1928, one of Geisel's cartoons for Judge mentioned Flit, a common bug spray at the time manufactured by Standard Oil of New Jersey. According to Geisel, the wife of an advertising executive in charge of advertising Flit saw Geisel's cartoon at a hairdresser's and urged her husband to sign him. Geisel's first Flit ad appeared on May 31, 1928, and the campaign continued sporadically until 1941. The campaign's catchphrase "Quick, Henry, the Flit!" became a part of popular culture.
It spawned a song and was used as a punch line for comedians such as Fred Allen and Jack Benny. As Geisel gained notoriety for the Flit campaign, his work was in demand and began to appear regularly in magazines such as Life, Liberty, and Vanity Fair. The money Geisel earned from his advertising work and magazine submissions made him wealthier than even his most successful Dartmouth classmates.
The increased income allowed the Geisel's to move to better quarters and to socialize in higher social circles. They became friends with the wealthy family of banker Frank A. Vanderlip.
They also traveled extensively: by 1936, Geisel and his wife had visited 30 countries together. They did not have children, neither kept regular office hours, and they had ample money.
Geisel also felt that traveling helped his creativity. Geisel's success with the Flit campaign led to more advertising work, including for other Standard Oil products like Essomarine boat fuel and Essolube Motor Oil and for other companies like the Ford Motor Company, NBC Radio Network, and Holly Sugar. His first foray into books, Boners, a collection of children's sayings that he illustrated, was published by Viking Press in 1931.
It topped The New York Times non-fiction bestseller list and led to a sequel, More Boners, published the same year. Encouraged by the books' sales and positive critical reception, Geisel wrote and illustrated an ABC book featuring "very strange animals" that failed to interest publishers. In 1936, Geisel and his wife were returning from an ocean voyage to Europe when the rhythm of the ship's engines inspired the poem that became his first children's book: And to Think That I Saw It on Mulberry Street. Based on Geisel's varied accounts, the book was rejected by between 20 and 43 publishers.
According to Geisel, he was walking home to burn the manuscript when a chance encounter with an old Dartmouth classmate led to its publication by Vanguard Press. Geisel wrote four more books before the US entered World War II. This included The 500 Hats of Bartholomew Cubbins in 1938, as well as The King's Stilts and The Seven Lady Godivas in 1939, all of which were in prose, atypically for him. This was followed by Horton Hatches the Egg in 1940, in which Geisel returned to the use of poetry.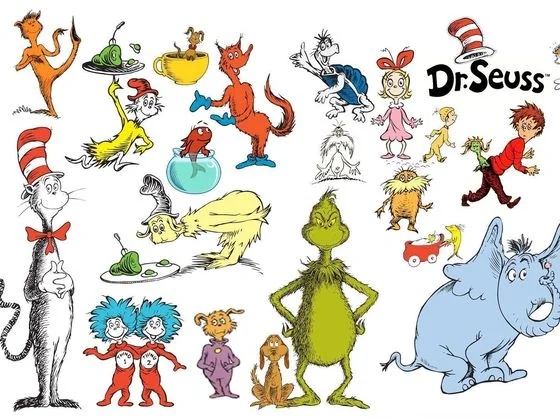 Artwork
Geisel's early artwork often employed the shaded texture of pencil drawings or watercolors, but in his children's books of the postwar period, he generally made use of a starker medium—pen and ink—normally using just black, white, and one or two colors. His later books, such as The Lorax, used more colors. Geisel's style was unique – his figures are often "rounded" and somewhat droopy.
This is true, for instance, of the faces of The grinch and the Cat in the Hat. Almost all his buildings and machinery were devoid of straight lines when they were drawn, even when he was representing real objects. For example, If I Ran the Circus shows a droopy hoisting crane and a droopy steam calliope.
Geisel evidently enjoyed drawing architecturally elaborate objects. His endlessly varied but never rectilinear palaces, ramps, platforms, and free-standing stairways are among his most evocative creations. Geisel also drew complex imaginary machines, such as the Audio-Telly-O-Tally-O-Count, from Dr. Seuss's Sleep Book, or the "most peculiar machine" of Sylvester McMonkey McBean in The Sneetches.
Geisel also liked drawing outlandish arrangements of feathers or fur: for example, the 500th hat of Bartholomew Cubbins, the tail of Gertrude McFuzz, and the pet for girls who like to brush and comb, in One Fish, Two Fish, Red Fish, Blue Fish.Geisel's illustrations often convey motion vividly. He was fond of a sort of "voilà" gesture in which the hand flips outward and the fingers spread slightly backward with the thumb up.
This motion is done by Ish in One Fish, Two Fish, Red Fish, Blue Fish when he creates fish (who perform the gesture with their fins), in the introduction of the various acts of If I Ran the Circus, and in the introduction of the "Little Cats" in The Cat in the Hat Comes Back.
He was also fond of drawing hands with interlocked fingers, making it look as though his characters were twiddling their thumbs.Geisel also follows the cartoon tradition of showing motion with lines, like in the sweeping lines that accompany Sneelock's final dive in If I Ran the Circus. Cartoon lines are also used to illustrate the action of the senses—sight, smell, and hearing—in The Big Brag, and lines even illustrate "thought", as in the moment when the Grinch conceives his awful plan to ruin Christmas.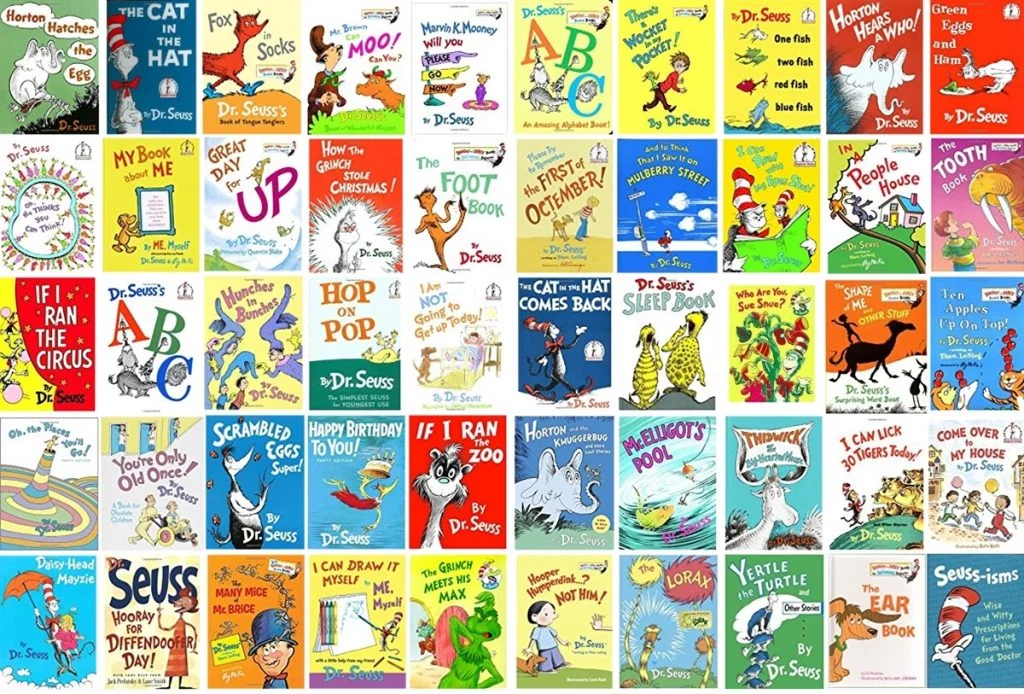 Recurring images
Geisel's early work in advertising and editorial cartooning helped him to produce "sketches" of things that received more perfect realization later in his children's books. Often, the expressive use to which Geisel put an image, later on, was quite different from the original. Here are some examples: An editorial cartoon from July 16, 1941, depicts a whale resting on the top of a mountain as a parody of American isolationists, especially Charles Lindbergh.
This was later rendered (with no apparent political content) as the Wumbus of On Beyond Zebra (1955). Seussian whales (cheerful and balloon-shaped, with long eyelashes) also occur in McElligot's Pool, If I Ran the Circus and other books.Another editorial cartoon from 1941 shows a long cow with many legs and udders representing the conquered nations of Europe being milked by Adolf Hitler. This later became the Umbus of On Beyond Zebra.The tower of turtles in a 1942 editorial cartoon prefigures a similar tower in Yertle the Turtle. This theme also appeared in a Judge cartoon as one letter of a hieroglyphic message, and in Geisel's short-lived comic strip Hejji.
Geisel once stated that Yertle the Turtle was Adolf Hitler.Little cats A, B, and C (as well as the rest of the alphabet) who spring from each other's hats appeared in a Ford Motor Company ad.The connected beards in Did I Ever Tell You How Lucky You Are? appear frequently in Geisel's work, most notably in Hejji, which featured two goats joined at the beard, The 5,000 Fingers of Dr. T., which featured two roller-skating guards joined at the beard, and a political cartoon in which Nazism and the America First movement are portrayed as "the men with the Siamese Beard".
Geisel's earliest elephants were for advertising and had somewhat wrinkly ears, much as real elephants do.
With And to Think That I Saw It on Mulberry Street! (1937) and Horton Hatches the Egg (1940), the ears became more stylized, somewhat like angel wings and thus appropriate to the saintly Horton. During World War II, the elephant image appeared as an emblem for India in four editorial cartoons. Horton and similar elephants appear frequently in the postwar children's books.While drawing advertisements for FLIT, Geisel became adept at drawing insects with huge stingers, shaped like a gentle S-curve and with a sharp end that included a rearward-pointing barb on its lower side. Their facial expressions depict gleeful malevolence.
These insects were later rendered in an editorial cartoon as a swarm of Allied aircraft (1942), and again as the Sneedle of On Beyond Zebra, and yet again as the Skritz in I Had Trouble in Getting to Solla Sollew.There are many examples of creatures who arrange themselves in repeating patterns, such as the "Two and fro walkers, who march in five layers", and the Through-Horns Jumping Deer in If I Ran the Circus and the arrangement of birds which the protagonist of Oh, the Places You'll Go! walks through, as the narrator admonishes him to "… always be dexterous and deft, and never mix up your right foot with your left."
The Beginnings of Dr. Seuss
FAQ about Dr. Seuss
Here are some frequently asked questions (FAQ) about Dr. Seuss:
Q: Who is Dr. Seuss?
A: Dr. Seuss, whose real name was Theodor Seuss Geisel, was an American writer and cartoonist best known for his beloved children's books.
Q: What are some famous books written by Dr. Seuss?
A: Some of Dr. Seuss's most famous books include "The Cat in the Hat," "Green Eggs and Ham," "Oh, the Places You Will Go!," "How the Grinch Stole Christmas!" and "Horton Hears a Who!"
Q: When was Dr. Seuss born, and when did he die?
A: Dr. Seuss was born on March 2, 1904, and passed away on September 24, 1991.
Q: What is Dr. Seuss's writing style like?
A: Dr. Seuss was known for his unique and imaginative writing style characterized by rhymes, whimsical wordplay, and colorful illustrations. His books often conveyed important messages playfully and entertainingly.
Q: Did Dr. Seuss write books for adults as well?
A: Yes, although Dr. Seuss is primarily known for his children's books, he also wrote a few books intended for adult readers, such as "The Seven Lady Godivas" and "You Are Only Old Once!"
Q: What is the legacy of Dr. Seuss?
A: Dr. Seuss's books have significantly impacted children's literature and have become timeless classics. His stories and characters have sparked imagination, promoted literacy, and taught valuable life lessons to generations of readers.
Q: Are there any controversies surrounding Dr. Seuss's work?
A: In recent years, some of Dr. Seuss's books have faced controversy due to racial and cultural depictions considered insensitive or offensive. As a result, a few titles have been discontinued or modified by the publisher.
Q: Has Dr. Seuss received any awards or recognition?
A: Yes, Dr. Seuss received numerous awards throughout his career, including two Academy Awards, two Emmy Awards, a Peabody Award, and a Pulitzer Prize Special Citation for his contributions to children's literature.
Q: Can I visit a Dr. Seuss museum or exhibition?
A: Yes, there are several Dr. Seuss museums and exhibitions dedicated to his life and work. The Dr. Seuss National Memorial Sculpture Garden in Springfield, Massachusetts, and The Amazing World of Dr. Seuss Museum in Springfield, Massachusetts, are popular destinations for fans.
Q: Is Dr. Seuss still famous today?
A: Absolutely! Dr. Seuss's books continue to be cherished by readers of all ages. His stories are regularly enjoyed in homes, schools, and libraries worldwide, ensuring his legacy lives on for generations.