How to Sketch an Eye, Easy Tutorial, 10 Steps, Tutorial by Quynh, Netherlands
Sketch an Eye
[lwptoc hideItems="1″]
STEP 1.
Decide what kind of tools you want to use. In this tutorial, I used a B, 3B, and 8B pencil to draw. I recommend using more than one grade to get better depths for a more realistic look. I used these to draw on drawing paper (I recommend to buy a paper that is especially for drawing, it doesn't have to be pricy). I also used a pencil sharpener, tissues(to blend) and an eraser(in shape of a pen).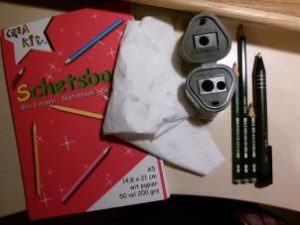 STEP 2.
Start sketching the outlines of the eye. If it's still hard for you to get the right shapes, try to use a reference or perhaps look at your own eye. Draw the sketch very light so you can erase it if you make any mistakes. Make sure to keep your pencils sharp throughout the whole drawing. This will give better results.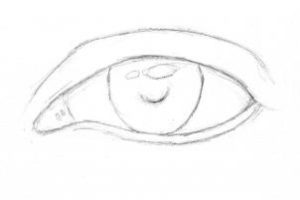 STEP 3.
Start to draw the pupil dark. Then start shading the iris very light. I used a B pencil to do this. If you're done with the first layer of graphite, add more layers to the darker areas. There's no need to put more pressure. The multiple layers will make it darker automatically. The iris always has this darker outer line and in my drawing, I also made the upper half darker to give it more depth.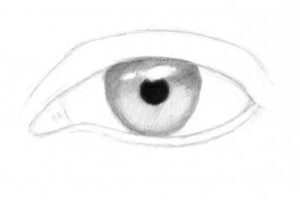 STEP 4.
Blend the iris until it looks smooth. There are many blending tools, but I personally like to use tissues because it gives a nice smooth result. After you're done with blending, add more layers with a darker pencil (3B in my case) and blend it again. Keep repeating this step until you're satisfied with the result.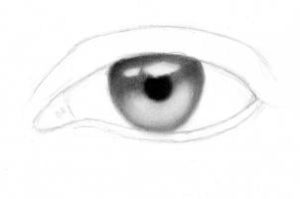 STEP 5.
To finish the iris and make it more detailed, add little scribbles to the iris. These scribbles are like waves. Draw this without much pressure. Some are long waves and some are short. Keep repeating this until the entire iris is filled in.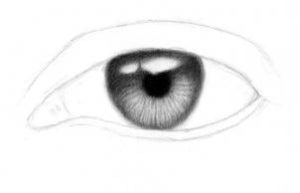 STEP 6.
Now add some shades to the eye-white. The eye white isn't entirely white. Remember that it's a ball and not a flat surface, which means there should be some shadings.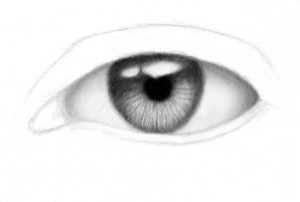 STEP 7.
Here we are going to draw the tear duct. Give it depth to darker areas and some highlight to give it a wet look.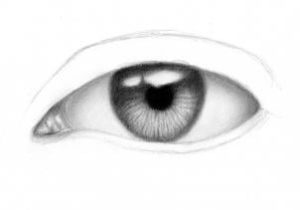 STEP 8.
Add shadings to the rest of the eye. Make sure not to forget the waterline. Draw the areas close to the eyelid darker as well. If you want you can add some highlights with an eraser to give it some skin texture.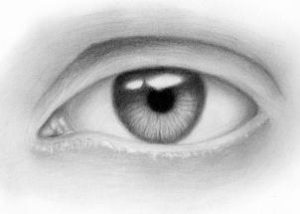 STEP 9.
Now add the eyelashes. The upper eyelashes are curved and go upwards. Start on the upper line of the eye shape, draw a curve on the eye-white (don't go too far) and extend the line until it's just above the eyelid. The lower lash line is curvy as well. The lower lash line starts under the waterline. Try to use a similar technique as the upper lashes but of course a lot shorter. Give each eyelash (from the upper and lower lash line) a slightly different direction for a more natural look.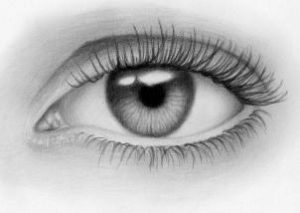 STEP 10.
The last part is the finish in touch! What I like to do is to draw the reflection of the eyelashes. Add some highlights where you think it's needed and darken some areas until you're satisfied. Now you are done! 😀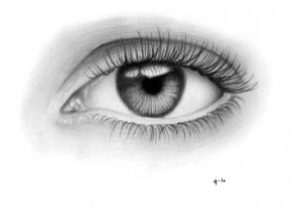 Learn more: