Roy Eric Peterson, OC (14 September 1936 – 30 September 2013) was a Canadian editorial cartoonist who drew for The Vancouver Sun from 1962 to 2009. Peterson was born in Winnipeg and studied in Vancouver at the Kitsilano Secondary School and the Vancouver School of Art. Along with the Sun, his work often appeared in Maclean's magazine, where he would illustrate the columns of Allan Fotheringham. He has also illustrated the covers of many of Fotheringham's books.
Roy Eric Peterson Early Life
[lwptoc]
Peterson was Vancouver born and bred and grew up in Kitsilano. He attended Kitsilano secondary, and a highlight of his school years may have been the day he and a buddy tried to bomb the school's track meet with confetti. The buddy, who was a little older than Peterson, had a pilot's license. The night before the meet, Peterson and his buddy spent the night shredding blue and gold streamers(the school's colors)into confetti, loaded it all onto a little Cessna and then, on the day of the meet, flew over and the crowd below. The confetti, borne away by the wind and the plane's slipstream, snowed down on cars on the Lions Gate Bridge and freighters in the harbor.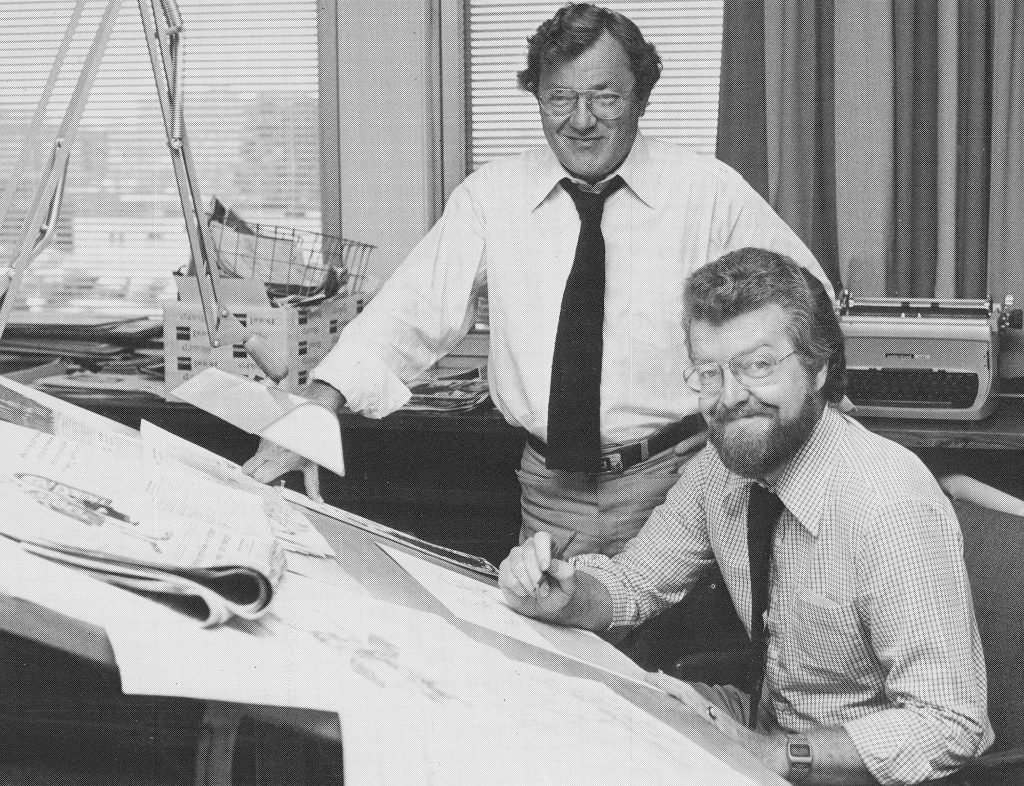 Roy Eric Peterson Work-life 
Peterson started drawing when he was four, emulating, possibly, his three older brothers, who all liked to draw. It's been suggested, too, that it was his older brothers that may have brought him to editorial cartooning, that in his way, he was repaying a debt he felt he owed them, that it was his way of honoring their sacrifices. All three of his older brothers were in the RCAF — Warren as a flight instructor, Lawrence as a fighter pilot and Sidney as a bomber pilot — and both Lawrence and Sidney were killed in the war.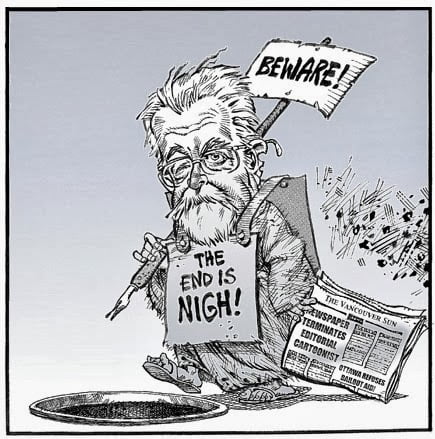 Peterson's drawings have appeared in major international publications including Punch, Time, The New York Times and The Washington Post. His illustrations regularly accompany Allan Fotheringham's column each week on the back page of Maclean's magazine.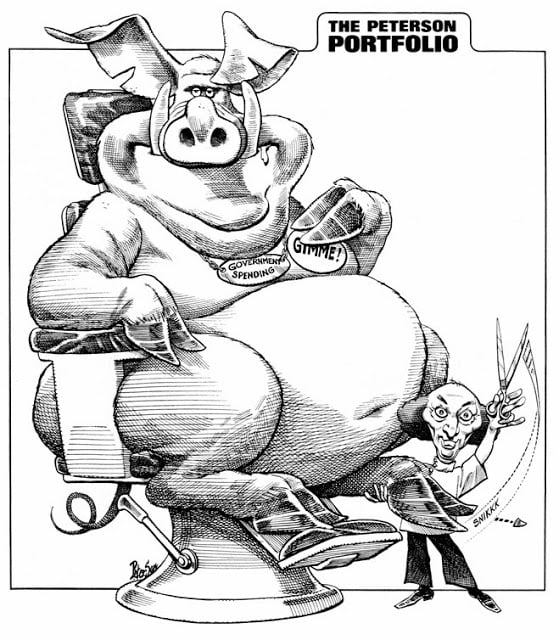 He has illustrated several books including the Frog Fable and Beaver Tale series, The Canadian ABC Book, and Drawn and Quartered, a collection of editorial cartoons about the Trudeau years. He likens his distinctive drawing style to a barbeque chicken: "Take it apart and there's a lot of parts there," he says."I've been influenced by all sorts of people: Ronald Searle, Duncan Macpherson, and Punch illustrator Leslie Illingworth."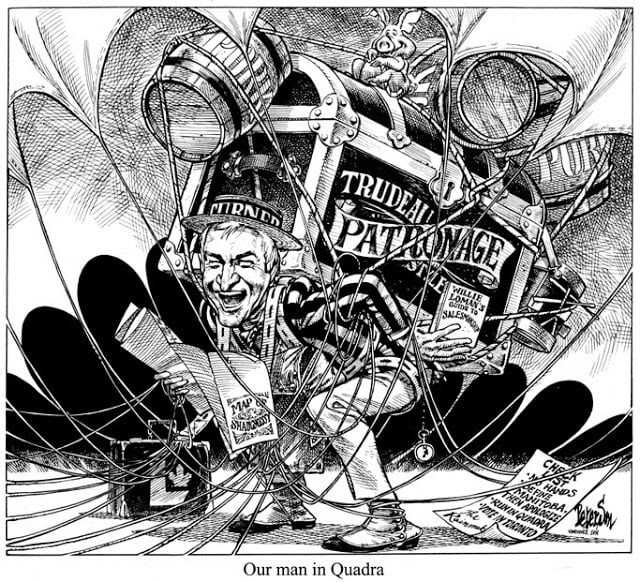 His work was sure and precisely drawn and a model of technique and the subjects of his cartoons were often so controversial his editors sometimes quailed at running them in the paper. Peterson was a brave editorialist, and he would draw a bead on subjects that could fight back — Muslim fundamentalists, the Catholic Church, pillaging investment bankers.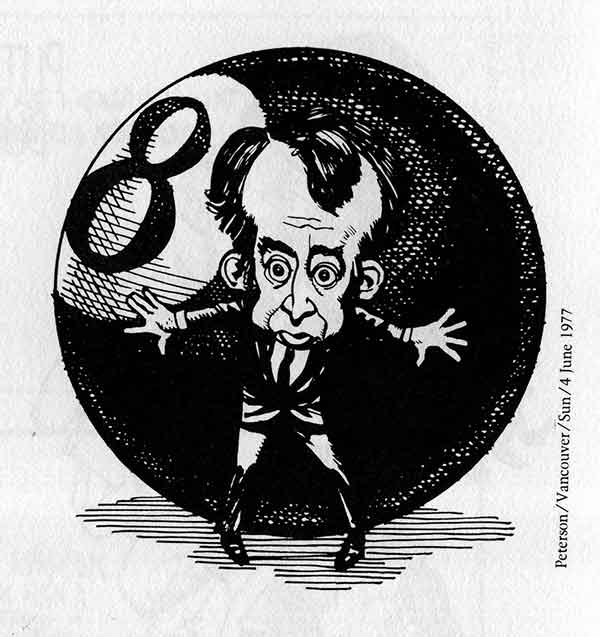 His pen skewered the powerful as well as the pusillanimous. He once drew a cartoon showing former Premier Bill Vander Zalm punting a baby through a football goalpost — a swipe at the provincial government for subsidizing professional football while B.C.hospitals suffered overcrowding. Vander Zalm thought the cartoon was in bad taste: Patients in our hospitals might have thought differently. The Vancouver Sun laid off Peterson in 2009.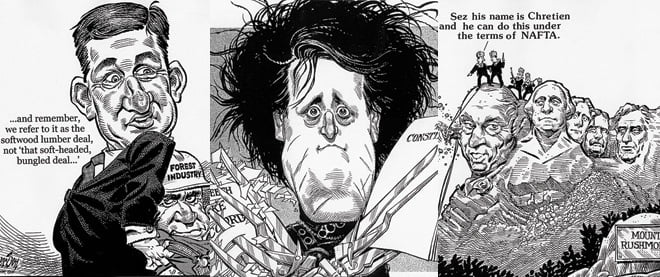 Roy Eric Peterson's Achievements
in his 47 years as an editorial cartoonist for The Sun, he won a record seven National Newspaper Awards, more than any single journalist. He was awarded the Order of Canada. He was the founding president of the Association of Canadian Editorial Cartoonists and the first and only Canadian to be president of the American Association of Editorial Cartoonists.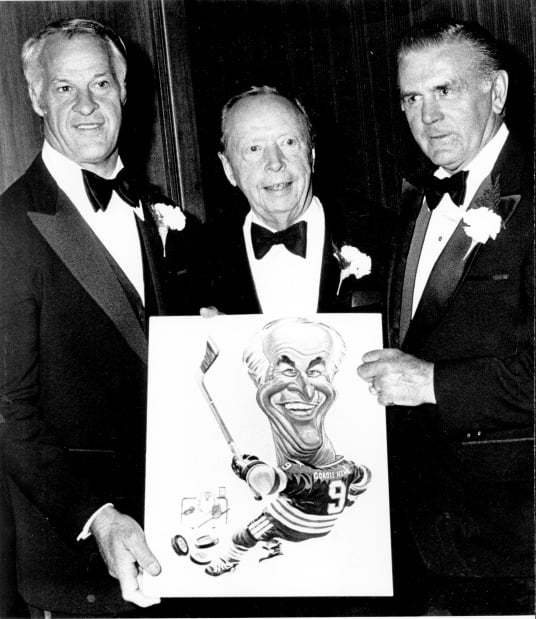 In addition to his work with The Sun, he was published in many leading Canadian, U.S.and European journals and newspapers, produced a couple of books (including Drawn and Quartered, a collection of his cartoons during the Trudeau years he co-authored with Peter C.Newman) and for over 20 years he supplied the accompanying cartoon to Allan Fotheringham's popular back-page column in Maclean's magazine. He didn't just rub shoulders with the greats of Canadian journalism: He was one of them.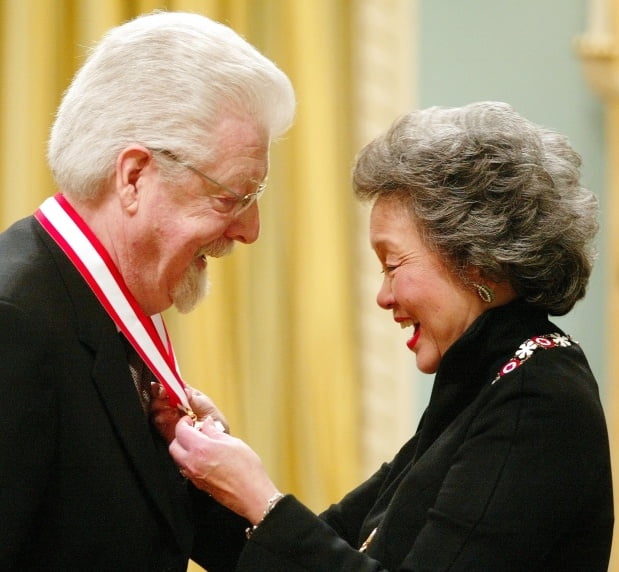 In 2004 he was made an Officer of the Order of Canada and Peterson won seven National Newspaper Awards for his work, the most in the history of the awards.
Roy Eric Peterson Bibliography
The World According to Roy Peterson, containing selected cartoons from the 1970s, with commentary by Alan Fotheringham.
Drawn and Quartered, containing cartoons drawn during the administration of Pierre Elliott Trudeau, with commentary by Peter C.Newman.
Peterson's ABCs a children's book about the alphabet, with a Canadian focus.
Frog Fables and Beaver Tales (1973) — a collaboration with Stanley Burke.
The Day of the Glorious Revolution (1974) — a collaboration with Stanley Burke.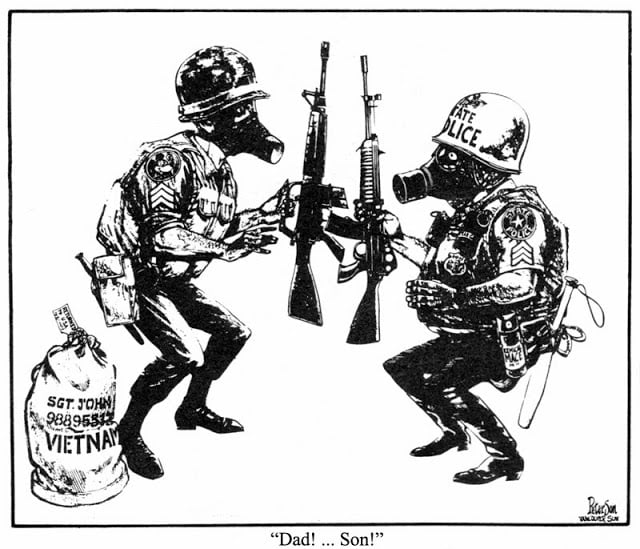 Roy Eric Peterson Death
Peterson died in West Vancouver, British Columbia, Canada, on 30 September 2013, aged 77, of complications from Parkinson's disease. He was survived by five children and nine grandchildren. His longtime wife, Margaret, had predeceased him in 2004.