Mickey Mouse is an iconic cartoon character created by Walt Disney and Ub Iwerks. He is one of the world's most recognizable and beloved fictional characters, serving as the official mascot of The Walt Disney Company. With his infectious personality, trademark red shorts, and oversized yellow shoes, Mickey has captured the hearts of millions of people across generations.
Name: Mickey Mouse
Series: Disney
First: "Steamboat Willie" (1928)
Created by: Walt Disney and Ub Iwerks
Full name: Mickey Mouse
Species: Mouse
Gender: Male
Occupation: Various roles in Disney media
Significant other: Minnie Mouse (girlfriend)
Mickey Mouse: The Origin Story
Mickey Mouse was not the first animated character created by Walt Disney. Before Mickey, there was Oswald the Lucky Rabbit, a character created by Disney and Ub Iwerks. However, a contract dispute with Universal Pictures led to Disney losing the rights to Oswald, prompting him to embark on a train ride from New York to Los Angeles. Disney's mind was abuzz with ideas for a new character to replace Oswald during this journey. 
The inspiration for Mickey Mouse came from an unlikely source—a simple, tame mouse that Disney had encountered at his desk at the Laugh-O-Gram Studio in Kansas City, Missouri. This mouse sparked the idea for a new character and laid the foundation for Mickey Mouse.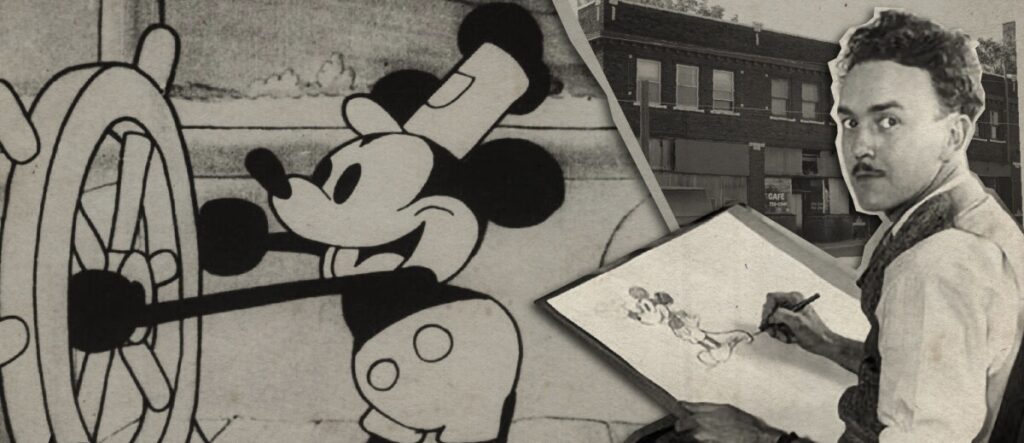 The Birth of Mickey Mouse: Steamboat Willie (1928)
Mickey Mouse officially debuted in the short film "Steamboat Willie" in 1928. This iconic cartoon was one of the first sound cartoons co-directed by Walt Disney and Ub Iwerks. The film marked a turning point in animation history, as it synchronized sound and animation seamlessly, captivating audiences and setting a new standard for the industry.
In "Steamboat Willie," Mickey is a spirited yet impulsive hero, navigating through a series of humorous misadventures on a riverboat. Audiences were entranced by the clever use of synchronized sound, making this cartoon a game-changer in the world of animation.
The Evolution of Mickey Mouse: From Black and White to Color
Following the success of "Steamboat Willie," Mickey Mouse starred in numerous short films that showcased his evolving personality. In these early films, Mickey was often portrayed as an endearing yet somewhat ineffective suitor to Minnie Mouse. As the character continued to develop, his design was refined, and he began wearing his signature white gloves, symbolizing the character.
In 1935, Mickey made a triumphant transition to color in "The Band Concert," a Technicolor film showcasing his ability to conduct an orchestra amidst comedic chaos. The film's success not only solidified Mickey's position as a beloved character but also demonstrated Disney's commitment to pushing the boundaries of animation.
Mickey's design continued to evolve, with animator Fred Moore making significant changes in the late 1930s. Mickey's eyes were transformed into white, expressive orbs with pupils, his body took on a pear-shaped appearance, and his personality became more dynamic. These changes set the stage for Mickey's enduring popularity in recent decades.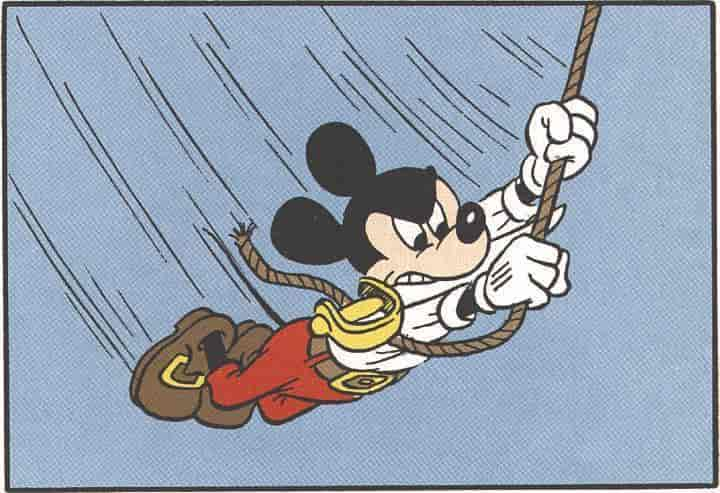 Mickey on the Big Screen and Beyond
Mickey Mouse made his feature-length film debut in "Fantasia" in 1940. In this film, Mickey played the iconic role of the Sorcerer's Apprentice, a performance that remains one of his most celebrated appearances. His iconic image in the sorcerer's robe and hat symbolized the character's enduring legacy.
While Mickey continued to thrive in animated shorts throughout the 1940s and 1950s, his role gradually shifted from being the central character to a supporting one. Introducing characters like Donald Duck and Goofy allowed for more diverse and entertaining storylines, and Mickey's adaptability as a character made him the perfect complement to these ensemble casts.
Mickey Mouse on Television
Mickey Mouse's influence extended to television, with shows like "The Mickey Mouse Club" captivating audiences from 1955 to 1996. This show introduced a new generation to the magic of Mickey and his friends.
In the late 20th and early 21st centuries, Mickey Mouse continued to be a television presence. Shows like "Mickey Mouse Works," "House of Mouse," "Mickey Mouse Clubhouse," "Mickey Mouse Mixed-Up Adventures," and "Mickey Mouse Funhouse" brought fresh, contemporary interpretations of the character to new audiences.
One of the most notable reimaginings came in 2013, with a series of 3-minute Mickey Mouse shorts created by animator Paul Rudish. These shorts combined elements of Mickey's classic appearance with a modern twist, appealing to both long-time fans and a younger demographic.
Legacy and Impact:
Mickey Mouse's cultural impact extends far beyond animation and entertainment. He has become an international symbol of joy, imagination, and childhood innocence. Children and adults alike relate to his relatable and lovable character, making him an enduring icon.
Over the years, Mickey Mouse has starred in many films, television shows, and specials, showcasing his adaptability and staying power. He has also appeared in various forms of media, including video games, comic books, and merchandise, further solidifying his status as a pop culture icon.
Mickey Mouse has received numerous awards and accolades throughout his illustrious career, including an Academy Award for his debut film, "Steamboat Willie." He has also been recognized as a star on the Hollywood Walk of Fame and honored by organizations worldwide for his contributions to popular culture.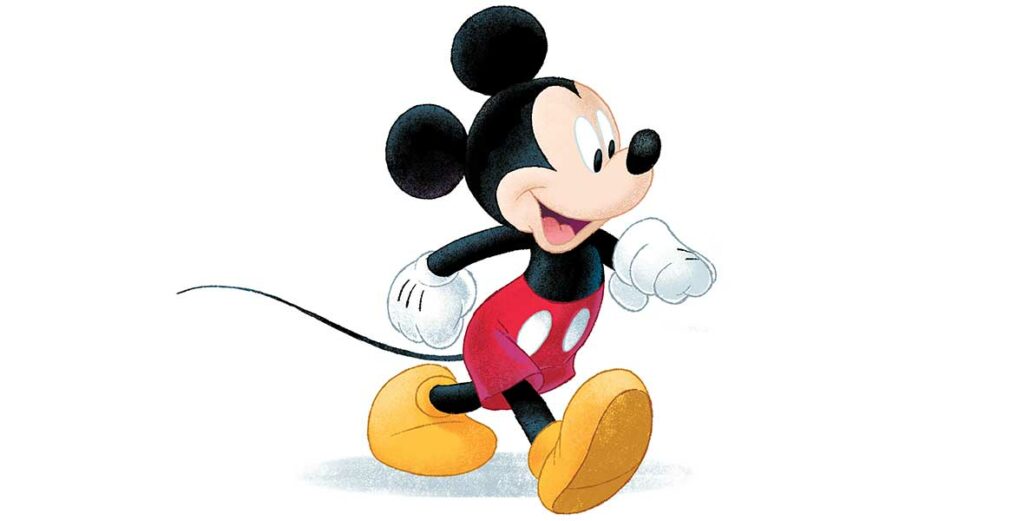 Mickey's Influence on Popular Culture
Mickey Mouse's impact on popular culture is immeasurable. His iconic image is recognized worldwide, and he has become a symbol of joy, innocence, and the magic of animation. Mickey's influence transcends entertainment, from merchandise and theme park attractions to educational materials and humanitarian efforts.
Mickey's status as a beloved character has led to numerous tributes and references in other media. Notably, he shared the screen with Warner Bros.' Bugs Bunny in the 1988 film "Who Framed Roger Rabbit," a groundbreaking crossover that delighted fans of both characters.
In 2018, the world celebrated Mickey's 90th birthday with a two-hour prime-time special, "Mickey's 90th Spectacular." The event paid tribute to the enduring legacy of the character and featured performances by celebrities who shared their love for Mickey.
Mickey's Journey Continues
Mickey Mouse's journey through time is a testament to the enduring power of imagination and creativity. From his humble beginnings as a replacement for Oswald the Lucky Rabbit to his status as a global cultural icon, Mickey's story is one of resilience, adaptability, and the magic of animation.
In 2022, a documentary film titled "Mickey: The Story of a Mouse" explored the history and cultural impact of Mickey Mouse. This documentary and an original animated short starring Mickey celebrated the character's enduring legacy.
As we look ahead, Mickey Mouse remains a beloved figure, touching the hearts of new generations and serving as a timeless reminder of the joy and wonder of animation. Mickey's story is far from over, and his adventures will continue to enchant and inspire for years.
Conclusion:
Mickey Mouse has stood the test of time and continues to be cherished by millions of fans worldwide. With his infectious charm and timeless appeal, he remains an integral part of the Disney brand and a symbol of imagination and optimism. As Mickey celebrates his 95th anniversary in 2023, his legacy as an iconic and beloved character is firmly cemented in the hearts of people around the globe.
FAQ
Q: Who created Mickey Mouse?
A: Mickey Mouse was created by Walt Disney and Ub Iwerks.
Q: When was Mickey Mouse first introduced?
A: Mickey Mouse debuted in the animated short film "Steamboat Willie" on November 18, 1928.
Q: What is Mickey Mouse's personality like?
A: Mickey Mouse is known for his optimistic, adventurous, and mischievous personality. He is often portrayed as kind-hearted, brave, and determined.
Q: What are some of Mickey Mouse's notable appearances?
A: Mickey Mouse has appeared in numerous films, television shows, and shorts. Some notable appearances include "Fantasia" (1940), "The Mickey Mouse Club" (1955-1996), "Mickey's Christmas Carol" (1983), and "Mickey Mouse Clubhouse" (2006-2016).
Q: Does Mickey Mouse have any friends?
A: Yes, Mickey Mouse has many friends, including Minnie Mouse (his longtime love interest), Donald Duck, Goofy, Pluto, and many other beloved characters from the Disney universe.
Q: What is Mickey Mouse's signature look?
A: Mickey Mouse is often recognized for his iconic red shorts, yellow shoes, white gloves, and large round ears. This distinctive appearance has become synonymous with the character.
Q: What impact has Mickey Mouse had on popular culture?
A: Mickey Mouse has had a profound impact on popular culture. He is widely recognized as a symbol of Disney and has become an international icon representing joy, imagination, and childhood innocence. Mickey Mouse has inspired countless merchandise and theme parks and has become a beloved character for people of all ages.
Q: Has Mickey Mouse won any awards?
A: Yes, Mickey Mouse has received numerous accolades throughout his career. He won an Academy Award for the film "Steamboat Willie" and was honored with a Hollywood Walk of Fame star.
Q: Can I meet Mickey Mouse in person?
A: Yes, Mickey Mouse can be met in person at various Disney theme parks worldwide, where he greets and interacts with visitors.
Q: Is Mickey Mouse still famous today?
A: Absolutely! Mickey Mouse remains a trendy and beloved character worldwide. He continues to star in new animated projects, make appearances in merchandise, and inspire generations of fans.
Citations
"Mickey Mouse." Disney Wiki. Retrieved from https://disney.fandom.com/wiki/Mickey_Mouse.
"Mickey Mouse." Encyclopaedia Britannica. Retrieved from https://www.britannica.com/topic/Mickey-Mouse.
Read also