Robert Dennis Crumb is an American cartoonist and musician who often signs his work R. Crumb. He was born August 30, 1943. His work displays a nostalgia for American folk culture of the late 19th and early 20th centuries and satire of contemporary American culture.
Crumb is a prolific artist and contributed to many of the seminal works of the underground comix movement in the 1960s, including being a founder of the first successful underground comix publication, Zap Comix, contributing to all 16 issues. He was additionally contributing to the East Village Other and many other publications, including a variety of one-off and anthology comics. During this time, inspired by psychedelics and cartoons from the 1920s and 1930s, he introduced a wide variety of characters that became extremely popular, including countercultural icons Fritz the Cat and Mr. Natural, and the images from his Keep on Truckin' strip. Sexual themes abounded in all these projects, often shading into scatological and pornographic comics. In the mid-1970s, he contributed to the Arcade anthology; following the decline of the underground, he moved towards biographical and autobiographical subjects while refining his drawing style, a heavily crosshatched pen-and-ink style inspired by late 19th- and early 20th-century cartooning. Much of his work appeared in a magazine he founded, Weirdo (1981–1993), which was one of the most prominent publications of the alternative comics era. As his career progressed, his comic work became more autobiographical.
In 1991, Crumb was inducted into the comic book industry's Will Eisner Comic Book Hall of Fame. He is married to cartoonist Aline Kominsky-Crumb, with whom he has frequently collaborated. Their daughter Sophie Crumb has also followed a cartooning career.
Robert Dennis Crumb Early life
[lwptoc]
Robert Crumb was born on 30 August 1943 in Philadelphia, to a Catholic household of English and Scottish descent. His father, Charles V. Crumb, authored the book Training People Effectively and was a combat illustrator for twenty years in the United States Marine Corps. His mother Beatrice was a housewife who reportedly abused diet pills and amphetamines. Charles and Beatrice's marriage was unhappy and the children were frequent witnesses to their parents' arguments. The couple had four other children: sons Charles Junior (1942–92) and Maxon (b. 1944), both of whom suffered from mental illness, and daughters Carol (b. 1940) and Sandra (1946-1998). The family moved to Milford, Delaware, when Crumb was twelve and where he was an average student whose teachers discouraged from cartooning.
Inspired by Walt Kelly, Fleischer Brothers animation and others, Crumb and his brothers drew their own comics. His cartooning developed as his older brother Charles pushed him and provided feedback. In 1958 the brothers self-published three issues of Foo in imitation of Harvey Kurtzman's satirical Humbug and Mad which they sold door-to-door with little success, souring the young Crumb on the comic-book business. At fifteen, Crumb collected classical to jazz and blues records from the 1920s to the 1940s. At age 16 he lost his Catholic faith.
Robert Dennis Crumb Career
Crumb's father gave him $40 when he left home after high school. His first job, in 1962, was drawing novelty greeting cards for American Greetings in Cleveland, Ohio. He stayed with the company for four years, producing hundreds of cards for the company's Hi-Brow line; his superiors had him draw in a cuter style that was to leave a footprint on his work throughout his career. In Cleveland, he met a group of young bohemians such as Buzzy Linhart, Liz Johnston, and Harvey Pekar. Dissatisfied with greeting card work, he tried to sell cartoons to comic book companies, who showed little interest in his work. In 1965, cartoonist Harvey Kurtzman printed some of Crumb's work in the humor magazine he edited, Help!. Crumb moved to New York, intending to work with Kurtzman, but Help! ceased publication shortly after. Crumb briefly illustrated bubblegum cards for Topps before returning to Cleveland and American Greetings.
Crumb married Dana Morgan in 1964. Nearly destitute, the couple traveled in Europe, during which Crumb continued to produce work for Kurtzman and American Greetings, and Dana stole food. The relationship was unstable as Crumb frequently went his own way, and he was not close to his son Jesse (b. 1965).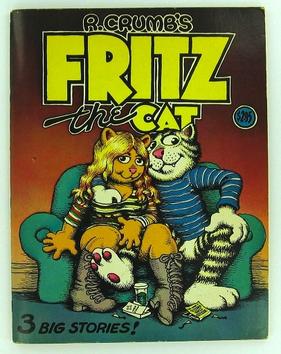 In 1965 and 1966 Crumb had a number of Fritz the Cat strips published in the men's magazine Cavalier. Fritz had appeared in Crumb's work as early as the late 1950s; he was to become a hipster, scam artist, and bohemian until Crumb abandoned the character in 1969.
Crumb was becoming increasingly uncomfortable with his job and marriage when in June 1965 he began taking LSD, a psychedelic drug that was then still legal. He had both good and bad trips. One bad trip left him in a muddled state for half a year, during which for a time he left Dana; the state ended when the two took a strong dose of the drug together in April 1966. Crumb created a number of his best-known characters during his years of LSD use, including Mr. Natural, Angelfood McSpade, and Snood.
Zap and underground comix (1967–1979)
In January 1967 Crumb came across two friends in a bar who was about to leave for San Francisco; Crumb was interested in the work of San Francisco-based psychedelic poster artists, and on a whim asked if he could join them. There, he contributed upbeat LSD-inspired countercultural work to underground newspapers. The work was popular, and Crumb was flooded with requests, including to illustrate a full issue of Philadelphia's Yarrowstalks.
Independent publisher Don Donahue invited Crumb to make a comic book; Crumb drew up two issues of Zap Comix, and Donahue published the first in February 1968 under the publisher name Apex Novelties. Crumb had difficulty at first finding retailers who would stock it, and at first, his wife took to selling the first run herself out of a baby carriage.
Crumb met cartoonist S. Clay Wilson, an art school graduate who saw himself as a rebel against middle-class American values and whose comics were violent and grotesque. Wilson's attitude inspired Crumb to give up the idea of the cartoonist-as-entertainer and to focus on comics as open, uncensored self-expression; in particular, his work soon became sexually explicit, as in the pornographic Snatch he and Wilson produced late in 1968.
The second issue of Zap appeared in June with contributions from Wilson and poster artists Victor Moscoso and Rick Griffin. In December, Donahue published the still-unreleased issue as #0 and a new third issue with Gilbert Shelton joining the roster of regulars. Zap was financially successful and developed a market for underground comix.
Crumb was a prolific cartoonist in the late 1960s and early 1970s; at his peak point of output, he produced 320 pages over two years. He produced much of his best-known work then, including his Keep on Truckin' strip, and strips featuring characters such as the bohemian Fritz the Cat, spiritual guru Mr. Natural, and oversexed African-American stereotype Angelfood McSpade. During this period, he launched a series of solo titles, including Despair, Uneeda (both published by Print Mint in 1969), Big Ass Comics, R. Crumb's Comics and Stories, Motor City Comics (all published by Rip Off Press in 1969), Home Grown Funnies (Kitchen Sink Press, 1971) and Hytone Comix (Apex Novelties, 1971), in addition to founding the pornographic anthologies Jiz and Snatch (both Apex Novelties, 1969).
Weirdo (1980–1993)
While meditating in 1980 Crumb conceived of a magazine with a lowbrow aesthetic inspired by punk zines, Mad, and men's magazines of the 1940s and 1950s. From 1981 Crumb edited the first eight issues of the twenty-eight issue run of Weirdo, published by the Last Gasp; his contributions and tastes determined the contents of the later issues as well, edited by Peter Bagge until #16, and Aline for the remainder of the run. The magazine featured cartoonists new and old, and had a mixed response; Art Spiegelman, who co-edited the slicker Raw, called it a "piece of shit", and Crumb's fumetti was so unpopular that it has never appeared in Crumb collections.
Robert Dennis Crumb Later life (1994–present)
The Crumbs moved into a house in southeastern France in 1991, which is said to have been financed by the sale of six Crumb sketchbooks. The Terry Zwigoff-directed Crumb documentary appeared in 1994—a project on which Zwigoff had been working since 1985. The film won several major critical accolades.
From 1987 to 2005 Fantagraphics Books published the seventeen-volume Complete Crumb Comics and ten volumes of sketches. Crumb (as "R. Crumb") contributes regularly to Mineshaft magazine, which, since 2009, has been serializing "Excerpts From R. Crumb's Dream Diary".
In 2009, after four years of work, Crumb produced The Book of Genesis, an unabridged illustrated graphic novel version of the biblical Book of Genesis.
In January 2015, Crumb was asked to submit a cartoon to the left-wing magazine Libération as a tribute for the Charlie Hebdo shooting. He sent a drawing titled "A Cowardly Cartoonist," depicting an illustration of the backside of Crumb's friend Mohamid Bakshi while referencing the prophet Muhammad, founder of Islam.